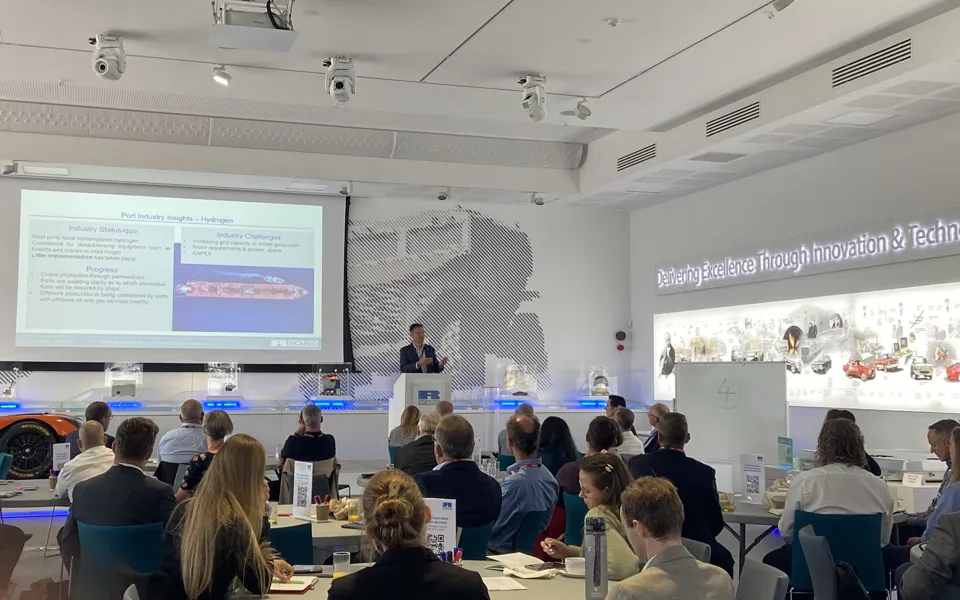 A Maritime decarbonisation day, the key outputs, opportunities, risks and barriers
24 Jul 2023
Master your maritime decarbonisation journey,

Shoreham-By-Sea Technical Centre
Coinciding with Sustainability Week at Shoreham Port, Ricardo opened their doors, showcasing their technical centre of excellence to the maritime sector.  
With a strong emphasis on collaboration, the event aimed to explore innovative strategies and technologies that would pave the way for a greener future in the context of the increasing expectations and tightening decarbonising trajectory being set by policy makers. 
Delegates gained hands-on experiences with decarbonisation technologies Ricardo is currently working on. Including, fuel cells, heavy duty hydrogen ICE engines and electrification.  Our tour included 'lessons learned' and considerations from our own hydrogen infrastructure used for Ricardo's hydrogen test rigs. 
Throughout the event, numerous case studies and success stories were presented, showcasing real-world examples of companies that have made significant strides in reducing their carbon footprint. These practical examples served as a source of inspiration and motivation for other stakeholders to embrace sustainable practices and play an active role in combating climate change. 
Shipping & Port Interfaces in the New Era (SPINE) 

Shoreham Port – Green energy hub 

Norled - M/F Hydra – World's first Liquid H2 driven ship.
The participants from various backgrounds, including industry leaders, policymakers, researchers, and environmentalists, contributed to the diverse perspectives and ideas making the outcomes and key takeaways particularly interesting.  
The workshop discussed and shared ideas on opportunities, risks and barriers that they foresaw from adopting different technologies and fuels and related infrastructure. We asked delegates to contribute to sharing insights across 6 topic themes as an output from the day to share more widely, these were: 
Use cases (for different technology options) 
Operations and maintenance  
Providing Power to Ports & Vessels 
The results include a number of specific actions the sector could implement to support acceleration towards decarbonisation. The adoption of alternative fuels and technologies including electrification, hydrogen fuel cells, batteries, and hybrid solutions, offers numerous opportunities for decarbonisation in the maritime sector. However, challenges related to infrastructure, regulation, and workforce skills need to be addressed to ensure successful implementation.  
The following page summarises the key outputs into opportunities, risks and barriers across all the themes useful considerations for industry, the full workshop notes are on the subsequent pages. 
If you are interested in learning more to support your own transition to decarbonisation, please get in touch. The industry must collaborate to help us all in the global efforts to decarbonise the maritime sector. The opportunities for clean energy generation are here, deciding on where and how to take your first step requires policy, technology, and practical insights, we can help.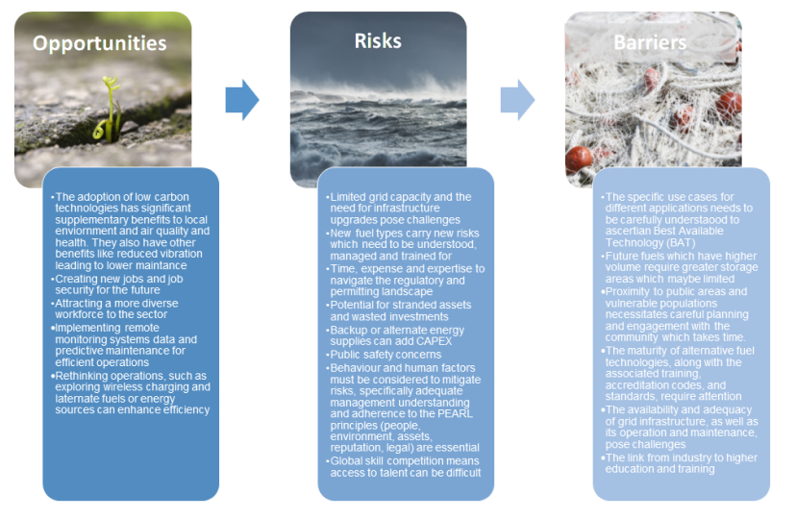 Notes from the breakout sessions

 
A - Use Cases – how will we use technologies and fuels to decarbonise the sector 
Collaborating with OEMs fosters innovation and knowledge exchange on the specific needs for different applications is key 

Introduction of new equipment enhances operational capabilities and efficiency 

Upgrading to shore power for cruise and ferry vessels reduces emissions during port stays and improves air quality. Alternative fuels align with customer demands, air quality goals, and the needs of densely populated areas 

There is increased support for electrification, hydrogen fuel cells, batteries, and hybrid solutions, alongside research and development projects this drives technological advancements 
Access to grants and collaboration opportunities, such as through Innovate UK, further stimulates progress and innovation in alternative fuel adoption. 
Challenges related to infrastructure, such as the need for upgrading aging ports 
The availability of capital funding does not guarantee usage, and there is a risk of power failure and limited options with distribution network operators 
Sufficient storage capacity and managing the weight of fuels on vessels, clarity is required on the most suitable fuel options and the right approach for implementation depending on vessel or vehicle type 
Landlords overcharging tenants for infrastructure and competing costs add financial burdens to Port users which does not stimulate uptake 

Limited grid capacity and infrastructure pose challenges, along with the costs associated with fuel cell and hybrid technologies 

Regulatory frameworks need to be established, while ensuring the availability of training and skills 

Transporting hydrogen safely onto vessels requires attention. Leadership's adoption of new technologies must be encouraged 

Proximity to public areas and vulnerable populations necessitates careful planning and engagement with the community which takes time. 
B - Operations & Maintenance – what considerations will we have to make in ongoing operations and maintenance of these new technologies and fuels 
Creating jobs and job security for the future 

Implementing remote monitoring systems to manage systems will be important 

Leveraging data and predictive maintenance for efficient operations 

Fostering collaboration and continuous learning and exploring commercial prospects that can lead to a greater market share and higher margins 

There is potential for lower operating expenses, access to green funding, trade union support, enhanced company reputation, and positive societal impacts 
Automation can contribute to reducing operating expenses, while improved energy storage can optimise grid operations, considering the planned second life 
Acquiring new skills and allocating time for training the workforce to handle alternative fuels safely

 Managing planned maintenance schedules 
Addressing potential job implications, and developing processes and skills for the end-of-life phase of alternative fuel technologies  
The maturity of alternative fuel technologies, along with the associated training, accreditation codes, and standards, require attention.  

Resistance from trade unions, existing stranded assets can also impede progress.  It's important to note that by bridging the gap between education, academia, and industry skills is vital for successful adoption of alternative fuels. 
C – Providing Power to Ports & Vessels – what are the specific options and challenges providing power to ports and vessels 
Battery storage to provide rapid electricity charging can help balance the grid at other times  

The potential for reducing energy generation costs, which can contribute to overall cost savings, by expanding options in the market, the maritime sector is able to provide flexibility in choosing the most suitable alternative fuel solutions  
Alternative technologies have the potential to reduce vibrations, improving overall operational performance and comfort 

Through rethinking operations, such as exploring wireless charging and reducing reliance on traditional refuelling methods, it can enhance efficiency and sustainability. 

By adopting alternative fuels it opens the door to commercial opportunities by offering charging solutions that attract customers with resulting environmental benefits  

The conversion of vessels to alternative fuels is another emerging prospect, although operators may face challenges in identifying the optimal solution without disrupting operations.  
Potential for stranded assets and wasted investments 

Possibility of future power competition, where ports may be asked to curtail operations to ensure sufficient power elsewhere.  

The planning and consent processes can be lengthy, and approval may not be guaranteed 
The carbon benefits of alternative fuels depend on the carbon intensity of the grid on any given day 

The need to invest in backup energy supplies poses a financial burden for assets that are underutilised for most of their operational life.  
The availability and adequacy of grid infrastructure, as well as its operation and maintenance, pose challenges  

Dealing with distribution network operators (DNOs) can be challenging due to complex rules and slow processes, there may also be competition for connection capacity, limiting the availability of power supply options 

Inability to feed energy generation back to the grid, which can restrict the flexibility of the system, regulatory complexities, such as the G99 standard, pose challenges, particularly for those lacking specialist skills 

The evolving standards for vessels and changing technology require continuous adaptation. The large number of assets, their mobility, and availability in multiple locations further complicates the adoption of alternative fuels 

Information overload on decarbonisation can hinder decision-making, while long lead times for planning, regulation, shared power systems delay implementation efforts. 
D - Charging & Fuelling – what are the specific challenges and opportunities when considering charging and fuelling 
Availability of green fuels benefits a wide range of vessels, from smaller land-based operations e.g. forklifts and short-distance ferries to ships and barges  

It gives organisations the chance to generate revenue and provide a competitive advantage, offering cost-saving opportunities through self-generation 

Alternative fuels also offer flexibility in operations, ensuring a more secure future for ports, by reducing air quality emissions, ports can improve their environmental impact and attract new clients. Collaboration with other ports and stakeholders enables knowledge sharing and joint initiatives 

Facilitate easier public and private financing, while upskilling staff and creating job opportunities.  

Aligns with customer demands, attracts funding from customers, fosters collaboration between logistics and operators, and capitalises on existing expertise in handling green fuels. 
Fuel prices and electricity prices can be unpredictable, impacting operational costs 

The availability of new fuels and the rapid evolution of technology pose uncertainties about the long-term viability of investments 
Safety concerns arise due to the use of new fuels and lack of comprehensive knowledge across the ecosystem 

There may be disincentives for early adopters when later funding rounds offer more favourable terms 

Managing the storage of large fuel quantities, such as ammonia, raises risks to the local community 

Reliance on customers and coordinating simultaneous operations add further complexity to the adoption of alternative fuels. 

Ensuring a consistent and reliable supply of alternative fuels, as well as the availability of bunkering sources and adequate storage facilities, are crucial for uninterrupted operations and maintaining the infrastructure and ensuring the availability of parts for fuelling systems is essential to prevent any downtime 
The transition to alternative fuels may incur increased and unpredictable costs, and the reliability of the new fuelling systems must be carefully evaluated. With an early adoption of emerging technologies, it can result in early obsolescence, potentially disrupting operations and requiring long-term support from technology providers. 
Ensuring a reliable energy supply for fuelling operations is crucial  

Capital expenditure (CAPEX) requirements and the need for skilled workforce 

The absence of mature technologies and limited space can hinder implementation 

Proximity to populated areas raises safety and public perception concerns 

Addressing legislative gaps, obtaining safety approvals, and securing insurance coverage 
Effective logistics and planning, as well as lead time for grid upgrades, are essential for successful implementation.  

Accessing fuel supply and establishing the necessary infrastructure at suitable locations can be challenging 

Immature policies, regulations, and legislation create uncertainties and hinder the implementation of alternative fuel projects 
E – Safety – What, when, where and how do we need to consider the future safety needs for the maritime sector of specific technologies or fuels? 
Experience gained from implementing these technologies enables a deeper understanding of safety protocols and best practices. Using education and training programs ensures that personnel are equipped with the knowledge and skills to handle alternative fuels safely 

Utilising digital tools for Quantitative Risk Assessment (QRA) and accessing low-cost finance options contribute to comprehensive safety planning, learning from the safety advancements of other technologies and maintaining compliance with regulations further enhances safety in port operations.  
Ownership and accountability play a crucial role in ensuring the safe handling and management of these fuels, failure of equipment or systems can pose safety hazards 

Behaviour and human factors must be considered to mitigate risks, specifically adequate management understanding and adherence to the PEARL principles (people, environment, assets, reputation, legal) are essential 
Proper training and familiarity with equipment and technology are necessary to minimise safety risks.  
Given the potential consequences, it is vital to invest in safety measures to avoid costly mistakes. 
Education and training are essential to ensure a thorough understanding of the risks and proper safety protocols  

The costs associated with implementing safety measures can be a significant barrier 

Access to reliable and comprehensive data is crucial for informed decision-making and risk assessment 

Adequate policy and legislation are necessary to establish safety standards 
Quantitative Risk Assessment (QRA) methodologies help identify and mitigate potential hazards 

Efficient Operational Planning and Procedures (OPP) are vital for safe operations. Insurance coverage specific to alternative fuels may pose challenges. 
The National Chemical Emergency Centre (NCEC) was set up by the UK Government to provide emergency response support to incidents involving hazardous chemicals. Their knowledge and expertise places them in a unique position to understand and support our customers manage chemical and wider business risk – from emergency response to supply and transport regulations. To find out more click here 
F – Skills – What skills do we need from the workforce of the future to achieve the decarbonisation objectives?  
Creating new jobs and skillsets, establishing training programs and academies, promoting apprenticeships, and exporting expertise. Wider benefits include inspiring  next generation and future leaders 
Fostering circularity and cross-sector collaboration, supporting a just transition and encourages diversity to the sector 

Encourages the generation of innovative ideas 

Utilising virtual reality (VR) in training can enhance skill development and improve safety practices.  
These opportunities contribute to building a skilled workforce and ensuring a sustainable future in the transport decarbonisation sector. 
The potential lack of training capacity, which could create a bottleneck in acquiring the necessary skills, there is no global skills commonality, making it challenging to establish standardised expertise across different regions 

Global skill competition further exacerbates the difficulty in securing qualified professionals 
Thinking ahead to future technology, including repair and end-of-life considerations, requires a focus on lifecycle and circular economy principles 

The wide range of fuels and technologies involved necessitates a diverse set of skillsets and continuous professional development 
The cost of initial training and skills maintenance is a significant factor 

A large portion of the workforce in ports is temporary, which affects skill continuity. Plus, the mobility of people, both in terms of geography and skills, can hinder the development of expertise 

Overcoming inertia in leadership, incurring training costs upfront, and establishing a common language and terms are additional barriers to address. 
The 'master your maritime decarbonisation journey' event proved to be a valuable platform for exploring ways to reduce environmental impacts and achieve sustainable growth within the maritime sector.  
The discussions on alternative technologies, fuels, and the significance of strategic investments will undoubtedly catalyse positive change and set the course for a cleaner and more environmentally responsible future for the industry. Delegates reported the event inspired them to take further action and review the options available.