Hy in the sky
Download issue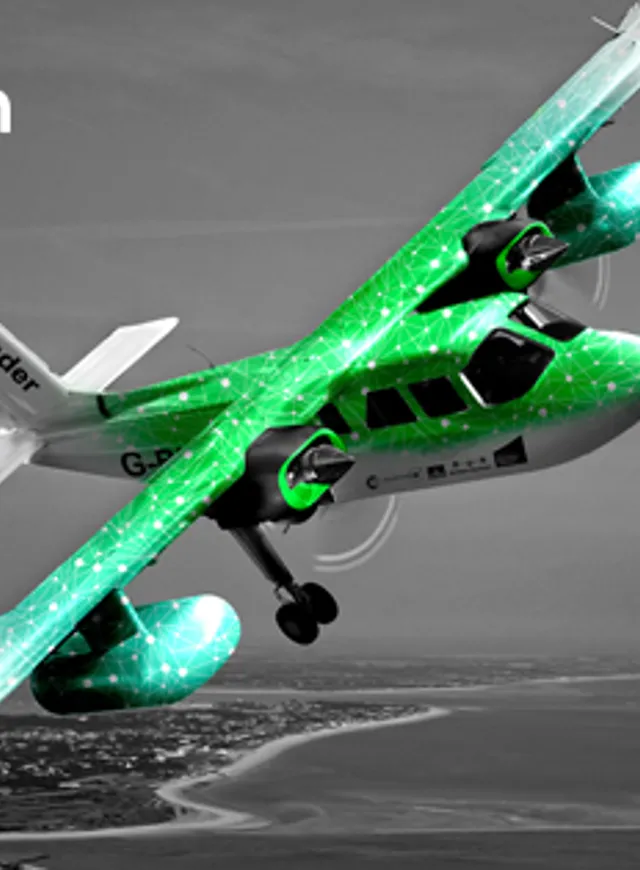 The jet engine revolutionised air transport, enabled today's global society and has been the principal propulsion system for aviation – until now. As the aviation sector looks to build back better after the global pandemic, sustainability will be at its heart. Paul Hutton and Jenny Kavanagh of Cranfield Aerospace Solutions tell Kathryn Bellamy about their ambitious plan to deliver the world's first truly green passenger-carrying airline service powered by hydrogen technology.

Looking forward to getting on a plane again and jetting off on holiday? You're not alone.

Despite the grounding of most of the world's aircraft during the global pandemic, air traffic has increased 20 per cent over the past five years and is still predicted to reach 10 billion passengers a year by 2050. This has largely negated the reductions in carbon dioxide emissions per passenger flight which have been made by the commercial aviation sector, thanks to improved engine technology and operational efficiency.

If the global commercial aviation sector is to bounce back greener from the worst crisis in its history, it needs technology solutions which can deliver zero carbon emissions but which, crucially, are also commercially viable.
If the global commercial aviation sector is to bounce back greener from the worst crisis in history, it needs technology solutions that can deliver zero carbon emissions but which, crucially, are also commercially viable.
Demonstrating that sustainable propulsion technology has a clear route to market is at the heart of Project Fresson. Named after Captain Ernest Edmund 'Ted' Fresson OBE, a British engineer and aviation pioneer who died in 1963, this research and development technology programme led by Cranfield Aerospace Solutions is seeking to exploit recent advances in hydrogen fuel cell technology to develop a commercially viable, retrofit powertrain solution for the nine-passenger Britten-Norman Islander aircraft.

Hydrogen is not a new technology for transport. It was developed as rocket fuel for the US space programme in the 1950s and is currently used in heavy duty commercial vehicles, such as long-haul trucks and buses, because it offers not only zero carbon emissions but also cost effective solutions in terms of total cost of ownership. Yet, despite this pedigree, hydrogen has not been considered for commercial aviation until now.
Achieving usable range
Paul Hutton, CEO of Cranfield Aerospace Solutions, explains what has changed: "Cranfield Aerospace and Britten Norman look upon Project Fresson as an aircraft challenge and an operators' challenge. It's about finding the right technology successfully to deliver the mission that a service provider requires.

"We briefly considered pure battery electric to see if that had any chance of delivering what we wanted but, even before the formal project started, we realised we needed something other than just a battery to get a usable range.

"Having looked at the hybrid electric range extender option, in some respects it looked quite promising. However, when we started doing detailed analysis and understanding the weight implications, whichever angle we took couldn't realise a solution which was greener than the original aircraft, while still being safe and that had operational credibility.

"In parallel," Hutton adds, "we were looking at hydrogen as we had discovered very lightweight storage solutions to get the weight down because the tanks required to carry gaseous hydrogen can be very heavy. The availability of fuel cells with the right level of output was improving and the whole infrastructure around the availability of hydrogen as a fuel seemed to be accelerating at the same time.

"Having completed a comprehensive evaluation of technologies and configurations for sustainable aircraft propulsion, we concluded that hydrogen fuel cell technology is the optimum solution to meet environmental, regulatory and operational requirements for this size of aircraft, enabling zero carbon emissions and reducing operating costs."
Project Fresson will deliver an emissions-free (zero CO2), hydrogen-fuel-cell-powered flying demonstrator by September 2022.
In support of this, following a rigorous assessment of hydrogen technology innovators, Cranfield Aerospace Solutions brought Ricardo and Innovatus Technologies Limited into the consortium delivering Project Fresson.

Jenny Kavanagh, Chief Strategy Officer for Cranfield Aerospace Solutions, describes what both companies are bringing to the project: "Ricardo is providing the fuel cell system including its controller, which is the primary source of electricity on the aircraft. We selected Ricardo because of its industry-leading experience in systems engineering and model-based development approaches, as well as its expertise in fuel cell and thermodynamic or thermal systems development.
Delivering efficiency improvements
"Ricardo has developed a process to improve the balance of plant components for multiple stack layouts for aerospace but also large applications requiring multiple stacks such as commercial vehicles, rail and marine. Its hydrogen fuel cell system development approach with multiple stacks balance of plant leads to an efficiency improvement of between five and 15 per cent depending on duty cycle against the conventional approach of balance of plant and control development, so there are tangible performance benefits.

"Innovatus Technologies leads the field in next generation, ultra-lightweight hydrogen tank design exploiting patented cellular core composite techniques," Kavanagh explains. "Project Fresson will use its innovative Scottish Hydrogen Fuel Tank (SHyFT) technology.

"Very novel latest generation carbon composite manufacturing techniques create multi-chamber hydrogen storage tanks which are super lightweight, very high pressure capable and completely formable to the application required. Aerodynamics are key, weight is paramount and hydrogen storage volume is a principal descriptor of the range of the system.

"Innovatus brings this technology into the programme to carry enough hydrogen efficiently in the form factor to release the performance of the platform. This is critical to the successful integration and exploitation of hydrogen fuel cell power systems in applications across aerospace, automotive, industrial, and marine sectors."
Proving commercial viability
The commercial viability of the technology is a key objective of the project. Hydrogen produces significant cost savings compared to avgas or avtur fuel alternatives. "The biggest saving comes from the expected market price of hydrogen and the amount needed for a given flight," says Hutton.

"The carriage requirements of hydrogen make it less storage dense, but the energy density is high so the amount of hydrogen you need is relatively small. Therefore operators can make a significant saving, especially for an aircraft such as the Britten-Norman Islander which has nine passenger seats. We estimate an annual operational cost saving of £150,000-£300,000 against current piston engine options, depending on usage and cost of hydrogen.

"There is also a maintenance cost saving as the elements of these technologies have fewer moving parts: we estimate that maintenance costs should fall by around 15 per cent for the whole aircraft and up to 50 per cent just for the propulsion system."

Project Fresson will deliver an emissions-free (zero CO2), hydrogen fuel cell-powered flying demonstrator by September 2022. Subject to successful certification by the civil aviation authorities, the first flight with paying customers, which could take place by operators in the UK, will be the world's first truly green passenger-carrying airline service using hydrogen fuel cell technology.
Learn more about Ricardo Aerospace here.
Learn more about Ricardo Hydrogen here.

For the latest news and updates on Project Fresson visit: www.projectfresson.uk or follow on Twitter @projectfresson.
Subscribe now
Request a new subscription or manage your existing subscription to RQ.