Ricardo Quarterly Autumn 2019
Download issue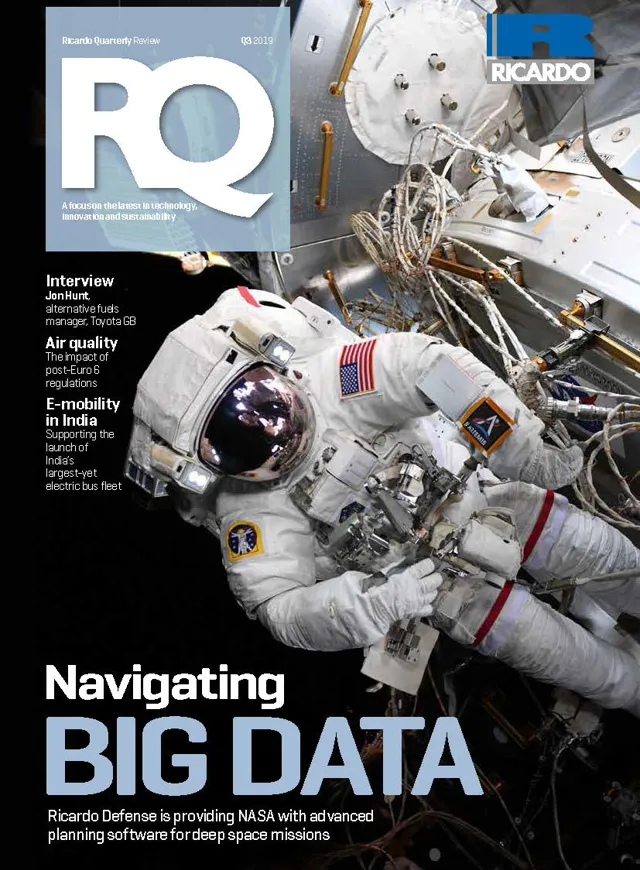 Shaping a safer atmosphere for tomorrow: Ricardo air quality experts discuss the impact of likely post-Euro 6 vehicle emissions regulations, and the challenges of meeting these.
 
Helping NASA navigate Big Data: Ricardo Defense is supplying NASA with software for analysis of large and complex data sets, to be used in planning future deep space missions.
 
Powering e-mobility in India: Ricardo engineers are exploring smart solutions to support the deployment of India's largest-yet fleet of electric buses, as part of a collaboration with Tata Power.
 
Interview: Jon Hunt, alternative fuels manager, Toyota GB, on why hydrogen is the ultimate zero-emissions energy vector.
 
RQ viewpoint: Ella Andrew, Ricardo Energy & Environment analyst consultant, policy strategy & economics, argues that the broader societal and infrastructural costs of transport aren't covered by taxation.
 
Ricardo news: Connecting solar power to the railway network; cooling EV batteries; renewable energy plan for Bermuda; speed records and biomethane power for tractors; Ricardo cyclists raise £50,000 for charity.
Subscribe now
Request a new subscription or manage your existing subscription to RQ.