Ricardo Quarterly Autumn 2020
Download issue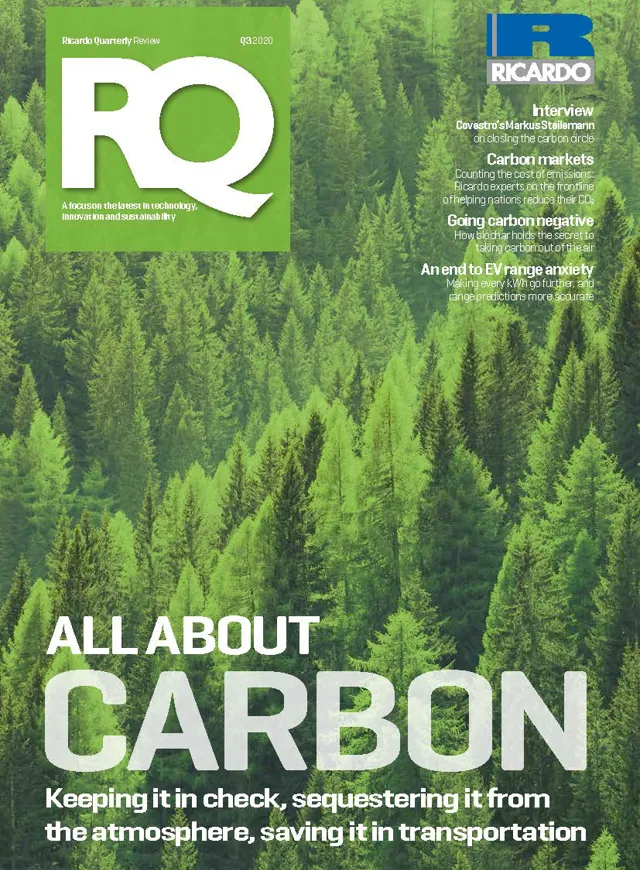 Counting the cost of carbon: Emissions trading systems are vital in the battle to keep atmospheric carbon in check. Ricardo experts are on the frontline of bringing nations together to rebalance the global climate.

Going carbon negative: Bluebox Energy's innovative combined heat and power concept sequesters carbon in the form of biochar, which can then be locked back into the soil. We report on the collaboration with Ricardo that promises to smooth the pathway to overall net zero.

An end to range anxiety: Today's buyers want maximum range from their EVs, and for engineers this means finding top-level efficiency for the whole vehicle. Ricardo's innovative development framework tackles the complex subject of EV thermal management.

Interview: Dr Markus Steilemann, CEO of polymers producer Covestro, explains to Ian Adcock his thinking around plastic waste and the circular economy.

RQ viewpoint: Michael Feasey, Ricardo Energy & Environment, explains how fast DC interconnections can speed EV take-up.

Ricardo news: Championship-winning Formula E transmission; double US success for Ricardo Defense; clean-air taskforce survey – and helping Scotch whisky to hit net zero.
Subscribe now
Request a new subscription or manage your existing subscription to RQ.