Ricardo Quarterly Autumn 2021
Download issue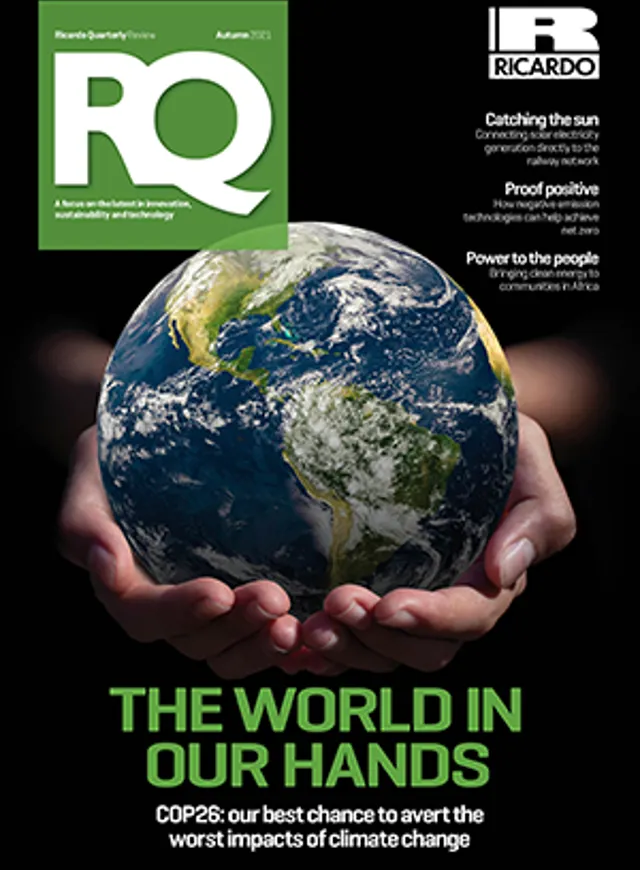 Forward with confidence: Outgoing CEO Dave Shemmans reflects on more than two decades of positive change.

Zero balancing: The importance of COP26 for the world – and for Ricardo.

The world at one: How Ricardo is helping countries across the globe to meet their climate commitments and deliver future change.

NET benefits: A collaboration with Bluebox Energy to design a community-scale greenhouse gas removal system.

Here comes the sun: Connecting solar electricity generation directly to the network – the start of a radiant future for rail?

Weathering the storm: How the UK is stepping up efforts to create greater climate resilience.

Arrival time: Evolving options for urban transportation.

The big picture: How Ricardo is bringing clean energy to communities across Kenya.

A view from: Innovate UK CEO Indro Mukerjee on the UK Transport Vision 2050.

This much I know: Joanna Rowe on high performance engine assembly and being named as one of Autocar's Great Women.

A day in the life : Gemma Cox, mechanical engineering student and Ricardo Engineering Prize winner.

Ricardo news: Latest developments from around the global Ricardo organisation, including support for the waterborne transport sector's aim for zero emissions by 2050; a clean freight project in Mexico; and a prestigious Royal Statistical Society award.
Subscribe now
Request a new subscription or manage your existing subscription to RQ.