Ricardo Quarterly Spring 2020
Download issue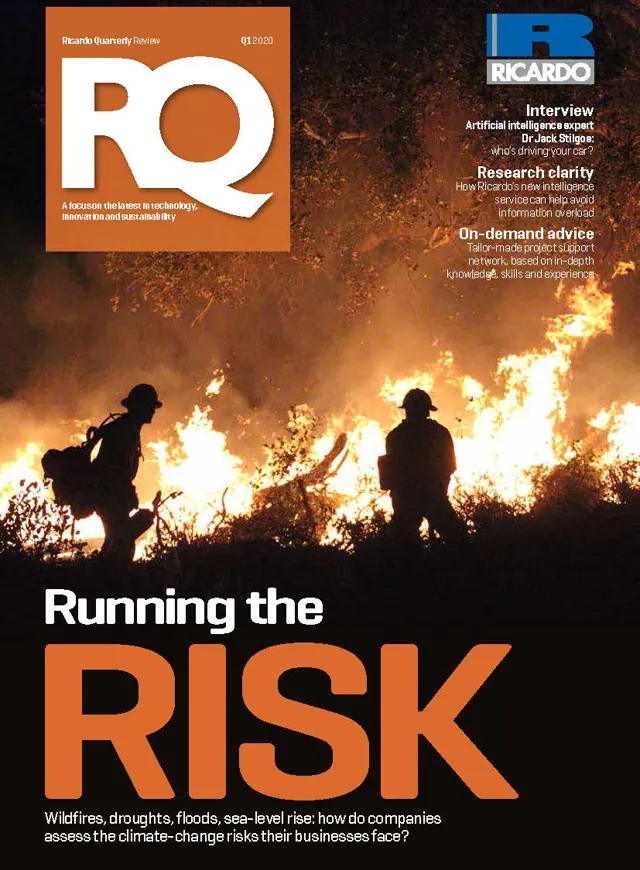 TCFD - Balancing risk and reward: Storms, floods, wildfires, sea-level rise - the effects of climate change will have an impact upon every organization worldwide. But how do companies evaluate the real dangers they face? We report on moves to help firms assess their risks and protect their businesses. Read more.
 
From information overload to easy intelligence: Ricardo's new RiCKTM service combines AI technology and expert curation to help project leaders improve the quality of their research – and save time and cost, too.
 
On-demand consulting for a transforming world: Ricardo TRNTY provides access to a curated global network of independent expertise, carefully selected from millions of potential profiles.
 
Interview: Artificial intelligence is being promoted as the key to future autonomous driving technology - but is AI as intelligent as it's made out to be? Ian Adcock questions acknowledged expert Dr Jack Stilgoe.
 
RQ viewpoint: Ricardo commercial vehicles chief engineer Andrea Trevisan on why hydrogen beats big batteries for long-haul freight vehicles.
 
Ricardo news: GM Defense teams with Ricardo; high-speed rail for Seoul and advanced driver assistance for Dutch trams; synthetic fuels for sustainable shipping; new Ricardo leaders for innovation and software.
Subscribe now
Request a new subscription or manage your existing subscription to RQ.