Ricardo Quarterly Spring 2021
Download issue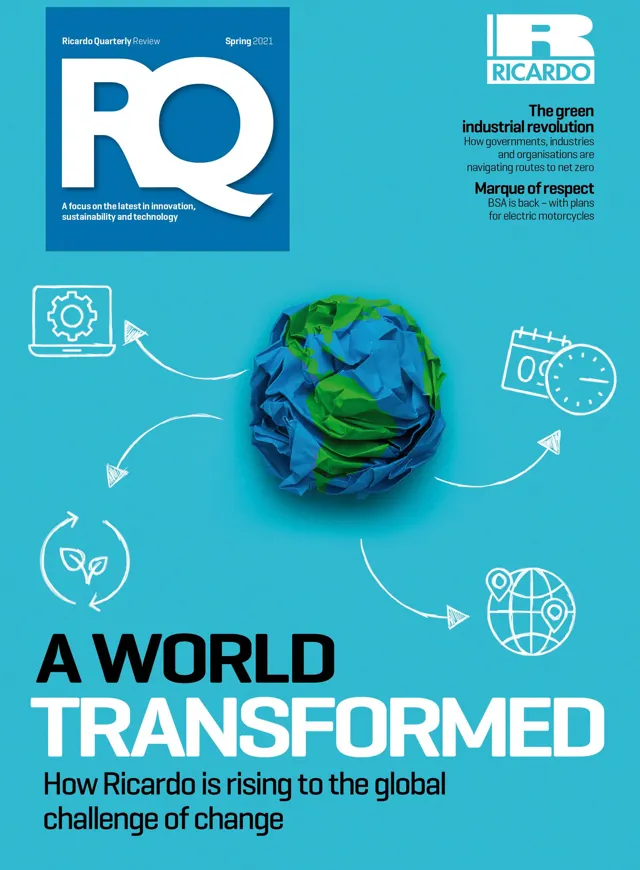 10 transformational learnings from a year of uncertainty: How Ricardo, its partners and customers have responded positively to 12 months of 'business as unusual'.
 
Making a marque: Ambitious plans for BSA – plus analysis of the electric motorcycle market.
 
Routes to net zero: The stage is set for another global industrial revolution. This time it's green.
 
The power of H2: Why Ricardo's initial £2.5 million investment in a test facility is accelerating the company's vision to be a leader in hydrogen.
 
Viewpoint: 2030 is a key date for take-up of electric vehicles, says Sandra Roling, Head of Transport for The Climate Group.
 
Endpiece: Cheers! How a new sustainability strategy is helping secure a net-zero future for Scotland's national drink.
 
Ricardo news: Funding to improve electric vehicle battery life, new powertrain software and the opening of Ricardo's Electrified Propulsion Research Centre.
 
Industry views: The world's first electric forecourt, research into grid-optimised charging and a global coalition to accelerate green hydrogen.
Subscribe now
Request a new subscription or manage your existing subscription to RQ.