Ricardo Quarterly Spring 2022
Download issue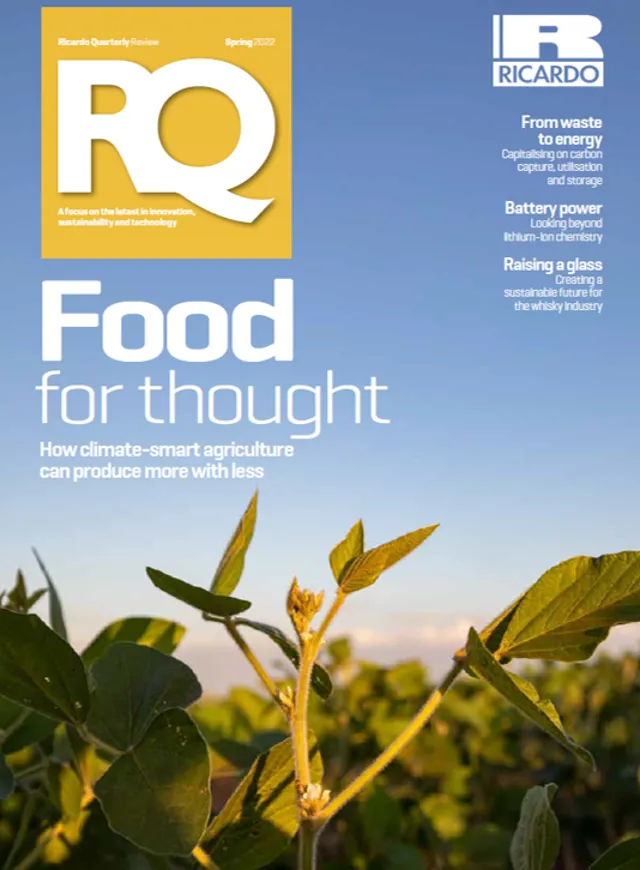 The promised land: Climate-smart agriculture, farm carbon audits and the Future Farming Resilience Fund.

From waste to energy: The potential of carbon capture, utilisation and storage in reaching net zero.

Creating chains of value: How tackling Scope 3 emissions can help companies position themselves as sustainability leaders and using Life Cycle Assessment to achieve evidence-based greenhouse gas reduction.

Bright green future: Looking beyond lithium-ion chemistry to turbocharge the move towards electrification.

Power to the pedal: Ricardo has become the sustainability partner for the E-Bike Grand Prix.

The big picture: Helping the Tomatin Distillery in Scotland reduce its carbon emissions.

A view from: Jenny Roe, Director of the Centre for Design & Health at the University of Virginia, on why urban mobility planning should focus on more than connectivity and speed.

This much I know: Consultant Mechanical Engineer Tom Kay on combining personal and professional passions.

A day in the life: Why International Women's Day is a landmark in the Ricardo calendar.

Ricardo news: The acquisition of an Australian consultancy; support for the UK's first zero emission zone; and funding to develop a dedicated electric motor for battery electric light commercial vehicles.
Subscribe now
Request a new subscription or manage your existing subscription to RQ.