Ricardo Quarterly Summer 2019
Download issue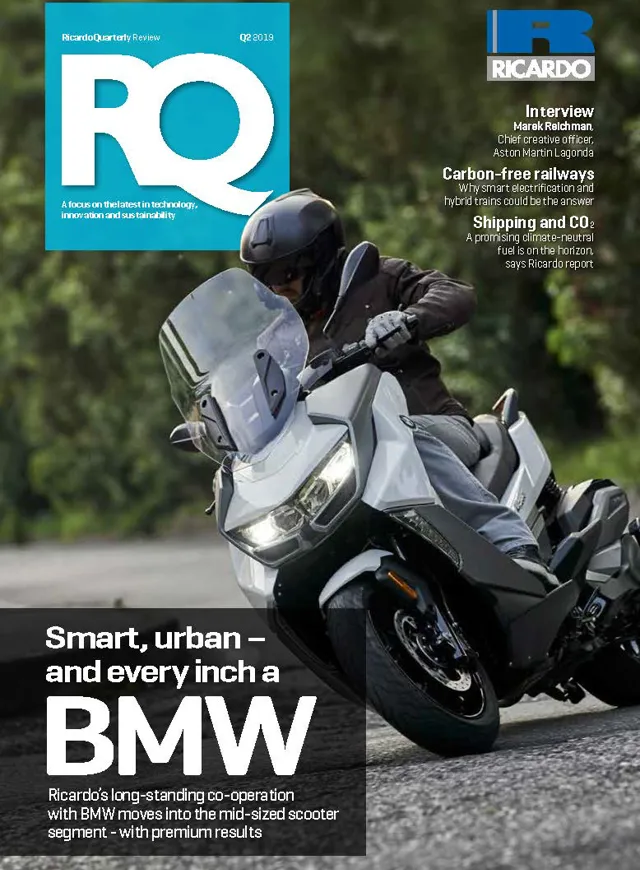 On track for carbon-free rail traction: With the new focus on carbon emissions and sustainability, railways are busy devising smarter approaches to electrification. We explain how these new developments can also help air quality and noise. Read more.

Every inch a BMW: Ricardo's long-standing co-operation with BMW Motorrad has helped advance the development of a new generation of premium mid-sized scooters. We report on the creative processes behind the new and innovative C400 series

Sailing on solar: Shipping is responsible for 3 percent of global CO2 emissions but has been slow to embrace technical change. Yet, says a new Ricardo report, there could be an answer in the shape of green ammonia. Read more.

Interview: Branching out from its James Bond-style GT sports cars, Aston Martin is adding sensational mid-engined hypercars, SUVs and all-electric super-luxury Lagondas. We ask chief creative officer of Aston Martin Lagonda, Marek Reichman, how the transformation will unfold.

RQ viewpoint: Jamie Pitcairn, technical director, Ricardo Energy & Environment, argues that compostable bioplastics cut pollution and benefit the economy. Read more.

Ricardo news: Managing digital risk in connected transport systems; global engineering collaboration aided by VR; ZEV vision for UK goods transport; and offshore wind expansion.
Subscribe now
Request a new subscription or manage your existing subscription to RQ.