Ricardo Quarterly Summer 2020
Download issue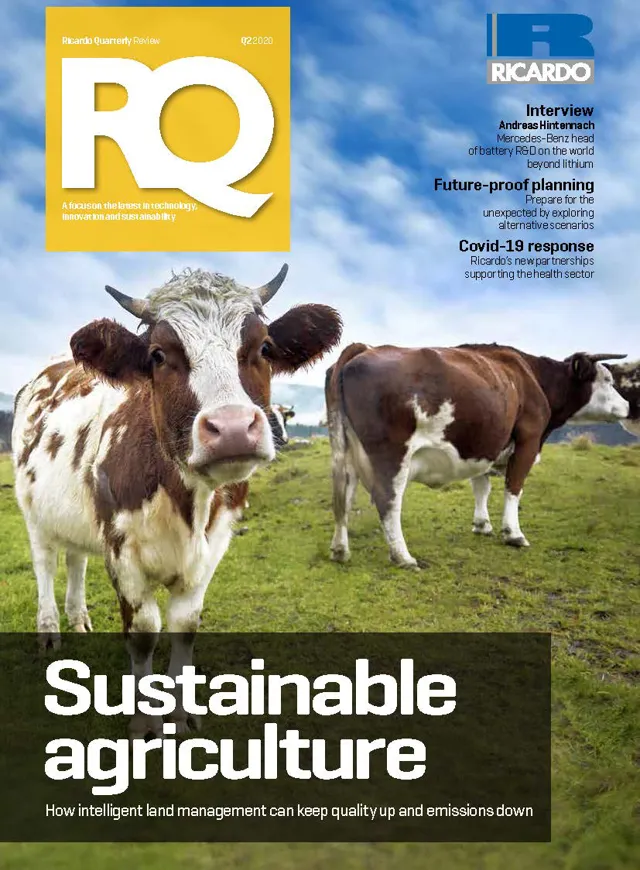 Prepare for the unexpected: With Covid-19 having taken everyone by surprise, we hear from experts at Ricardo Strategic Consulting how scenario planning processes can help organizations future-proof themselves by rehearsing their responses to a range of extreme events designed to stretch their thinking.
 
Sustainable agriculture and land-use change: The way that land is managed can have a significant impact upon greenhouse gas balances and environmental sustainability, explain the Ricardo Energy & Environment agriculture team.
 
Business as unusual: In the face of the coronavirus pandemic Ricardo continues to operate seamlessly thanks to large-scale remote working – and new partnerships are being forged in healthcare technology, personal protective equipment production and the provision of laptops to help schools.
 
Interview: Profiling a world beyond lithium-ion, Andreas Hintennach, Mercedes-Benz's head of battery R&D explains the part played by manganese, sulfur, silicon and air.
 
RQ viewpoint: Richard Murphy, Ricardo director of test operations, explains how key certification work has continued through the Covid-19 crisis - and will accelerate after it.
 
Ricardo news: Ricardo helps steer Bristol towards carbon neutrality; software assists transmission innovation; report highlights changing landscape of EV charging; 'digital-first' strategy enables waste audit service to power through lockdown.
Subscribe now
Request a new subscription or manage your existing subscription to RQ.