Ricardo Quarterly Summer 2021
Download issue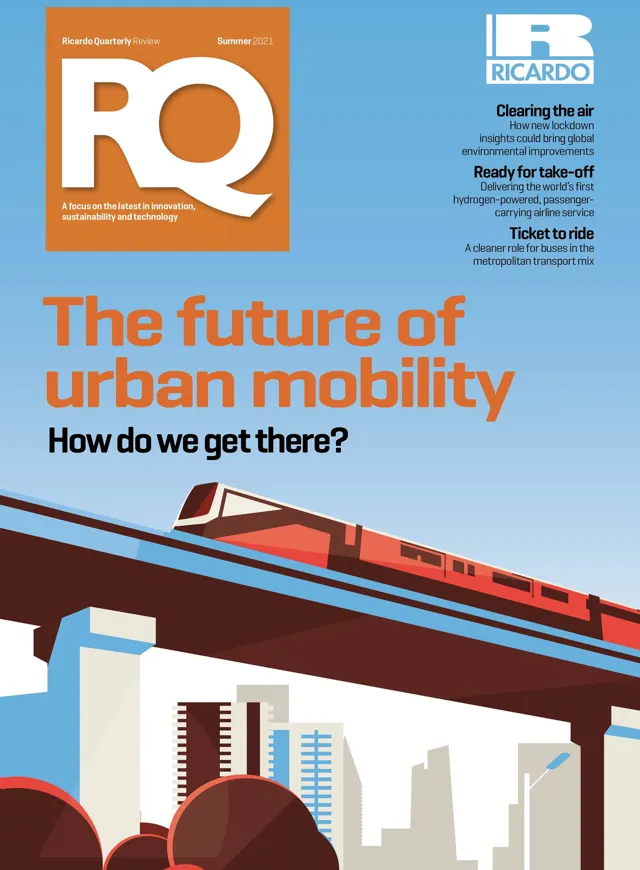 Transportation transformation: Consultant Leon Daniels OBE discusses the future of urban mobility.
 
Something in the air: How periods of lockdown have enabled new environmental insights from road traffic and vehicle emission remote sensing data.
 
Hy in the sky: An ambitious plan to deliver the world's first passenger-carrying airline service powered by hydrogen technology.
 
Just the ticket: Buses are key to the urban transport mix but also a major contributor to air pollution. How can we have one without the other?
 
The big picture: How Ricardo is helping organisations in Bangladesh move towards a low-carbon sustainable future.
 
A view from: Jill Duggan of the Environmental Defense Fund Europe on three ways the EU can change the global maritime emissions game.
 
This much I know…: Ricardo Energy & Environment's Fiona Twisse talks about Sustainable Aviation Fuel and the 'Green Fuels, Green Skies' competition.
 
A day in the life…: Marques McCammon, President of Ricardo North America, reflects on the inaugural Ricardo Mobility Summit.
 
Ricardo news : Latest developments from around the global Ricardo organisation, including a new hydrogen-fuelled research engine, a major contract for Ricardo Defense and double success at the British Engineering Excellence Awards.
Subscribe now
Request a new subscription or manage your existing subscription to RQ.