Ricardo Quarterly Summer 2022
Download issue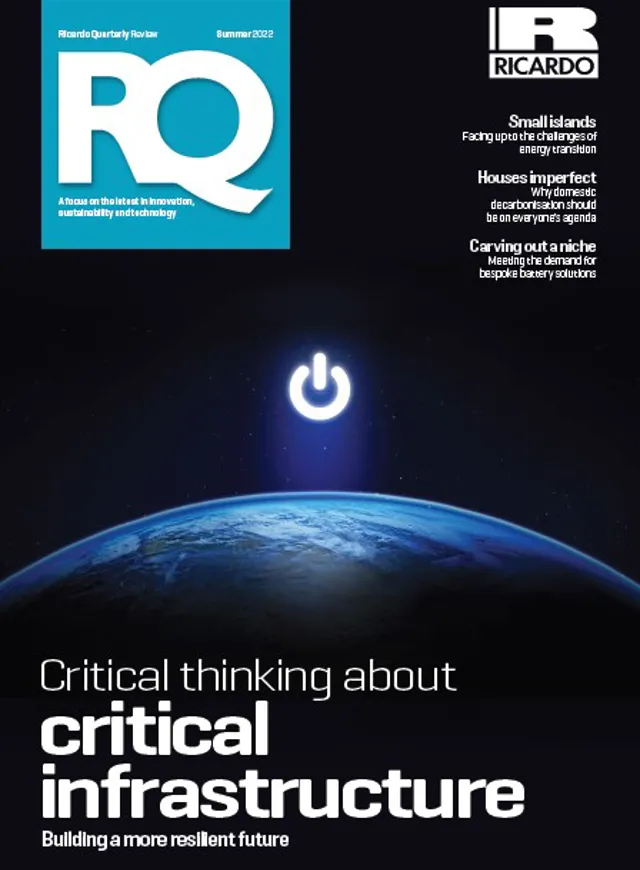 Critical thinking about critical infrastructure: the economic and social cost of disruption to key systems and the opportunities that can emerge.
Small islands, big impacts: how islands around the world are building a more resilient future.
Water – a deep dive: the global issues around the supply, treatment, storage and transportation of our most precious resource.
Buildings for the future: Ricardo's Sujith Kollamthodi describes his own domestic decarbonisation agenda.
Bespoke batteries: Ricardo is leading the way in niche vehicle battery solutions.
The big picture: London's Elizabeth Line is one of the largest and most complex assessments ever performed by Ricardo Certification.
A view from: Richard Scotney of the World Wildlife Foundation on how best to increase energy security.
This much I know: Ricardo's Chief Engineer Dragica Kostic-Perovic explains why bringing more women into engineering is vital for the future of the profession.
A day in the life: why diversity, equity and inclusion must be at the heart of every workplace.
Ricardo news: latest developments from around the global Ricardo organisation, including a major certification contract in Toronto and completion of a hydrogen fuel cell bus demonstrator.
Subscribe now
Request a new subscription or manage your existing subscription to RQ.