Ricardo Quarterly Winter 2020
Download issue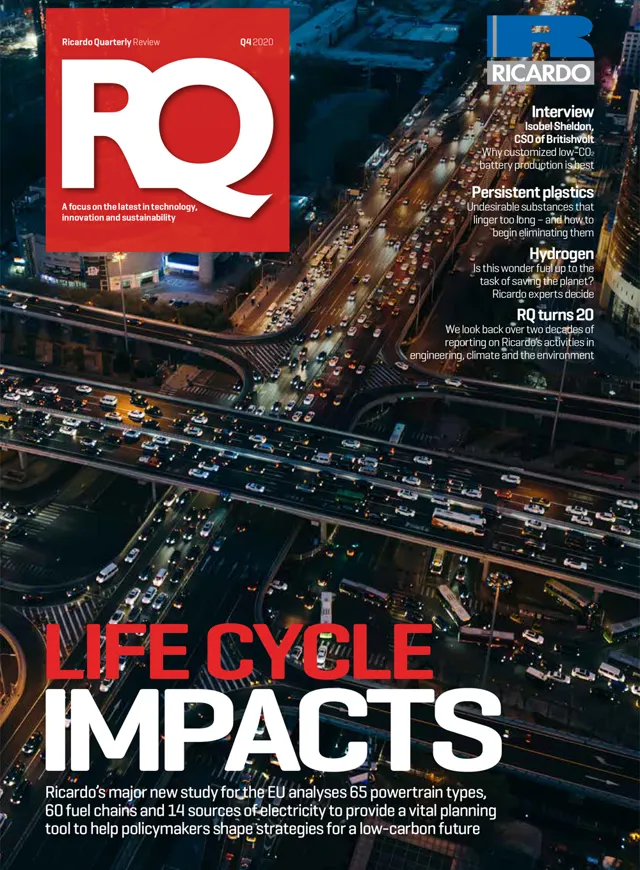 Persistent and toxic: Plastics and chemicals that last too long – Ricardo experts explain how to keep unwanted compounds in check.

Carbon calculus: Ricardo's major new life cycle study for the EU is a vital planning tool to help policymakers shape strategies for a cleaner future.

Hydrogen: It has been billed as the wonder fuel for the future, but can hydrogen really step up to save our planet? We speak to seven Ricardo experts to find out.

RQ magazine – 20 years at the cutting edge: We look back over two decades of reporting on Ricardo's activities in engineering, design, climate and the environment.

Interview: Isobel Sheldon, the chief strategy officer of Britishvolt, plans to revolutionize battery production in the UK.

RQ viewpoint: Dave Shemmans, CEO of Ricardo plc, on the Group's commitment to zero carbon by 2030.

Ricardo news: Climate support for six countries in lead-up to COP 26 in Glasgow; new U.S. Army vehicle has Ricardo input; work with Siemens on German intercity trains; UK 'Business Hero' accolade for Ricardo.
Subscribe now
Request a new subscription or manage your existing subscription to RQ.