Ricardo Quarterly Winter 2021
Download issue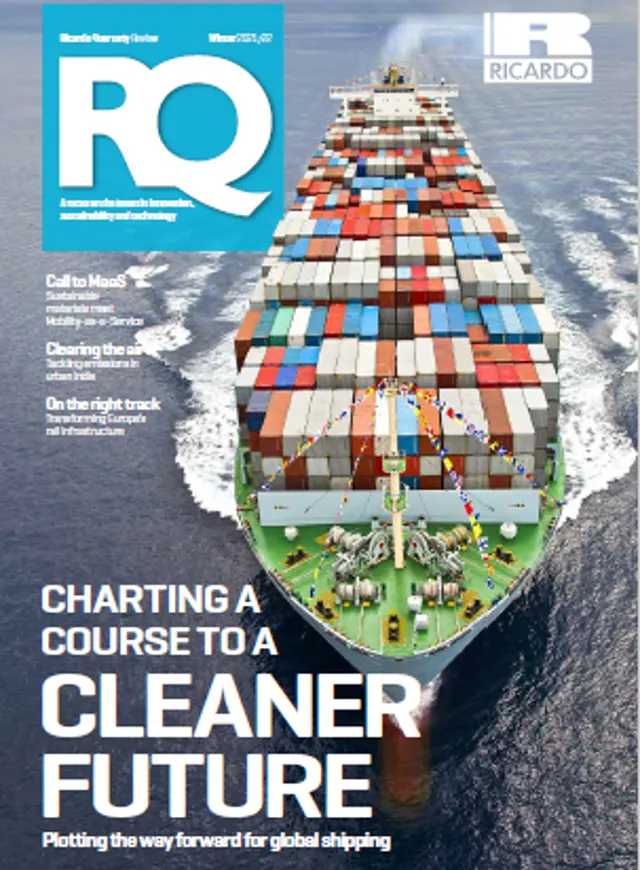 E-Motive subject: Sustainable materials meet Mobility-as-a-Service in a joint autonomous vehicle project between WorldAutoSteel and Ricardo.

NDCent haste: James Harries, Ricardo's Principal Consultant in International Climate Change, explains why this year's focus for climate actions must be on implementation as well as setting stiffer targets.

Setting sail towards zero emissions: RQ examines the financial, logistical and technical challenges facing the shipping industry as it strives to get cleaner vessels in the water.

Hub for a challenge: An urban mobility challenge for Ian Callum and his design and engineering consultancy.

Changing tracks: How Ricardo is helping to develop European rail infrastructure that is safe and efficient as well as clean and green.

The big picture: How Ricardo is supporting a Low Emission Zone in the Indian city of Bhubaneswar.

A view from: Jenny Kavanagh, Chief Strategy Officer for Cranfield Aerospace Solutions, explains why hydrogen-powered aircraft are the future of sustainable aviation.

This much I know: Insight from Steve Blevins, Head of Engineering for Ricardo Performance Products, on the ground-breaking Indy Autonomous Challenge.

A day in the life: Andy Ennever, Ricardo's Hydrogen Fuel Cell Systems Service Leader, outlines the company's involvement in the Tees Valley hydrogen transport hub.

Ricardo news: Latest developments from around the global Ricardo organisation, including a new air quality monitoring contract in Saudi Arabia; Formula E collaboration continuing; and funding to optimise climate control systems in electric vehicles.
Subscribe now
Request a new subscription or manage your existing subscription to RQ.