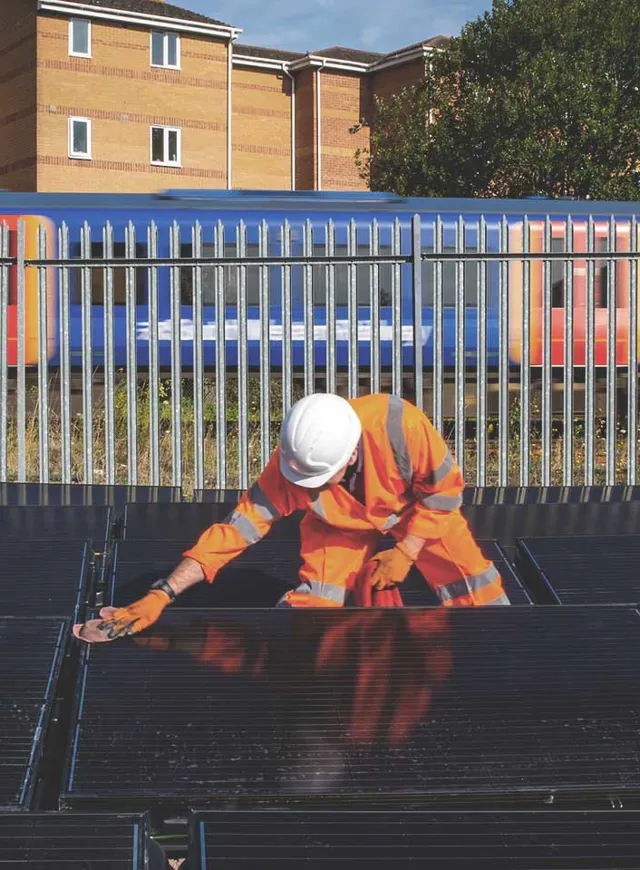 Riding Sunbeams - the solar powered railway
Riding Sunbeams is a unique organistion we supported to explore the potential for solar power as an alternative energy source for the rail sector.
During the summer of 2019, a test unit of around 100 solar panels was installed next to the trackside near Aldershot, Hampshire funded by Innovate UK - the first time in the world that renewable zero-carbon electricity had been directly supplied to an adjacent rail line.
Challenge
The solar test unit, of just under 40kWp, connects to an ancillary transformer on the traction system of Network Rail's Wessex Route , with the energy captured from the panel array used to help power trains passing through Aldershot as well as supplying signalling and lights.
Although it could be said that railways already make use of solar power - it is a contributor to the UK's grid - this is the first time solar panels have been directly connected to the railway.
The project's aim was to show that lineside solar electricity could prove cheaper than energy from the grid and could provide as much as 10% of the southern region's power needs in the UK.
Solar rail pioneer Riding Sunbeams worked with Ricardo, Thrive Renewables, Cuckmere Community Solar and Network Rail to deliver the solar traction farm at a site in East Sussex.
Approach
Ricardo teams provided  expertise in power generation research and experience of connecting renewable energy technologies to existing infrastructure.
According to Ricardo's Colin McNaught, who has been advising the trial programme, the project is a unique opportunity to tap into an underused zero-carbon option:
"This project opens up opportunities to utilise renewable energy technologies in ways not previously possible. It has the potential to provide significant opportunities in enabling rail infrastructure operators and governments to deliver the environmental changes needed for a 'net zero' future."
Results
In summer 2020, following a successful first year in operation, the Riding Sunbeams project secured a further £2.5 million of funding.
Air quality modelling to support health and land-use planning research in Fife
Read case study