Over a century of expertise in maritime powertrain and energy systems
Since 1907 when Sir Harry Ricardo developed his first marine engine, our engineering experts have been applying marine technology, innovation and deep domain knowledge to help clients drive efficiency, reduce cost and risk from new technology introduction. 
Our capabilities in marine engineering
Our established and emerging solutions help clients reduce cost and risk from new technology introduction. Our expertise includes: life cycle assessment; pathways to alternative fuels; environmental analysis; turnkey engineering services from concept to production; testing and validation.   
Book a consultation
Our impartial evidence and analysis underpins climate and environmental policymaking throughout the policy lifecycle. We add value to policymakers by pairing our subject matter expertise with robust economic techniques. Our experience with economic and financial analysis supports policy, regulatory, business planning and investment decisions, working extensively for governments and businesses worldwide. Our insights gained from working at the heart of policymaking in the EU inform corporate strategy around regulatory activities in the EU and globally. 
We carry out independent and impartial assessments of technology and business options across the maritime sector.  We use our deep technical understanding of propulsion systems, alternative fuels and energy management to help our clients understand and plan the optimum solutions.  Our structured approach to quantified scenario analysis supports the development of strategies which are robust to future uncertainty.  
We support marine clients by developing: future strategies on air quality, climate, ESG and net zero; hydrogen and alternative fuels for vehicles, port machinery and vessels; local marine and estuarine quality; and environmental impact assessments for new developments. Our safety services include chemical emergency response, hazmat and regulatory training.
Environmental impact assessment, regulatory support
Environmental permit application and regulatory support including liaising with key regulatory stakeholders
Port environmental monitoring for environmental permit compliance
Port development and expansion support, including preparing Environmental Impact Assessment, and supporting port owners with planning applications and discharging planning conditions
Sustainable transport for ports
We undertake:
Port vehicle fleet analysis, alternative fuels (such as hydrogen) and electric vehicle options appraisal, refuelling/recharging infrastructure planning and support, and fleet replacement strategies to help fleet operators reduce their emissions and costs
Lifecycle greenhouse gas (GHG) and air pollutant emissions impacts, resource availability, using cost benefit analysis to compare alternatives
Economic impacts assessments
Port fleet operator engagement forums to share information and encourage vehicle operators to adopt low-emission vehicles.
Air quality
Our unique expertise working with governments, public and private sector for over 60 years helps our global clients understand, manage and improve air quality. We have the longest-established and one of the largest specialist air quality team in the world.
Management of chemical risk
For emergency response, Ricardo is the chosen provider of the UK Government and 50% of the world's top 100 chemical companies. Through our National Chemical Emergency Centre, we are:
Providing around-the-clock chemical emergency advice to support port authorities when responding to incidents involving chemicals.
Offering our chemical hazards database, Chemdata®, which contains information on over 61,000 substances and provides relevant, actionable and propionate advice at an incident scene.
Delivering business continuity, incident notification and emergency response training, exercising and consultancy services 
Our deep scientific analysis helps our clients make the right evidence-based investment decisions, develop more sustainable products and offer more sustainable pathways to a low carbon maritime future.
We conduct life cycle assessments for world-leading global organisations in maritime, logistics and engine manufacturing. 
Our clients include the International Maritime Organization (IMO) which we have advised on sustainability criteria, life cycle greenhouse gas emission assessment methods and standards for alternative marine fuels. We help IMO Member States and the wider maritime sector understand the environmental impacts of alternative fuel options. Our evidence enables private sector clients make decisions on conventional and future fuels for vessels and routes.
Life cycle assessment (LCA): Our expertise gives:
Policy-makers: robust evidence for policy decisions at the start of the value chain
Maritime OEMs: the latest scientific understanding, shaping our design and development of alternative power and propulsion systems with conventional and alternative fuels and energy sources
Maritime industry players: evidence to inform their decisions about which future fuel will provide the smallest environmental footprint for their customers
Our consultants have decades of experience conducting multi-sector product life cycle assessment (LCA) studies compliant to ISO 14040 and the European Commission's recommended Product Environmental Footprint methodology. We have SimaPro, GaBi, and WRATE licences and direct access to the latest EcoInvent online database.
For maritime sector clients we conduct life cycle assessments for future and current fuels, to develop a deeper knowledge of their footprint and identify where they can make the most effective changes to improve sustainability. Our deep scientific analysis helps our clients make the right evidence-based investment decisions. This helps develop more sustainable products and/or offer more sustainable pathways with their own customers, often to the greater satisfaction of investors.
We consider scenarios including road-mapping and total cost of ownership.  As a member of the Getting to Zero Coalition, we are committed to accelerating the decarbonisation of maritime shipping. Through our technical expertise in alternative fuels and scenario planning we support maritime customers with fuel options for different vessels, set out pathways to decarbonisation, evaluate future alternative fuel pathways and manage uncertainty.
Engineering service, from concept to production
We deliver turnkey engineering services around clean sustainable propulsion and energy systems: battery and fuel cells, emotors and clean internal combustion engines using conventional and alternative zero carbon fuels including hydrogen and ammonia. Our capability ranges from feasibility to concept, detailed design, analysis and simulations, controls development, energy optimisation, performance, emission improvement and issue resolution. 
Testing and validation
We have a broad capability to test marine propulsion systems including: combustion engines, fuel cells, emachines and batteries. Specific challenges exist in the marine industry with test systems needed to replicate real operating conditions often requiring bespoke test system design. Our engineering teams can tailor a test solution to meet these needs.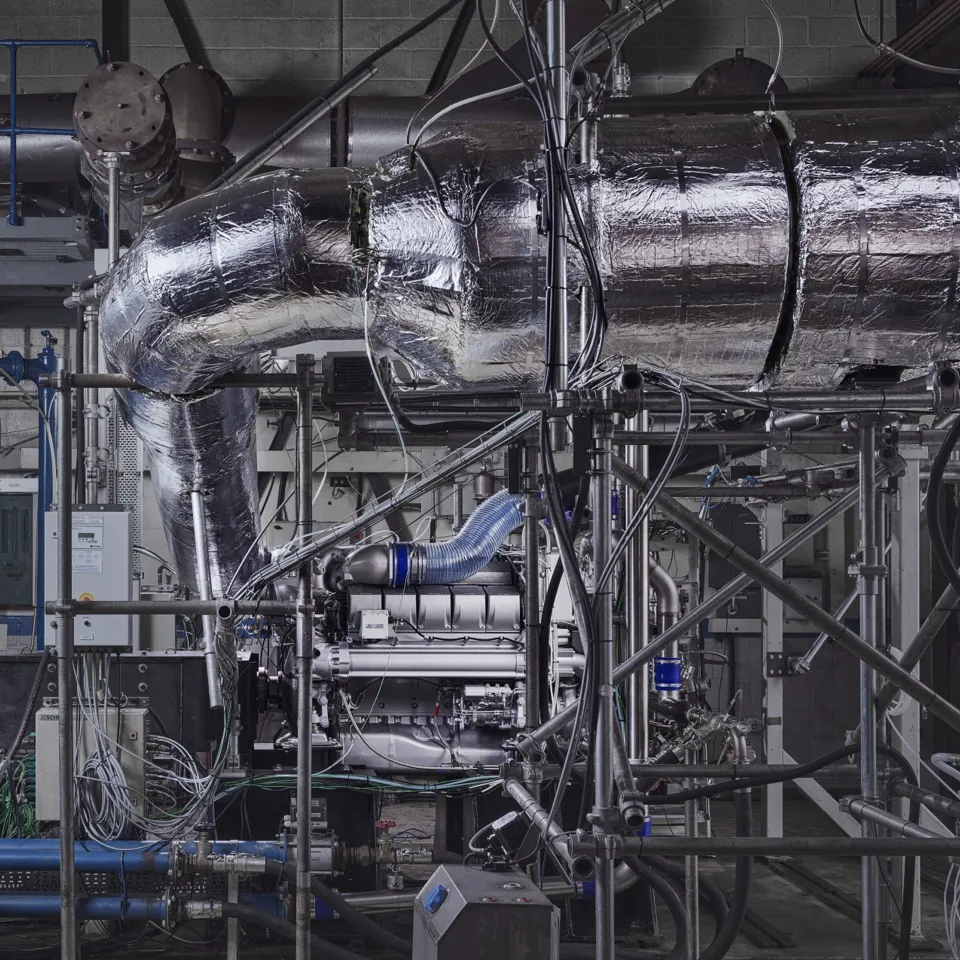 Book a consultation with our marine experts
Click 'get in touch' to reveal the form and fill it out to get in touch with our experts.