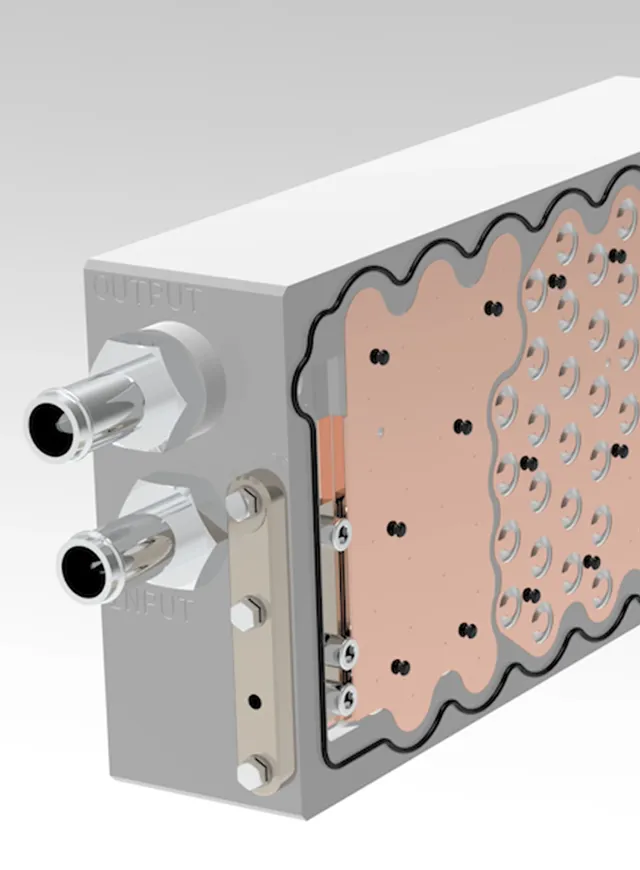 Battery cooling technology
This technology highlights Ricardo's thought leadership in the development of energy storage solutions and demonstrates innovative approaches in developing game-changing solutions for sustainable, electrified transport globally.
Challenge
Ricardo was part of a collaborative R&D consortium which received support through the Industrial Strategy Challenge Fund (ISCP), as part of the Faraday Battery Challenge to work on an innovative battery cooling technology which will accelerate the adoption of electrified transport.
Approach
M&I Materials Ltd, alongside project partner the Warwick Manufacturing Group at the University of Warwick, led an 18-month research project, to investigate the potential benefits of innovative immersion cooling battery technology. 
Ricardo developed two battery solutions: one a conventional cold plate cooled battery, and other using the same battery but immersion cooled to our novel design. 
Our purpose was to simulate and test the comparison of the cooling performance of the conventional cooling system versus the immersion cooled solution, and the benefits of immersion cooling in terms of thermal runway mitigation and battery ageing.
The project used an innovative thermal management system for EV batteries using a novel, biodegradable dielectric fluid called MIVOLT, which allows for faster charging than conventional systems and a higher performance battery.
Ricardo has developed a proprietary design and assembled modules for the immersion cooled battery. It was tested by M&I Materials and Warwick Manufacturing Group during the project. The technology is focused on immersion cooling using the concept of partial immersion cooling, limiting the amount of liquid needed to improve cooling performance under high charge and discharge rates of operation.
Results
The game-changing technology, which won The Engineer's Collaborate to Innovate award 2020 for Automotive, will make electric vehicles better performing, more lightweight, safer and cheaper, encouraging the accelerated adoption of electrified transport.
The total cost of the battery and the impact on the vehicle can be reduced by using immersion cooling, thanks to the lower cost of the battery pack. This is achieved by having a simpler cooling method which removes expensive materials used inside the battery pack such as within the cold plate and thermal interface materials, which are currently used in conventional cooling methods.
Using immersion cooling also provides safety enhancements: it can mitigate and stop thermal runway and fire propagation.
For battery electric vehicles, the better performance will be seen during charging at ultra-fast charging rates, meaning that (cell allowing) a battery pack can be recharged in less than eight minutes from 10% to 80% state of charge.
Performance targets were reached: +50% charge power capability; increased battery lifetime by 22%; mitigation and avoidance of thermal runaway. 
Our innovative immersion cooling battery technology meets cross-sector needs for motorsport, defence, on-highway, off-highway, aviation applications.
Development of a high power density multi stack fuel cell system for passenger ships
Read case study
Next gen opposed-piston gasoline compression ignition engine
Read case study
Got a question about this case study? Contact us
Click below to reveal the enquiry form and get in touch about this case study.