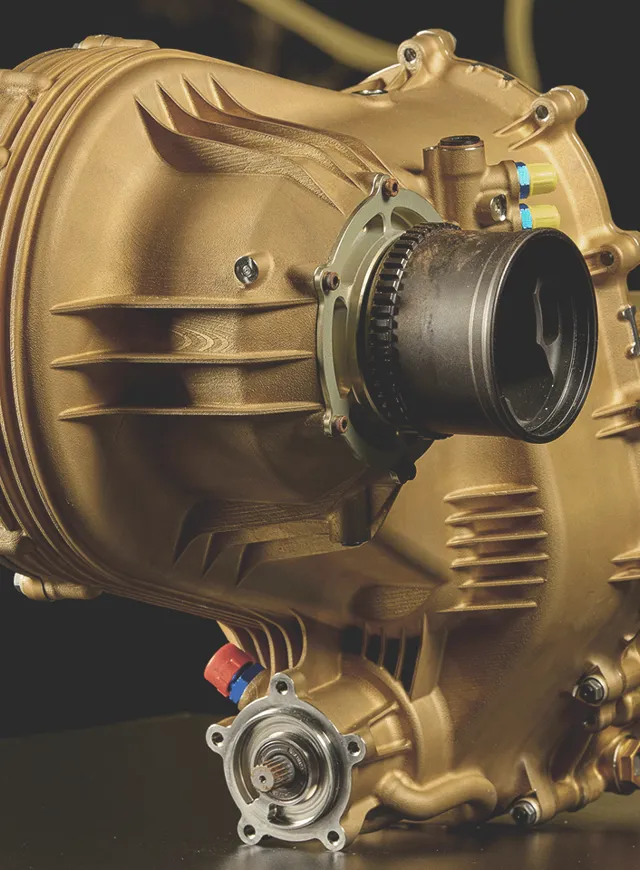 Developing cutting edge gearbox for one of the world's fastest single seater track car
Rodin cars released its first high-performance track car (the Rodin FZed) in 2019 with a gearbox designed by Ricardo. Ricardo were asked to design a new, bespoke gearbox to suit their new Hypercar, The Rodin FZERO. Where they intended to create a bespoke, no comprise car to be faster than an F1 car.
Challenge
New Zealand-based automotive manufacturer Rodin Cars required support for the design and development of a fully integrated bespoke gearbox solution for use in one of the world's fastest single-seater track cars, the Rodin FZERO.
Rodin envisioned a brand-new gearbox to suit their unique installation. The gearcase was to be designed to take maximum advantage of the advances in 3D direct metal laser sintering technology. This would allow an optimised case set to be printed in titanium for minimum weight and maximum strength.
This car is to use Rodin's own bespoke V10 engine designed and manufactured at their facility in New Zealand. The engine will also have a hybrid drive element attached.
Approach
With a focus on new manufacturing and assembly techniques, the innovative new gearbox is created using cutting edge 3D printing where possible, to create an eight-speed titanium-cased transmission system. Using our expertise in gearbox design, the new system seamlessly integrates with the rest of the vehicle.
The gearbox needed to be optimised for minimum weight and maximum performance. An example of this is that the gearbox is not fitted with a reverse gear arrangement. The hybrid element on the car is to be used to drive the car rearwards if required.
A gearbox created using traditional manufacturing methods would be cast in aluminium (or magnesium) alloy or machined from billet material. The resulting component would not only be slow to produce but result in a more compromised solution. This gearbox is manufactured from titanium alloy which makes it compact, light, strong and durable.
Ricardo and Rodin engineers collaborated on the case design, working hand in hand to optimise the case design considering the special requirements of the 3D printing process. This allowed casing shapes to be manufactured that would otherwise simply have not been possible using more normal manufacturing techniques. This technique allowed the optimal placement of material and reduced the part count of the gearbox by incorporating features that would otherwise require additional components to be added to the assembly. Additionally, the precise placement of material on the printed component reduced the final machining requirement for the finished case.
Cases were printed in titanium alloy in Rodin's facility using some of the largest direct metal laser sintering machines available and supplied to Ricardo for machining. Gearboxes are then fully assembled and functionally tested at Ricardo facilities in the UK and then shipped to New Zealand for installation in the car.
Results
The result is a gearbox that meets the high requirements of the most demanding performance car made by Rodin, whilst also looking towards future technology, materials and, potentially, usage in more road-biased applications. Concurrently, Ricardo is working to develop the transmission for Rodin Cars' first all-electric model.
Development of a high power density multi stack fuel cell system for passenger ships
Read case study
Next gen opposed-piston gasoline compression ignition engine
Read case study