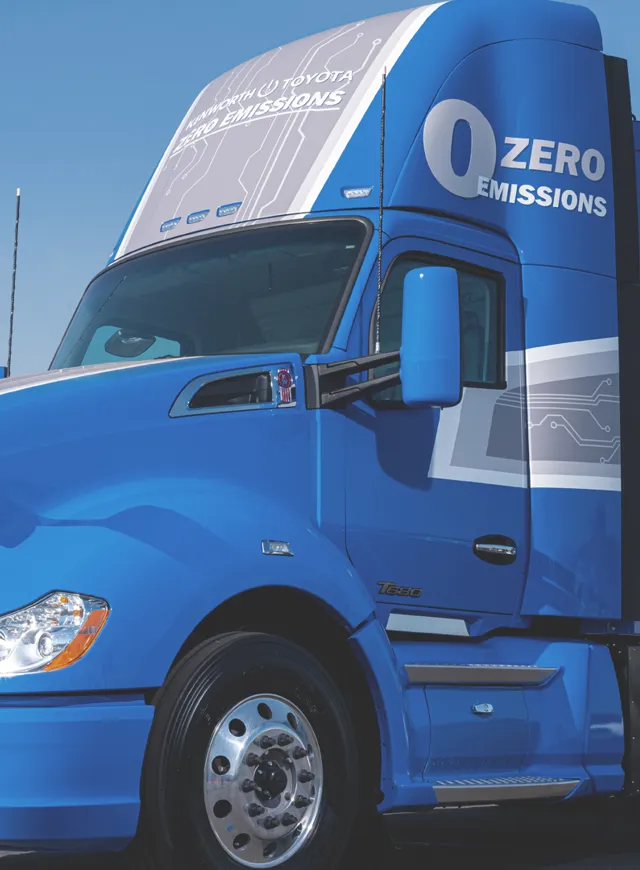 Fuel cell electric zero emissions truck
The truck delivers a range over 300 miles – 50 percent more than the Alpha truck, as well as many further operational enhancements.
Ricardo provided support for the design, testing, development, and constructed of both the Alpha and Beta trucks at its Detroit Technology Campus.
Challenge
Toyota has developed and deployed one of the most advanced hydrogen fuel cells in transportation, given market viability and the immediate societal need to reduce emissions within the Class 8 space.  
Toyota's initial focus is to utilise this technology within commercial applications and heavy-duty trucks delivering a proven, modular, and scalable solution.
The aim is to increase estimated range and enhance versatility and manoeuvrability, without losing torque and horsepower and extend range between hydrogen refills.
Approach
Ricardo used the following approach to support this project:  
Ricardo assisted Toyota in the design, testing, development, and constructed of both the Alpha and Beta trucks at the Ricardo Detroit Technology Campus
The truck enhances versatility and manoeuvrability with the addition of a sleeper cab and a unique fuel cabinet combination that further increases cab space without increasing wheelbase.
Ricardo assisted Toyota with a wide range of engineering functions, including systems integration and packaging, including the fuel cells, power electronics, hydrogen tanks, cooling systems, batteries, electric motors, and transmission.
Many of the ancillary systems that are traditionally driven by the engine were also electrified, including the air compression, power steering and HVAC systems.
Recommendations
This project continued Ricardo and Toyota's successful collaboration on the very important Project Portal heavy duty zero emission fuel cell electric truck demonstration project.  
The Beta Project Portal vehicle is an impressive advance over its Alpha predecessor, offering practical design improvements in addition to 300+ mile range, which makes it a capable ZEV option for drayage testing.
Results
The project clearly demonstrated Ricardo's expertise across several engineering functions.
In addition to increasing estimated range to more than 300 miles per fill, the truck also enhances versatility and manoeuvrability.
With a gross combined weight capacity of 80,000 lbs, the 670+ horsepower Alpha truck produced 1325 pound-feet of torque from two Mirai fuel cell stacks and 12kWh of battery. The Project Portal Beta vehicle maintains these torque and horsepower numbers while extending range by 50% between hydrogen refills.  
This project helps inform the future vision of heavy-duty transportation
Book a consultation with our experts
Click below to reveal the enquiry form and get in touch with our expert team about your requirements.