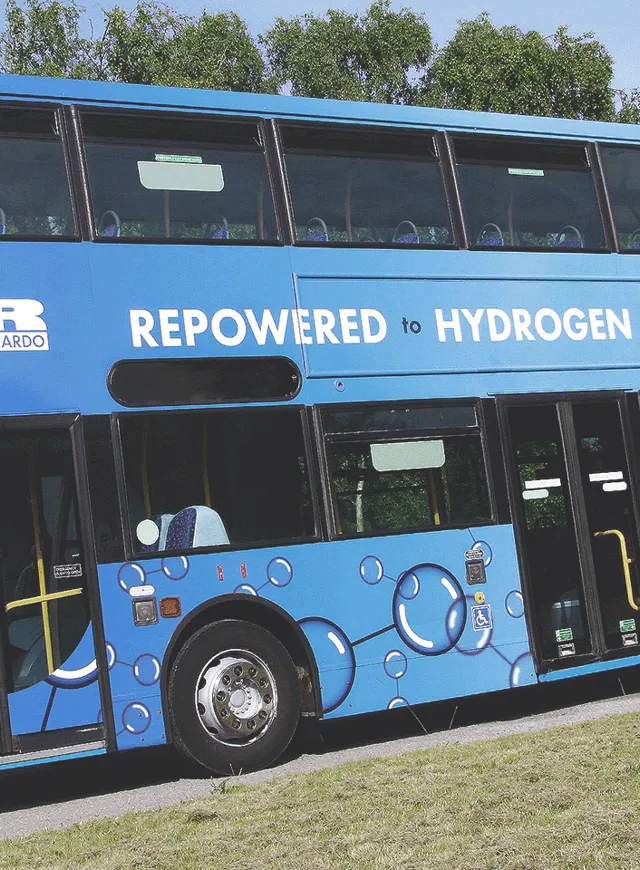 Repowered hydrogen bus
Ricardo, in partnership with Stagecoach North East, has repowered a diesel, double decker bus with a hydrogen fuel cell system, delivering zero tailpipe emissions. 
The project, part funded by the Department of Transport, through its Hydrogen Transport Hub Demonstration competition, saw Ricardo, working to fit hydrogen fuel cell technology into an existing double decker bus to undertake a ten-week demonstration programme around Tees Valley and Brighton and Hove.
Challenge
The UK bus industry directly supports around 250,000 jobs, as well as thousands of others in bus manufacturing and support services. There are around 38,000 buses in service in the UK, 98% are diesel powered; and 50% are less than eight years old.
Given the need to find a long-term, sustainable technology solution to meet Government net zero targets for transport, leading UK bus operators have already been seeking advice from Ricardo around hydrogen fuel cell retrofitting.
Ricardo is seeking to offer the hydrogen fuel cell re-powered vehicles at around half the price of a new bus, significantly reducing the upfront investment required whilst also avoiding some 45,000kg of carbon dioxide emissions by extending the life of existing buses rather than building from new.
Approach
Ricardo has used the following approach to support this project:
A scalable, modular solution
For multiple single and double decker platforms
Ease of installation with minimal adaption
Modular approach enables coach builders to develop new fuel cell buses by taking a rolling chassis and apply their coach build body alongside the fuel cell module solution.
Recommendations
Feedback and data from the trials will support the team to explore future market opportunities and applications with bus operators and other partners across the UK and beyond.
The aim is to secure 50% match funding investment plus customer commitment for an initial production of 150 buses that can enter service from late 2024.
Results
The repowered solution is one third of the cost of buying a new bus and reduces carbon dioxide and noxious emissions by 100%.
As a result of this project, Ricardo has further demonstrated its expertise in hydrogen fuel cell technology. 
It enables the business to explore future opportunities with other partners in the UK and globally. 
Development of a high power density multi stack fuel cell system for passenger ships
Read case study
Next gen opposed-piston gasoline compression ignition engine
Read case study
Got a question about this case study? Contact us
Click 'get in touch' to reveal the enquiry form and get in touch with our motorsport team about your requirements.