Rapid deployment of connected controls for increased range, efficiency and appeal of hybrid and electric vehicles.
Building consumer confidence in xEV technologies
The ConnectHEV plug-in hybrid demonstrator vehicle showcases Ricardo capability in integrating connected technology solutions to improve consumer experience of hybrid and electric vehicles by extending range, improving vehicle efficiency and reducing vehicle cost.
Ricardo believe that one of the key factors in enabling widespread consumer adoption of hybrid and electric vehicles is consumer confidence. When making the switch to xEV, customers want to be assured that they can do so without significant disruption to their lifestyle and routine, and that their driver experience is not compromised.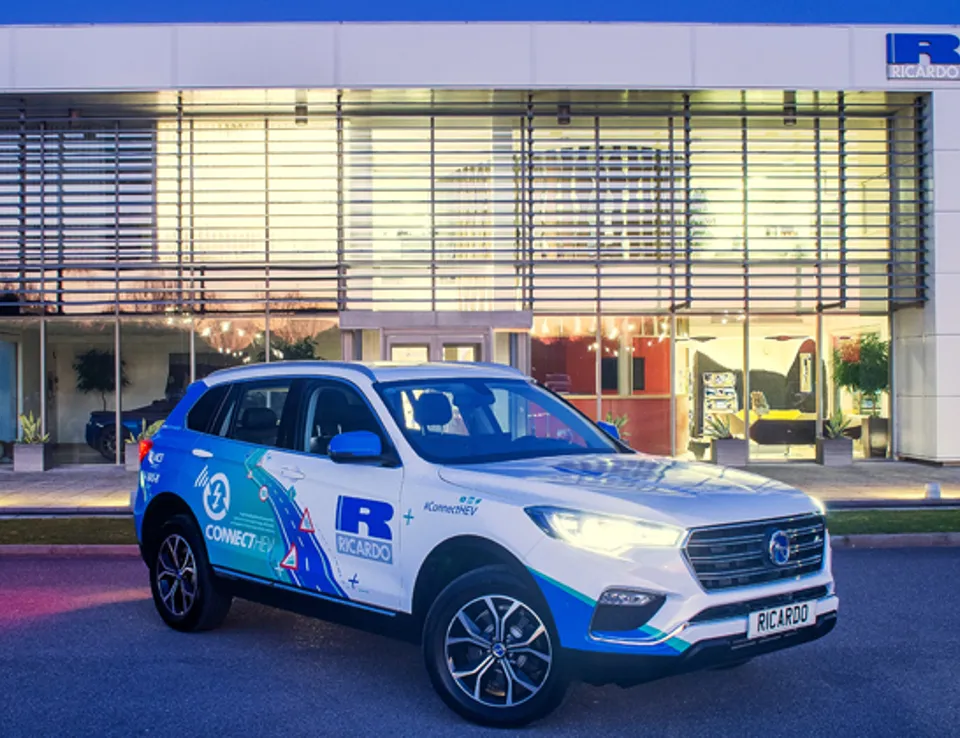 Technology featured on ConnectHEV
The ConnectHEV plug-in hybrid demonstrator vehicle showcases a range of connected technologies and capability to assist our customers in meeting these consumer expectations, helping OEMs to remain competitive in the xEV market and to drive end-user uptake whilst being sensitive to vehicle development constraints of time and cost, without compromising on quality and safety.
Ricardo's unique electronic horizon strategy is helping OEMs to optimise efficiency credentials whilst maximising range in hybrid and electric powertrains. This technology looks at the road ahead and utilises dynamic information about traffic distribution, road topography and infrastructure to determine the optimum power distribution between the vehicle's energy sources to minimise energy consumption with consideration for current cost of different energy sources, all in real-time.
Contact us for more information about how we can improve range and efficiency on your platforms through advanced electronic horizon systems.
Ricardo's integrated thermal control system improves vehicle range, reducing stress on batteries and efficiently improving passenger comfort through the intelligent and holistic management of heat and cold within the vehicle system. The system uses a model predictive control approach to maximise operation of components within their thermal design window, reusing waste heat from electric components, coupled with an advanced heat pump system in order to reduce the load on ancillary cooling systems.

Integration of the electronic horizon with our thermal management system, with the view to further improving efficiency and range, is also in development.
Contact us to discuss your thermal management challenges.
Realistic Augmented Sound by Ricardo (RAS-R) uses live authentic sound linked directly to the xEV powertrain to deliver an interior driver experience in line with brand expectation, whilst ensuring exterior pedestrian safety requirements are met. The system integrates multiple authentic sound layers to build a sound signature that signals the cars operating status.
Contact us discuss how Ricardo might support you in optimising driver experience using our realistic augmented sound technology.
Ricardo's Vehicle Integrated Controls and Simulation (VICS) is speeding up development time and reducing cost with a whitebox modular approach to the development of control systems. VICS enables our customers to develop their own control strategies based on Ricardo's proven framework to easily implement into their vehicle platforms and to re-deploy any developed solutions in future products without further fees.
Contact us to find out how you can reduce your control system development costs by integrating Ricardo VICS into your next vehicle platform.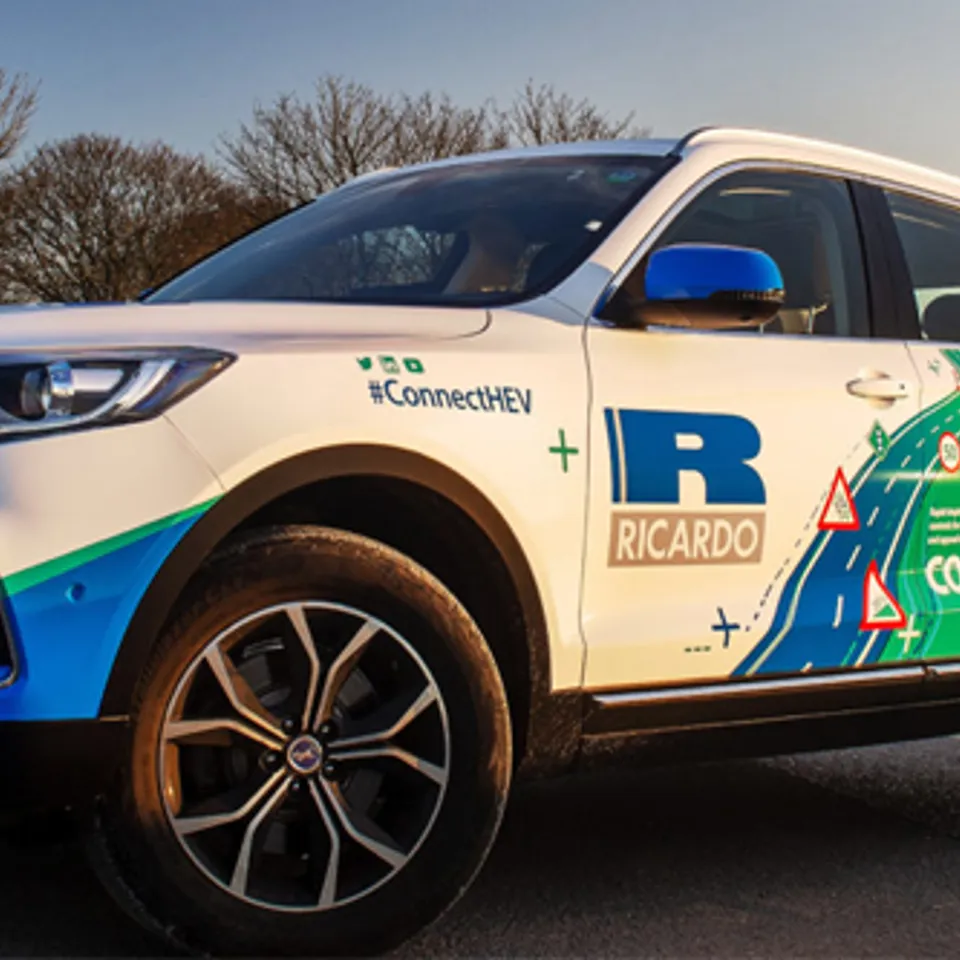 Benefits of ConnectHEV
Convenience
One of the key barriers to xEV adoption is vehicle range. Consumers worry that they will have to interrupt their journeys to refuel more frequently and for long periods of time. To address this challenge, Ricardo's ConnectHEV uses connected technologies to demonstrate a step-change in vehicle efficiency, and thus range.
It deploys in-house hybrid control strategies from our VICS Vehicle Integrated Control & Simulation (VICS) Platform, in parallel with our proprietary integrated thermal management system and electronic horizon system for efficient driving assistance and energy management to enhance hybrid and electric vehicle efficiency, range and to reduce fuel consumption.
Comfort
Comfort is important in any form of passenger vehicle and ConnectHEV utilises connected technologies to manage these factors efficiently and intelligently. Ricardo's integrated thermal control system considers cabin heating systems as part of thermal system alongside the hybrid and electric powertrain, recycling excess heat and cold to achieve an optimal cabin temperature without as much drain on the battery as a conventional thermal system.
Driver experience
Consumer expectation of vehicle performance and driver experience will differ from customer to customer but xEV OEMs must be able to demonstrate that their products offer a premium experience which is as close to their expectations in a conventionally fuelled vehicle as possible. The link between how the vehicle performs and the sound it makes is one facet of this. It is for this reason that ConnectHEV demonstrates Realistic Augmented Sound by Ricardo (RAS-R). The system uses sensors within the xEV powertrain to provide a live stream of authentic sound which is directly linked to the vehicle's performance. It is customer tuned to ensure an interior driver experience in line with consumer expectation.
Vehicle cost
Another perceived barrier to xEV adoption is the cost of the vehicle. Lowering the cost of development and increasing the speed to market is one way to lower costs for both the OEM and for their end-users. ConnectHEV has been developed using several virtual product development tools which are aimed at reducing product development time and cost, without compromising on the quality or safety of the end product.
Ricardo's Vehicle Integrated Controls and Simulation (VICS) is one such tool which enables a modular approach to control system development and has been used to deploy our latest AUTOSAR compliant hybrid control strategies into the vehicle. This, in combination with optimisation of vehicle efficiency, means a potential reduction in BOM and production costs which can be passed on to the consumer.