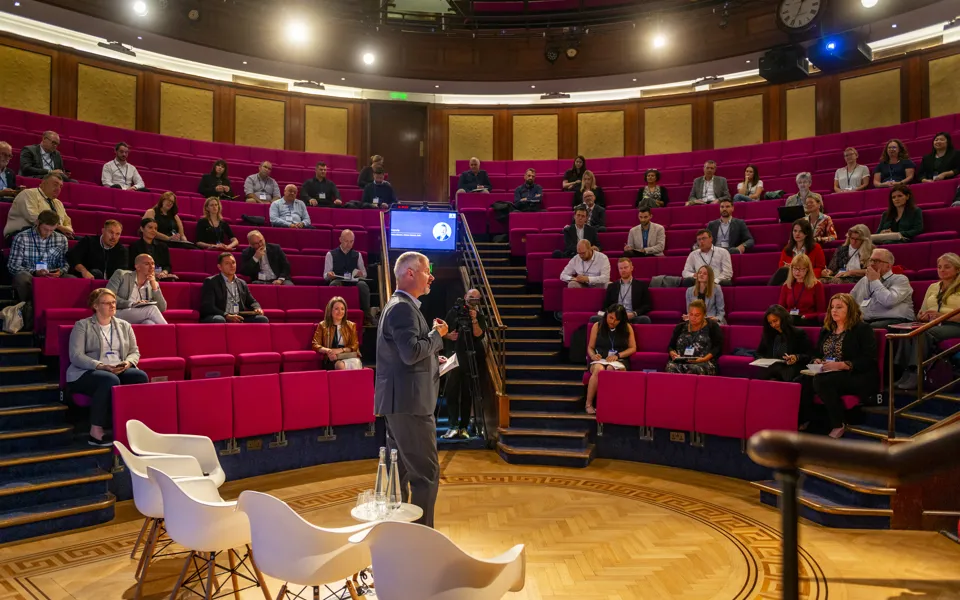 Celebrating NCEC's 50th anniversary by focusing on the future of the chemical supply chain
28 Sep 2023
On Wednesday, 20th September 2023, Ricardo hosted the 50th anniversary celebration of NCEC at the historic venue of the Royal Institute in London. It was a day of celebrating our legacy as the UK's National Chemical Emergency Centre but more importantly, our aim was to look forward to the next 50 years – through facilitated discussions and opportunities to share expertise – to address the challenges we face including our combined drive towards creating a more circular economy, one sustainability-minded decision at a time.  
The event was one of the biggest gatherings of senior leadership from the chemical industry recently which combined the themes of regulatory, emergency response, sustainability and safety. The feedback from the event has been overwhelmingly positive including ''No one is doing an event that combined sustainability and regulation – which is the entirety of my job' and 'It's great to attend such a professionally organised event'. 
Jonathan Gibbard, Global Director for Decarbonisation and Chemical Risk at Ricardo opened the 50th anniversary celebrations with great pride in bringing together industry specialists and diverse opinions from across the European community. We started with a thought-provoking keynote speech from Marco Mensink, Director General of the European Chemical Industry Council (Cefic), who explored the very real challenges ahead of us with an assessment of the responsibilities organisations may be faced with in the future. Using an example of a recent court case in the Netherlands where a petrochemical producer lost on the grounds of Responsible Care, Marco demonstrated that we are all responsible for driving change in the right way, and it remains a priority for board-level executives to ensure the long-term impacts are understood and to minimise the potential, unintended harm of decisions made today.   
This insight was corroborated when we asked our delegates about the biggest challenges facing the chemical industry in the future. The balance between product sustainability and decarbonisation, along with adaptation to regulatory challenges, were the top two contenders. Our panel on future sustainability and decarbonisation challenges concluded that the changes in the regulatory controls will impact product design and accessibility which are supply chain-wide challenges. This will provide data and insight to adapt products to be safe and sustainable. During our roundtable discussions on sustainability, Ricardo's Director of Sustainability, Jamie Pitcairn, commented on how there has been a shift of perspective for businesses from cost saving (resource efficiency) to sustainability, and again we saw this throughout the day as each panel discussion came back to how we make products sustainable while complying with the changing chemical policy landscape.
When asked about how people's roles are changing to adapt to these challenges, a resounding answer nodded towards business-oriented sustainability i.e., sustainability roles focusing on optimising models, partnerships, and implementing sustainability throughout the global value chain. This was in turn challenged by many panellists as they mentioned how all sectors are struggling with this diversifying skill set and how there is a huge gap within the whole industry for sustainability experts with a business mindset.
Another area where roles are evolving, and at the same time requires further support from the whole industry, is proactive and transparent communication with the public, as well as collaboration between the industry, policymakers and non-governmental organisations (NGOs). As the industry and its methods evolve, effective communication has become a cornerstone which can lead to trust building with the public and address their concerns. Proactive engagement with policymakers at an early stage of law development is essential if the industry wants to have its say in the first steps of any regulatory framework.
When asked what support the industry needs from Ricardo, increased collaboration with policymakers and guidance on the evolving regulatory landscape were the frontrunners. Ricardo is proud to be at a unique intersection here where we have strong ties with the chemical industry, the policymakers and the downstream users across the globe. This is backed by 50 years of our chemical expertise and our wide-ranging capabilities across policy, sustainability, energy, and decarbonisation as well as deep-rooted proficiency within key sectors of water, agriculture, waste, mining and automotive all of which feed into the chemical supply chain. We are committed to helping the chemical supply chain move towards a safe and sustainable future.
To put action to our words, we will be soon hosting a set of roundtable discussions between the various stakeholders, to give the chemical supply chain increased chances of collaboration (more on this soon!). We are and will continue to work with our digital experts to give you the tools to collect evidence and data and become agile. We also remain on hand with capabilities like our horizon scanning tool and our bespoke life cycle impact assessment modelling to help organisations establish what's coming their way and be more than just compliant – be truly sustainable and forward-looking. And more than anything, we are supporting our customers to do this now. We are on the ground every day ready to help you maintain compliance, operate safety and sustainability, from cradle to grave and along the entire supply chain of your products.
We would like to extend a huge thank you to all panellists and delegates who joined us for our 50th celebrations – from chemical manufacturers, retailers, trade associations, business associations and safety experts. Every attendee had a huge impact on the day, and we really value the open and honest discussion about the future of chemicals. We look forward to the next 50 years, our continued partnership and your valued support.
Contact us
If you would like to discuss any challenges your organisation is facing whether from a sustainability, regulatory or emergency response point of view, we would be happy to have a chat and see how we can help, so please do get in touch.