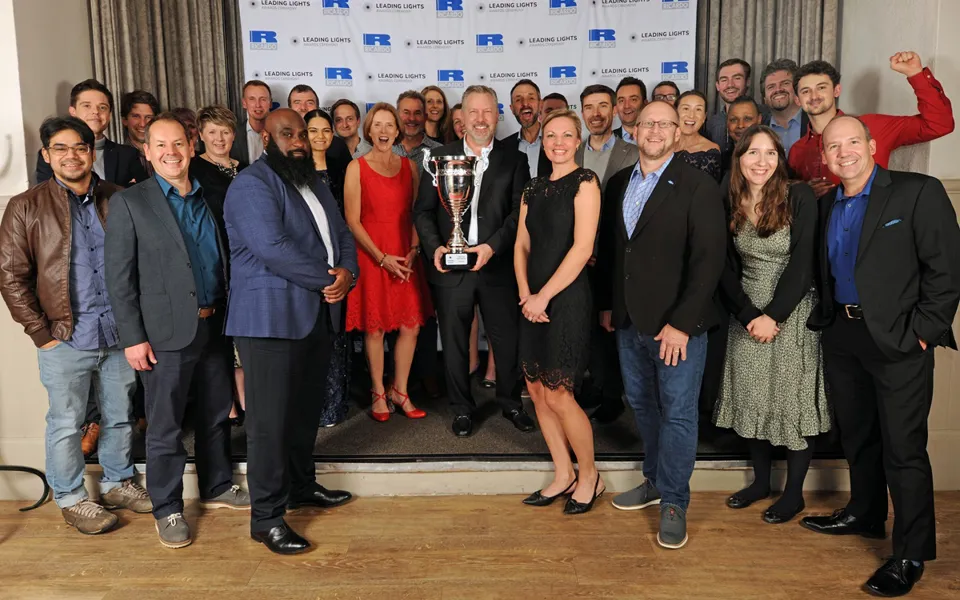 The outstanding achievements and contributions of individuals and teams across helping to solve some of the world's most complex mobility, energy and environmental challenges were recognised in the annual Ricardo Leading Lights Awards ceremony held in Windsor, UK on Thursday 2 November 2023. 
The awards were established to reward and highlight Ricardo people who, in their daily work, have consistently gone over and above for clients, partners, colleagues or the global communities we have the privilege to serve.
Eighty individuals and 12 teams from across Ricardo were shortlisted for the 15 award categories which combined: recognition for innovation, sustainability, digital excellence, inspirational leadership, technical leadership, inspiring women in engineering, and social value volunteering; 'Best of the Best' winners of CEO Monthly Awards supporting strategic growth objectives; and living the Ricardo values of: Create Together, Be Innovative, Aim High and Be Mindful.
Addressing the assembled Leading Lights Awards finalists, winners and Ricardo's senior leadership team, Dr Mike Bell, Chief Strategy and Digital Officer, Ricardo plc, who hosted the awards ceremony said: "We are proud to celebrate all our people and teams who have made outstanding contributions to our business throughout this year. We cannot deliver our vision to create a safe and sustainable world without our talented people, and each of our winners is responsible for amazing achievements. We are delighted that all our Leading Lights are shining bright this evening." 
List of winners
1 Innovation award (incorporating the Philip Hore Engineering and Science Excellence Award)
Winner: Josh Dalby and team, Automotive and Industrial
Shortlisted finalists: Richard Gordon, Automotive and Industrial; Dr Louisa Kramer, Clean Energy and Environmental Solutions  
2 Sustainability excellence award
Winner: Alexandre Marceau-Gozsy and team, Automotive and Industrial
Shortlisted finalists: Trish Sturgess, Clean Energy and Environmental Solutions; Sofia Amaral, Clean Energy and Environmental Solutions   
3 Young engineer/scientist of the year
Winner: Harrison Willis, Performance Products 
Shortlisted finalists: Jay Nyathi, Clean Energy and Environmental Solutions; Celine Shenny, Defense
4 Digital excellence award
Winner: Tom Timson, Automotive and Industrial  
Shortlisted finalists: Shawn Pardee, Defense; Gary Mansell, plc 
5 Inspirational leadership award   
Winner: Santos Batista-Nunez, Defense
Shortlisted finalists: Lorenzo Casullo, Clean Energy and Environmental Solutions; Gordon Jackson, Automotive and Industrial  
6 Living our values award 
Winner: Tom McCarthy, Clean Energy and Environmental Solutions  
Shortlisted finalists: Dave Thompson, Performance Products; David Peterson, plc; Oli Lockhart, Clean Energy and Environmental Solutions  
7 Technical leadership: paper of the year award 
Winner: Fabio Galatioto, Clean Energy and Environmental Solutions   
Shortlisted finalists: Farraen Mohd Azmin, Automotive and Industrial; Zoi Vrontisi, Clean Energy and Environmental Solutions   
8 Inspiring woman in science, technology, engineering and maths (STEM) award
Winner: Dr Jessica Bohorquez, Clean Energy and Environmental Solutions   
Shortlisted finalists: Helen Burbidge, Automotive and Industrial; Carolyn Salmon, Clean Energy and Environmental Solutions  
9 Social value volunteering award 
Winner: James Roscoe, Clean Energy and Environmental Solutions   
Shortlisted finalists: Max Zimmer, Automotive and Industrial; Laura Tomlinson, Defense 
10 Best of the Best CEO award: engaged team
Winner: Angie Hill, Clean Energy and Environmental Solutions  
Shortlisted finalists Gael Couchelamane, Automotive and Industrial, Shawn Pardee, Defense
11 Best of the Best CEO award: exceptional customer experience
Winners: Josh Allaway and Ed Sullivan, Clean Energy and Environmental Solutions  
Shortlisted finalists: Randy Wang and Julian Kwan, both Clean Energy and Environmental Solutions; Gregg Horn, Caitie Guza and Zach Meyer, all Defense
12 Best of the Best CEO award: invest for growth
Winner: Gosia Zimna, Performance Products
Shortlisted finalists: Jason March, Alex Widdows, David Hartley, all Performance Products; Jon Andersson, Automotive and Industrial and Dr Louisa Kramer, Clean Energy and Environmental Solutions
13 Best of the Best CEO award: high value delivery
Winner: Pieter-Paul Frielink, Clean Energy and Environmental Solutions  
Shortlisted finalists: Louise Thomas and team, Performance Products; Rimoon Agaiby, Automotive and Industrial
14 Best of the Best CEO award: sales growth
Winner: David Valantin and team, Automotive and Industrial
Shortlisted finalists: Richard Smithers, Clean Energy and Environmental Solutions; Dan Forster, Clean Energy and Environmental Solutions  
15 Leading Lights CEO cup
Winner: Defense