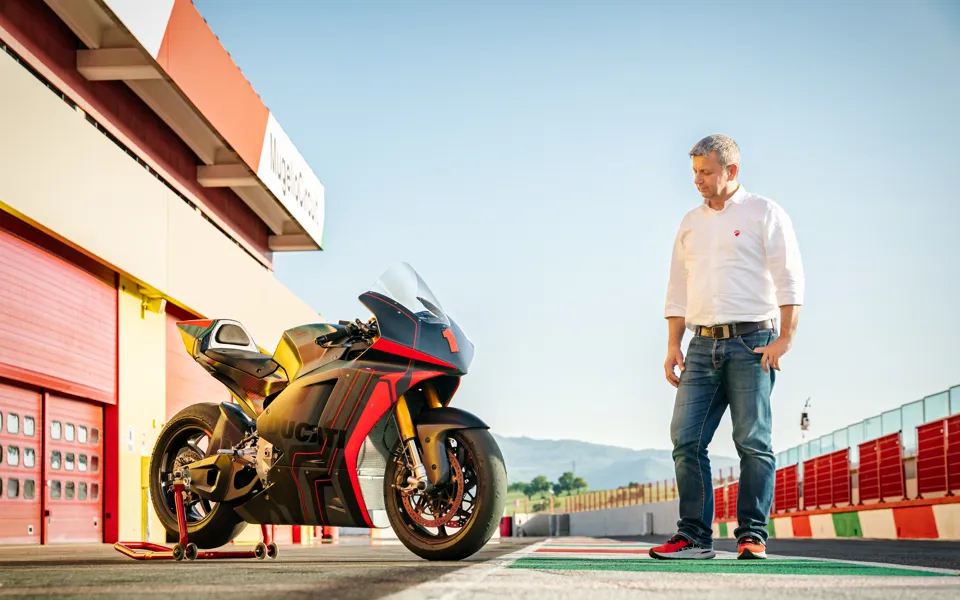 Roberto Canè is head of e-mobility at Ducati and has the important task, alongside his team, of exploring how electrification and new technologies can support the company's future growth, in both racing and on the road. As you would expect, he's passionate about motorcycles and racing in general, but even more so about engineering and embracing technological innovations.
"I've always loved creating things, that's why engineering was the perfect career choice for me. I was also inspired by my father, who was a telecoms engineer. We shared a passion for racing." says Roberto, as we sit down to discuss his early career and the important role he is playing in Ducati's electrified future. The last few months he's been on the road with the MotoE championship, which has just concluded. Ducati is the sole supplier for the 2023/26 seasons. It's a racing class that offers the perfect opportunity to test new technology, alongside the premier class MotoGP. He admits that it offers a "freedom to investigate different concepts", in performance, safety and experience for the rider. In turn, these technologies and learnings can support Ducati with future electrified road bikes.
Roberto began his Ducati career with the legendary MotoGP team, playing a part in developing a bike that would go on to win a world championship ridden by Casey Stoner. His thirst for engineering excellence and for competition is what helps to drive him.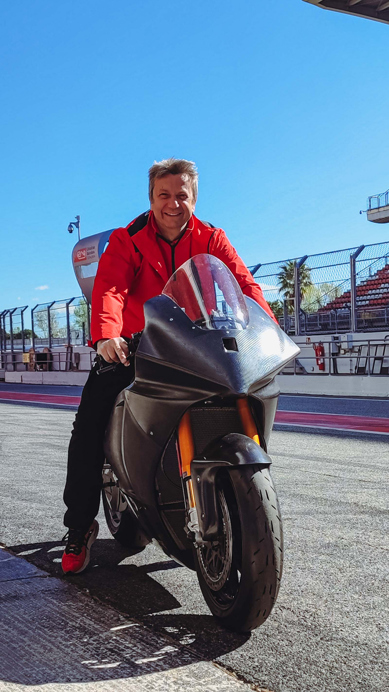 "You spend a lot of time at work, with your colleagues and with the bikes, so it's important to work in a good environment; one that you love."
Having studied electrical engineering in Bologna, Roberto's first foray into the world of racing was as part of the team at Marelli, where he worked on developing electronic systems for rally cars. Following a brief stint in Formula One, the World Superbike championship came calling.
He was approached by Claudio Domenicali, now CEO of Ducati, but who was at the time CEO of Ducati Corse, who asked him to come on board to help with developing the marque's MotoGP experience. That was 20 years ago, and he hasn't looked back, especially as electronics were identified as a key differentiator that could support Ducati's rise to the top.
"I was asked to create a specialist team of engineers to focus on improving electronics within Ducati, initially moving from the race team to work on road applications. And then in 2020, Claudio approached me again, as he needed someone to look at the role of electrification in Ducati. The emobility team, under my guidance, was created and at the end of that year we decided to enter the MotoE Championship, eventually becoming the sole supplier of bikes for the 2023/26 seasons.
"There was and still is a lot of scepticism towards electric bikes, especially among race enthusiast and traditional motorcycle riders. There are still some people who are unsure, perhaps those people who are looking at it from an experience of riding traditional ICE motorbikes for many years, with the noise, heat and vibration that comes with it. There's also the consideration of displacement, I'm not talking about small scooters or bikes that are intended for urban mobility, Ducati is playing in a very specific market segment, so that brings with it some additional challenges, not least consumers who are open to trying a completely different way of transportation.
"MotoE allows Ducati to develop knowledge, but it also helps to create positive perceptions. It's not about transitioning to full electric at this time, it's about providing different experiences, working in parallel and developing a soul for electric motorbikes. For example, electric motorcycles are not noisy, but we're working on this, as it's also important from a safety point of view to hear them approaching - that's just one consideration, there are many others."
Roberto's role as head of e-mobility means he's been tasked with defining and creating a new department that's focussed on building electrified capabilities.
"Before the e-mobility team was created, and MotoE was conceived, there wasn't really a focus on electrification within Ducati. I had to start from the ground up and build knowledge by recruiting the right people. It's very important to the business and to me personally, as I'm responsible for developing new programmes. One of our initial goals was to design and create a new electric bike and having achieved this, we're now working on other prototypes that will help us to understand better the world of electrification and also allow us to define where Ducati sits within this market.
"It's an interesting position to be in, as we're fully defined in our current markets, but in electrification there are a lot of newcomers – it's the same situation in the car industry – where there are breakthrough companies and products. We have to be prepared to face this new adventure.
"In general terms, the production motorcycle industry is 5-7 years behind the car industry, that's also true of its regulatory framework. So I think the same will apply to the implementation of electric motorcycles. It will take time for the market to change, but there's also other considerations, such as big motorcycles are meant for leisure, they aren't meant for transportation or for commuting, so different aspects of the market will be quicker to adapt and adopt. Our biggest challenge is consumer perception, we need electric motorcycles to be seen as fun and to give the same experience of enjoyment as traditional motorcycles. I don't think we're quite there in terms of technology to offer this experience, especially battery technology. They are currently quite heavy, which on a motorcycle isn't easy to ride, and cannot store sufficient energy to run for a long range. I think we're still a few years away in terms of development of this technology for road bikes."
Talking about Ducati's strategy for e-mobility, Roberto continued.
"It's about continuously working on a path that we define, that enables growth for the entire business. The strategy has to be translated from the very highest level and incorporate a long-term vision for high performance electric motorcycles.
"We're focussed on developing our technology, working with selected suppliers, such as a leading battery cells companies, together with the help of VW group and specialists in electrification, battery technology and integration, such as Ricardo. This will help us to define our roadmap for evolution and future designs for electric motorcycles. There's a lot of competition, and Ducati must be able to compete on a level, with our standard competitors, the ones that we know very well, but also the new ones coming into the market. It's important for us to differentiate. By creating an in-house team of experts in electrification we can be at the leading edge of that technology and innovation. We know we cannot do everything ourselves, but we have to be selective in the partners we choose.
"There are around 35 people in the MotoE team, a mix of production and racing department heads, and in my e-mobility team there are 12, but we're growing."
So, what kind of lessons can be learned from MotoE that can be used in prototype development of electric motorcycles, and vice versa?
"It's a very interesting question. The products that are developed by Ducati for competition are in the DNA of the company. A lot of these include new technologies and new ideas, and are associated with the racing department, that's why it's important that we have the right mix of people in these teams. It's a winning principle and works both ways.
"If someone asked me, what is the most critically important and also the most challenging part of my job, I'd say, it's melting people together and ensuring they are working in the right way. When we created the team, it was very interesting, and in my opinion, worked very well – we have another four years on our current contract in MotoE and it's important that we continue to work in this way. For our advanced R&D department it will also be a proving ground for new technologies and new ideas."
Speaking about what inspires him to keep innovating, Roberto said that the younger generation is critical in developing new ideas and technologies as they are often more willing to try new things.
"Taking these ideas and developing them can support Ducati in its aim to produce motorcycles in the future. The next generation of riders, those that perhaps are not even riding yet, will be a critical market for electrified motorcycles.
"I take inspiration from other fields as well, especially when you think about the many different components of an electric motorcycle, where there is a requirement to apply new technologies, including electric motors. It's also important to exploit products from other industries, such as software and digital for use in the motorcycle industry. We are a relatively small industry, by comparison to some others, so why wouldn't I take inspiration from other places, reusing and recycling in a new way for our own purpose.
"Diversity is also incredibly important, in the e-mobility team we're not talking about standard mechanical processes and parts, and it's not just about mechanics. Diversity is part of Ducati's DNA, not only in my department but in others as well. We're involved in the evolution of electronics, we want to make riding as fun as possible, but we also want to make it safer.
"We have to be smart enough to use the available technologies in the right way, particularly software and digital applications that are growing at pace. Let's take what is good from that world and use it to make motorcycles better. In my opinion it's paramount to have a group of people that are aware of what is happening in the wider market, not just the motorcycle industry, but the technology that is shaping our world."
Beyond his achievements with Ducati, there's something else on Roberto's wish-list, which he admits would make his job even more special. Although he rides for leisure, he would love to take his professional riders test, so he could ride pre-production motorcycles and perhaps hop on a MotoE bike.
"It's a real shame I'm not allowed to ride a MotoE bike, as I haven't got the necessary professional license. I'm working on it though, perhaps that'll be my next step."
Roberto will be one of the keynote speakers at the upcoming Ricardo Motorcycle Conference: Riding Future Technologies taking place on 06 November in Milan.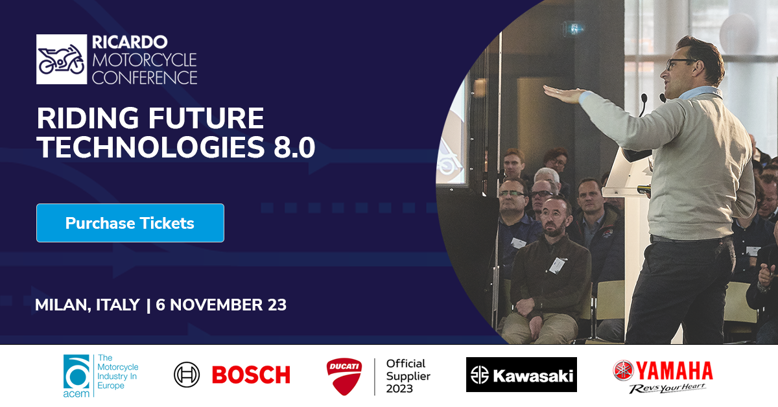 Click here for further information on the conference, see the full list of guest speakers and to register to attend.