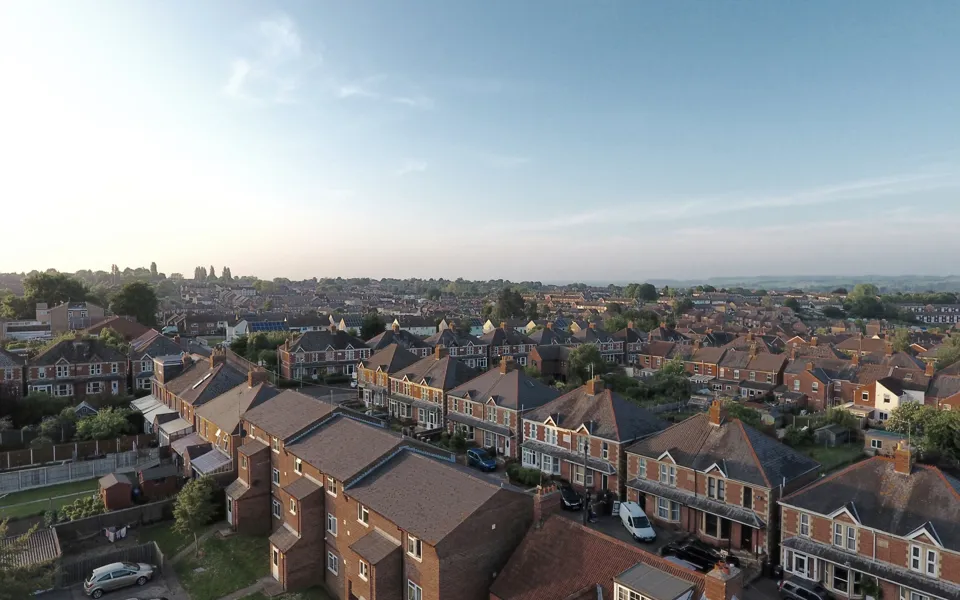 he long-awaited UK Net Zero Strategy highlights the importance of local climate action on the road to achieving net zero by 2050. However, the strategy lacks specifics on how local and national governments will work together. Additionally, the strategy still leaves big questions unanswered, ranging from what role hydrogen will play in this endeavour to how the Government will reduce energy demands in our homes and buildings. 

After many months of waiting, the UK Government has finally published its Net Zero Strategy (NZS), a roadmap outlining how the country will reach its goal of net zero emissions by 2050. It is centred around a sectoral approach, outlining key commitments in power, fuel supply, industry, heat and buildings, transport, natural resources, waste, F-gases and, finally, greenhouse gas (GHG) removals.  
'Net zero' means that there are either no greenhouse gas emissions being released into the atmosphere or that emissions and removals are balanced out to reach 'zero'.

A key commitment of the NZS is to "set clearer expectations on how central and local government interact in the delivery of net zero". When and how is yet to be determined – in the meantime, this article focuses on the sectors with a particularly high emissions share, as well as a high level of relevance for most districts and local councils … heat and buildings, transport and waste, and what that means for councils striving to reach net zero much sooner than 2050.
Heat and buildings
Two key headlines have rippled through the national news over the past few weeks: the proposed gas boiler ban from 2035 and the Boiler Upgrade Scheme that will provide up to £5,000 to 90,000 homes across the UK to install low-emissions heat systems. While these are positive steps, the details also highlight some sobering realities. A gas boiler has an average lifespan of 10 to 15 years, which means that there could be lots of traditional gas boilers running uncomfortably close to our net-zero target.  And, while some could be replaced by low-emission heat pumps with the financial aid of the Boiler Upgrade Scheme, the funding only supports a fraction of the 25 million homes across the UK that currently rely on gas boilers. The remaining actions in this subsector are expected to be primarily market-led. It remains the case that local authorities have few areas of influence if they want to promote faster uptake. For the many local authorities that strive for admirable net-zero targets before 2050 – many even by 2030 – the boiler phase-out plan and the upgrade scheme will be of limited support.
 
More importantly, while there is some ambition on low-carbon heating systems, the NZS doesn't focus on the issue of insulation, which is crucial to ensure that the new heating systems work efficiently. In August 2020, the Government launched the Green Homes Grant scheme, which was meant to decarbonise the building sector through financial support for insulation and low-carbon heating systems such as heat pumps. However, the scheme was short-lived, coming to an end after six months. While the NZS address some of the same issues covered by the Green Homes Grant scheme, there is still work to do in meeting the full scope of the net zero challenge. The NZS reiterates existing targets of upgrading all privately rented homes to an Energy Performance Certificate (EPC) Band C by 2028 "if it is […] practicable or cost-effective to do so".
 
Nevertheless, there is a glimmer of hope for governmental support with the recent announcement that the Government will provide £4.3 million to councils in an effort to clamp down on landlords not complying with energy efficiency regulations. Since April 2020, landlords have had to upgrade all rented properties to EPC Band E with non-compliance resulting in a fine of up to £5,000, but few local authorities enforce this. The new support can potentially start to ensure that action is ramped up over the course of this decade.
'Carbon neutrality' is used as a synonym for 'net zero' – sometimes referring to only CO2.It covers all GHGs in this article. 'zero'.
Finally, while hydrogen plays an important role in lowering energy emissions throughout the NZS, the Government is not scheduled to make a decision on the role of hydrogen – for example, as a heat solution for buildings – until 2026. This could result in more gas heating systems being installed on the assumption that hydrogen will save the day, risking further delays on short-term low-regret actions. Local authorities should be aware that, according to the Climate Change Committee, 'green' hydrogen is not expected to become widely available until the 2030s, if at all. So, particularly for the many 
councils that aim to achieve net -zero emissions by 2030
, this means that the focus should instead be on reducing demand for energy and making plans for a future where electricity is the main low-carbon heating option.
Transport
Within the NZS, uncertainty remains on how the national and local governments will work together to shift away from motorised travel. While local action will play a key role in decarbonising travel, with the NZS pledging to embed this into spatial planning processes, how and if this will be done in co-operation with local authorities remains unanswered. The NZS further states that the Government is in the process of "building [the] evidence base to understand the barriers and potential policies to increase the uptake of shared mobility", such as car sharing, which the central government plans to do in co-operation with local authorities.
 
The NZS contains many ambitious-sounding commitments for a climate friendly transport shift. However, most of these are the same as existing policies and announcements. As announced in May 2020, £2 billion will be invested into walking and cycling over five years to ensure that half of all journeys in towns and cities will be walked or cycled by 2030. This target is not in the list of 'key indicators' that will be updated regularly – rather, the Government has committed to doubling cycling from 2013 to 2025. While it is unclear which exact baseline the Government intends to use for this target, the share of cycling for private journeys in England was less than 2% in 2013, meaning that even a doubling of this figure is unlikely to get us near the headline target.
 
To tackle public transport, the NZS contains the £3 billion pledge of the National Bus Strategy – announced in March this year – delivering 4,000 zero-emission buses. However, doubt has already been vocalised by a transport charity, stating that the Government is not on track to deliver on this promise and that local authorities need to introduce revenue-raising schemes themselves to encourage a shift to public transport use. The NZS further includes the commitment to decarbonise the rail network by 2050; however, details on concrete timelines, investment plans, and affordability remain undefined.
 
Nevertheless, there is hope for additional guidance and co-ordination with the NZS pledging to reform the way in which local transport infrastructure is funded. A Local Authority Toolkit, which should help local authorities reduce their transport emissions, is set to be published by the end of 2021.
Waste
The NZS sets out comparatively fewer actions relating to waste and resources than for other sectors, but this is also an area where the NZS articulates a more explicit role for local governments. The Government is striving towards the "near elimination of biodegradable municipal waste to landfill from 2028", which they will support with £295 million, enabling local authorities to implement free, separate food waste collections for households from 2025 onwards. It is unclear when this funding will become available to local authorities, but because emissions from landfills are much higher than from composting and biogas production, this is an important way for local authorities to help reduce GHG emissions.
Conclusion
Overall, the NZS provides us with valuable insight into what the Government intends to do to achieve net zero by mid-century. On the downside, the strategy highlights the lack of co-ordination between national and local governments and the lack of clarity on key issues that will influence the climate action plans of particularly ambitious local authorities, such as the role of hydrogen. Finally, the targets are designed for a carbon neutrality goal of 2050. This means that a significant challenge remains for local actors striving for much sooner targets of 2030 or 2040 – but this should not deter them. Instead, they should maximise on the knowledge obtained from the NZS and strive to ramp up action in the short term in the areas under their control to achieve their admirable targets.