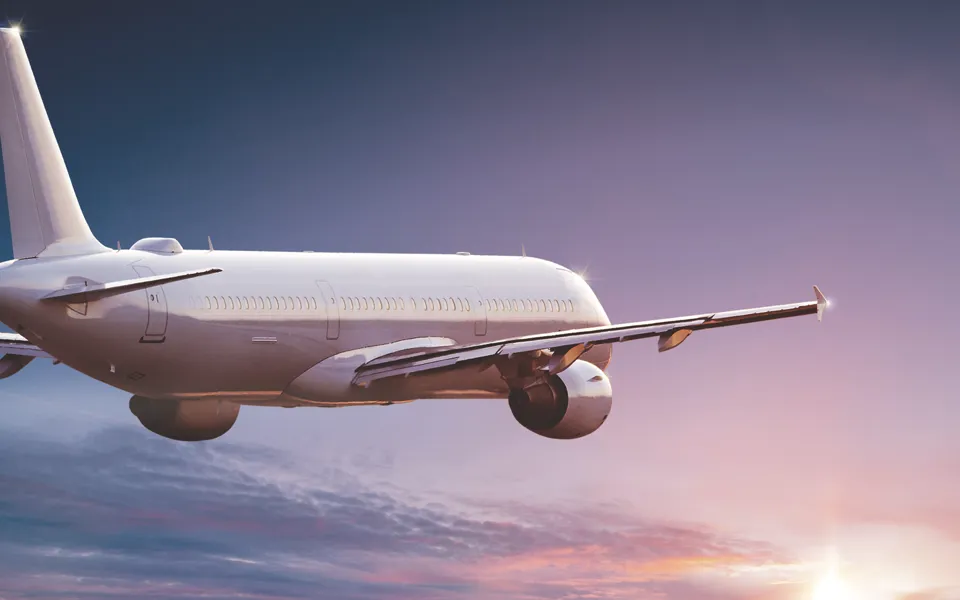 Insight
Understanding the changes impacting the aerospace and aviation sectors on the road to decarbonisation.
20 Nov 2023
Oli Porter is head of the aerospace practice at Ricardo, based in Montreal. Here he talks about the changes that are taking place in the industry and the part Ricardo is playing in supporting customers on their decarbonisation journey.
Oliver knew from a fairly young age that he wanted to pursue a career as an engineer, due to his passion for building things, especially anything that moved. He joined Ricardo after graduating in Mechanical Engineering, following a placement in the business whilst at university.
What key innovations are driving future aerospace technologies?
"The aerospace industry is one of the most challenging to decarbonise. With air travel predicted to continue to grow over the coming decade, change will be essential to achieve the aviation industry target of net zero by 2050 and to ensure the industry is not only able to survive but thrive. Incremental improvements in efficiency are not going to be sufficient, so sustainable aviation fuels represent part of the solution, especially for medium to long haul commercial flights, but the industry needs to go further. This is where new propulsion technologies, in particular electrification, has a significant role to play".
What are the main challenges for OEMs in implementing new technologies?
"Safety is the key priority that drives the development approach and acceptance of new technologies within aerospace. Development timeframes have traditionally been long, so a major change in propulsion technologies will take time to complete development and certification, even if implemented on an accelerated schedule. Electric vertical take-off and landing (eVTOL) aircraft manufacturers are pushing ahead with prototype flight trials, with the first scheduled to potentially enter commercial service as soon as 2025. However, complex challenges remain around the infrastructure required and the legislation to support this at scale. In addition to the high standards of safety, lower energy storage density compared with conventional fuel presents a substantial challenge to aircraft electrification. Battery size and weight significantly limit the realistic range of pure battery electric aircraft. For longer distance-flights such as regional aircraft, hybrid-electric engines or fuel cells offer the greatest potential for substantial efficiency improvements, whilst balancing the requirements on weight, range and power".
How can Ricardo solutions support the aerospace and aviation sectors?
"Our experience in efficient and electrified solutions, coming from other sectors, further along the decarbonisation pathway, allows us to enter aerospace with credibility as complex system integration experts. This is where we can differentiate from the established aerospace companies to add more value to our customers. However, as the industry moves towards experimental flight, it is crucial for us to ensure safety of the solutions that we deliver. The unique requirements and challenge of the aerospace sector will continue to drive a focus on continuous improvement of our processes and risk management."
What are the key roles and responsibilities of your position at Ricardo?
"I was drawn to the aerospace opportunity as it involved working in an area where there's a substantial shift in propulsion technologies. The sector is going through considerable change, and I saw a lot of synergies with my experiences in the automotive industry. I was keen to be part of this transformation and recognised that Ricardo is well-placed to lead the industry through some of the complex challenges towards a more sustainable future. My role is to drive the strategy, support new business development and ensure that we successfully deliver value through our project in the aerospace market sector, enabling us to accelerate our growth with more exciting and rewarding work. I continue to be grateful for the opportunities that Ricardo has been able to provide me with throughout my career. Working in different countries, experiencing diverse cultures and meeting fantastic people has been an incredibly fulfilling experience. Montreal is an important hub within the global aerospace community, as a city with many potential customers, key industry talent to draw upon and a supportive ecosystem to enable business growth in the sector. Our major programmes with Pratt & Whitney Canada are a large part of that locally, and we're keen to explore wider opportunities in the region as well as internationally".
"I am inspired every day by my colleagues across Ricardo, I have the privilege of working across our portfolio of technical solutions and I am humbled by the expertise, innovation and dedication that runs through our community. It's a thrilling time for Ricardo to be involved in the aerospace industry. We really can make a difference and accelerate the shift to a more sustainable future in one of the toughest industries in which to do that".