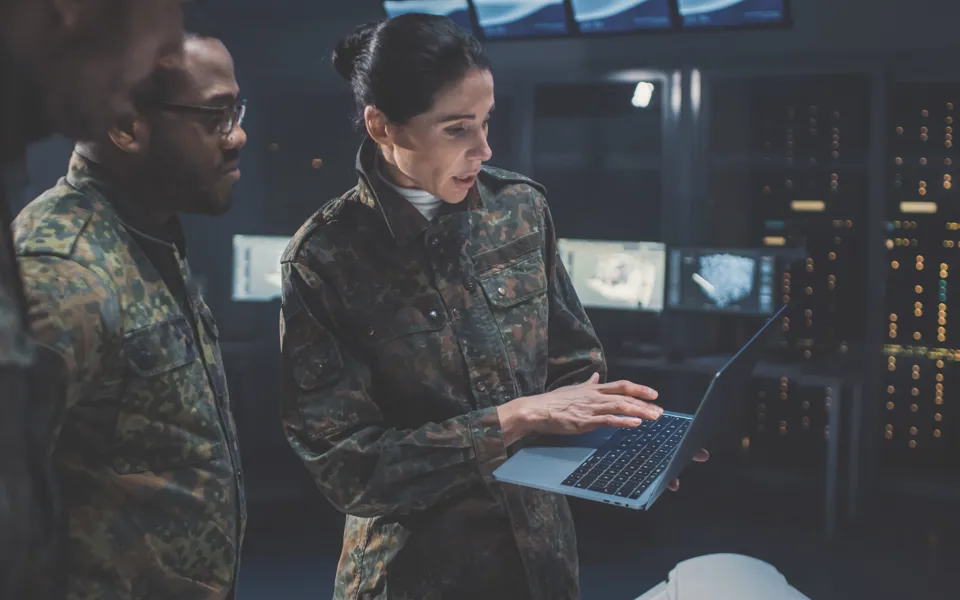 What are the right technology solutions to reduce emissions in future heavy duty military vehicles?
30 Jun 2021
How can army authorities and defence sector OEMs get trusted, independent engineering advice to develop the right solutions for reducing emissions in the heavy duty military vehicles of the future? 
Gareth Strong, Ricardo's defence sector coordinator, explains the specific 'road to net zero' challenges faced by the defence sector, and why only independent engineering advice will help to navigate successfully the complex path to the right propulsion solution.

Like all industry sectors, the defence sector is being challenged to decarbonise at pace, in order to reduce carbon dioxide emissions derived from fossil fuels. To align with the UK Government's Net Zero 2050 Strategy, the UK's Ministry of Defence (MoD) has produced a white paper to share its planning and preparation on the path to sustainability over the next 30 years.

There is no doubt that over the past five years the MoD has been able to make genuine headway. However, the defence sector now faces the knottier challenges of how to make its heavy duty combat machines more sustainable without reducing either their effectiveness in theatre or survivability of the front line personnel operating them.

So what's the challenge? As a relatively small sector defence is looking to leverage the technology developed by the significantly larger automotive and industrial sectors and apply  it to its land mobility systems. The automotive OEMs have coalesced around three main sustainable propulsion solutions for largely light duty applications: battery electric, hydrogen fuel cells, and synthetic liquid fuels derived from a variety of sustainable sources such as waste, solar or nuclear.

There are many benefits from electrified propulsion. Electric motors offer undoubted mobility, performance and efficiency improvements. Additionally, being quieter and cooler in operation provides significant reduction in acoustic and thermal signatures, offering military advantage in theatre. Electrification also enables a vehicle to multi-task: high voltage systems provide significantly more power not only to on-platform systems but can also provide high export power and avoid separate generators for powering other mobile units and equipment. But a defence force that may be deployed anywhere in the world must be able to operate at least as well as the current fleet of diesel powered vehicles. Unfortunately, not all fuels are created equal.

Consider a 500 litre conventional tank of diesel fuel: essentially a metal box weighing about half a tonne when full.  Despite being more than twice as efficient an equivalent quantity of energy would require 11 tonnes of battery, at a cost of upwards of £250,000. Hydrogen, despite having three times the energy value of diesel requires heavy pressured containers, 20 times heavier than the fuel itself. So to carry the equivalent energy of the liquid fuel requires 2.5 tonnes of pressure vessel occupying ten times the volume of the metal fuel tank. Given that half the supply trucks currently used to deliver to front line troops are carrying diesel tankers then if military vehicles were to convert to hydrogen, five times more supply trucks would be needed.

When you also factor in this logistics burden, challenging expeditionary environments and reliability of access to fuels, plus operational requirements, it's clear that some of the net zero carbon solutions being developed in the commercial sectors are just not going to be viable in the defence sector given its unique requirements and need to match any adversary anywhere in the world.

So, what is the solution? This is where Ricardo can help through its 100 year track record as a renowned engineering, environmental and strategic consulting company, offering:
Strategic consulting – horizon scanning based on industry insight, and scenario planning

Modelling – pre-concept topology analysis

More efficient engines at smaller scale

Power electronics and machines – high efficiency, quiet, lightweight solutions that don't rely on unethically sourced rare earth materials

Niche volume manufacturing"
Ricardo is renowned for its trusted, independent engineering advice: cutting through the complexity and breaking the current deadlock between defence sector saying to OEMs: what propulsion solutions have you got, and OEMs saying: well tell us what you need! Ricardo looks at all the technical solutions and matches the right one to the right vehicle, giving customers a solution they can trust."

We see a future: renewable synthetic liquid fuelled hybrid powertrains combine enhanced performance benefits of electrical propulsion without compromising the utility or logistic burden of the vehicles. And a different business model – no longer purchasing off the shelf truck engines and heavy duty transmissions but creating bespoke dedicated hybrid systems for 15-30 tonne class military vehicles based on robust sustainable technology that is compatible with existing assets.