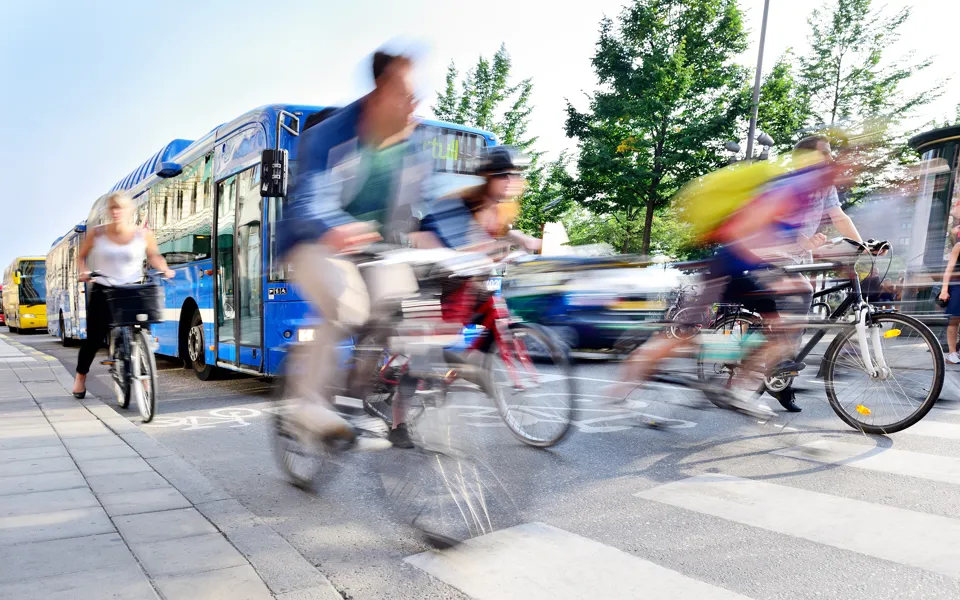 14 November 2023
New Ricardo report shows that making it easier to switch to cleaner transport reduces avoidable deaths and enables economic growth
Research by Ricardo air quality and economics experts identifies that implementing a targeted vehicle scrappage scheme in England to make it easier for drivers to adopt cleaner transport modes can help reduce avoidable deaths and make savings from greenhouse gas emissions and fuel.
A new report by Ricardo, a global strategic environmental and engineering consulting company, for Asthma + Lung UK has found that implementing the charity's Cleaner Travel Access Fund (CTAF) across the whole of England can deliver a total health economic benefit of 254million GBP annually and help to reduce avoidable deaths related to exposure to air pollution. 
Toxic air is a public health emergency and contributes to up to 43,000 deaths per year. Every day, an estimated 3.1 million children in England attend schools where the air surrounding them is over the World Health Organization (WHO)'s recommended limits for Particulate Matter 2.5 (PM2.5). Asthma + Lung UK analysis also found that 99.8% of schools in England are in areas where outdoor modelled PM2.5 were above WHO levels. Both PM2.5 and nitrogen dioxide (NO2) are widely seen as the most harmful air pollutants to public health.
Road transport is the single largest source of NO2, with more than 9 in 10 vehicles still running on petrol and diesel. Ricardo air quality and economic experts have identified that making it easier for people to switch to cleaner modes of transport not only protects public health but also has big wins for our economic growth. 
Ricardo's new report which was commissioned by Asthma + Lung UK, looks at the economic and social impact of implementing the charity's Cleaner Travel Access Fund (CTAF) across England as a whole, and specifically in four of the most polluted regions in England: Greater Manchester, West Midlands, West Yorkshire, and Liverpool. Ricardo's economic modelling revealed that if the CTAF scheme were to be rolled out across the whole nation, the health economic benefit would be 254million GBP annually. 
The charity is now calling on the government to introduce its proposed Cleaner Travel Access Fund which is a targeted support package to help people make cleaner transport choices. The range of greener travel options proposed includes mobility credits towards public transport and helping drivers update their cars to electric vehicles with a 3,000 GBP grant per eligible household. This scheme will help the poorest people in our society who are the most exposed to air pollution and those with long-term health conditions access affordable cleaner travel options. 
In addition to the annual health economic benefit, Ricardo's economic modelling has identified that the scheme would deliver other, equally important benefits. If implemented in four of the cities most at risk due to air pollution, alongside health economic benefits running into the tens of millions of pounds, CTAF could also deliver: 180 million GBP in greenhouse gas emissions saving, 160 million GBP in fuel saving and 80 million GBP in operational expenditure saving. All told, for every 1 GBP invested by central government, society would effectively get 2.50 GBP back in economic benefit.
Sarah Woolnough, CEO of Asthma + Lung UK, said: "Clean air is not an unaffordable luxury; it's a necessity. There is now a compelling economic case for taking immediate action on air pollution as our report has clearly laid out. Where we've seen bold action and political leadership, pollution is on a downward trend, while the reverse is true in areas like Manchester. We need to tackle air pollution head on. That's why we are calling on the UK government to set out a national programme to switch to cleaner travel, so that the poorest communities get support to trade in their polluting vehicles."