Connected battery management system
Ricardo has developed the Connected Battery Management System (BMS) significantly to benefit original equipment manufacturers (OEMs) and fleet operators by allowing them to manage battery health across all their vehicles.
Book a consultation with our experts
Our technology sends over the air updates to the vehicle systems to identify anomalies or failures before they occur, improve the life of the batteries by up to 13% and preventing failures.
Book a consultation
Batteries are at the heart of electric vehicles and managing their health is critical. Unexpected faults in batteries can lead to reduced vehicle range, excessive aging and failures in the field. This delivers increased costs to businesses for maintenance and repairs, as well as increased downtime.
Ricardo's Connected Battery Management System platform is helping our customers to manage the health of the batteries in their fleets, allowing them to identify battery faults before they lead to a breakdown.
We use advanced machine learning algorithms to accurately predict the health of electric vehicle batteries in the field, which can be observed from a centralised data platform.
Fleet vehicles are connected to the cloud enabling data capture and 'over the air' updates for the battery health of each vehicle. Ricardo can build a digital twin of the real fleet as a 'virtual fleet', which allows us to optimise data collection, and test 'over the air' updates before they're deployed.
Virtual fleet and machine learning technology
Our Connected Battery Management System platform makes use of our virtual fleet technology and machine learning to help to predict when faults may occur even before there is actual data available from the physical vehicles.
We can use virtual fleet simulations to create input data for our machine learning algorithms for battery health estimation. This data can be used to establish which signals are most significant for monitoring and analytics when no historical fleet data is available.
To start with, we train a model using our virtual fleet tool, running simulations over realistic duty cycles. Then, as real data becomes available, we retrain the model based on 'over-the-air' fleet data and service interval data.
The goal of the machine learning platform is to identify where batteries are aging excessively within the fleet, enabling online adaptation of the BMS calibration to maximise battery life. It can also predict anomalies that may result in battery failures and coordinate actions with the vehicle owners and service centres before they occur.
When physical fleet data becomes available, this virtual fleet can be used as a digital twin of the fleet and enables the development and testing of calibration updates, schedules, and strategies to maximise the life, capacity and operational efficiency of the batteries within the fleet. We can also use this technology to improve future battery designs.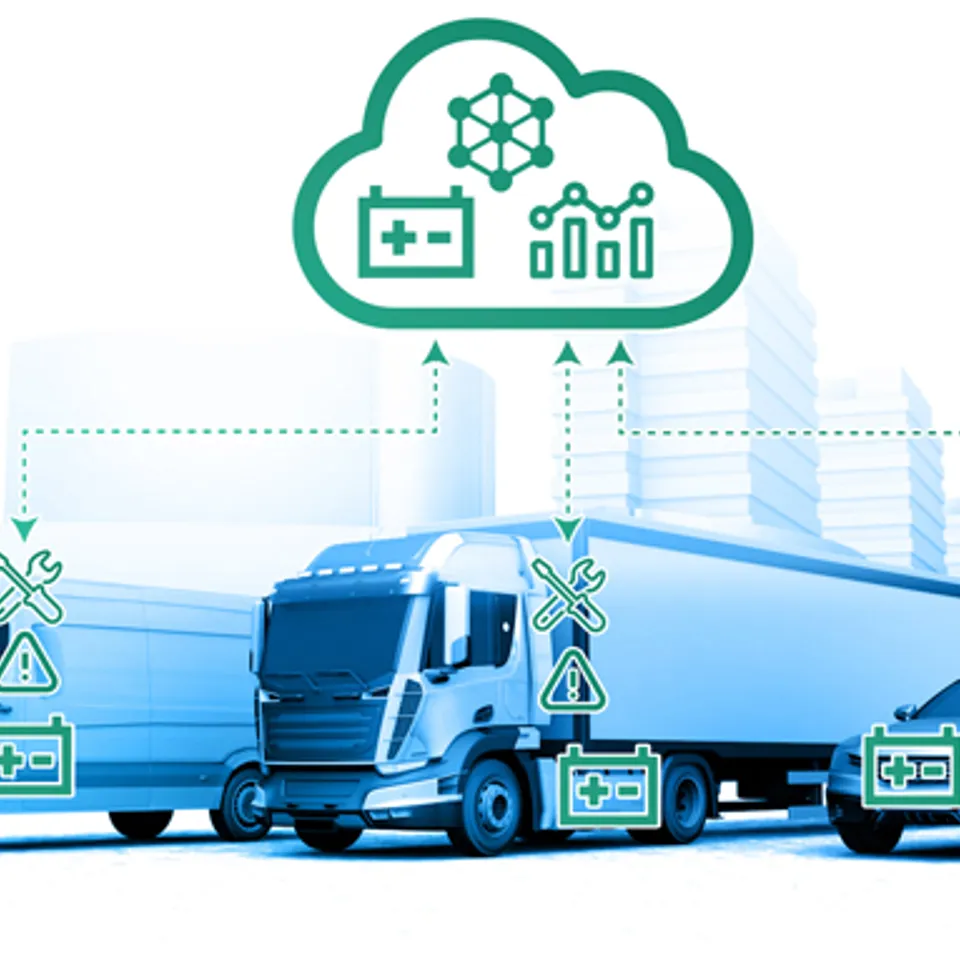 Benefits of Connected BMS
Advanced BMS and prognostics improve the customer experience by extending product life and reducing component failures.
Improve battery life
Ricardo's Connected BMS can improve the life of batteries by up to 13%
Improve uptime
By predicting faults before they occur, vehicle uptime in fleets is improved.
Extend product life
BMS updates extend the life of hardware, increasing economies of scale and reducing costs.
Maximum performance
Connected BMS extracts maximum potential performance from the battery whilst maintaining safety.
Reduce product development cost
Combined with a virtual product development process, prognostics can significantly reduce product cost through reduced component failures and significant reduction in warranty cost​.
Connected battery management system
Markets
This service is offered within the following sectors.
Connected battery management system Resources
Book a consultation with our experts
Click below to reveal the enquiry form and get in touch with our expert team about your requirements.