UK Hydrogen - Africa: Green H2 Investment Forum
UK Hydrogen - Africa, Green H2 Investment Forum
Tuesday 25 July 2023
Ricardo Technical Centre, Shoreham-by-Sea
The London-Hydrogen Africa Green H2 Investment Forum is an essential event that focuses on promoting green hydrogen investment opportunities in Africa.
The forum brings together industry leaders, investors, and policymakers to discuss the potential of the African green hydrogen market, investment opportunities and challenges, and regulatory frameworks.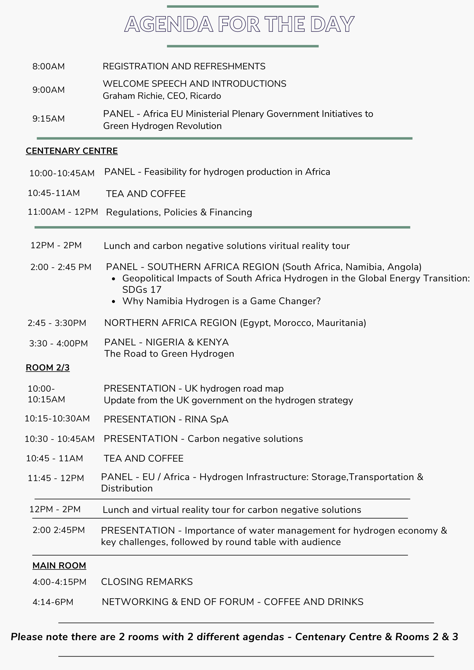 Ricardo's Technical Centre of Excellence
Information about the site tours: 
Ricardo's technical centre is part of a global centre of excellence for hydrogen, defossilised fuels and electrified transport engineering, it's built with the future in mind, supporting future hydrogen production planning.
Hydrogen Africa is a unique opportunity to get hands on and tour the centre of excellence.
You will visit numerous technologies around Ricardo's Technical Centre, exploring new and cutting-edge technologies in alternative fuels and propulsion options, including:
Hydrogen test facilities
Hydrogen fuel cell bus
McLaren manufacturing line tour.
The facility enables Ricardo to correlate simulation and modelling tools with real life, to support faster and a more efficient design of powertrains. It's also able to test bespoke multi-stack systems, designed and optimised for weight, cost and efficiency.
Why attend UK hydrogen-Africa Green H2? 
Investment Case for Green Hydrogen
The Policy & Investment Climate
The African Opportunity
South Africa and Namibia
Projects Amun and Aman
The role of Ammonia, LOHC and or Methanol
Net Zero Shipping
Project Neom
Plugging the Ecosystem
Electrolysers: The Missing Link
Offshore Wind & Hydrogen
Carbon Capture Storage and Hydrogen
Hydrogen Clusters
Scot Wind, Celtic Wind, Durban, Cape Town and the Floating Wind opportunity 
Ammonia, Hydrogen & the Energy Transition
The Energy transition, oil and gas to hydrogen
Understand – the next steps in how to deliver green hydrogen projects
Network / Connect - with 50+ green hydrogen and complimentary sector professionals in person
Discover – Lessons learnt from current and future projects in the pipeline
Access – the gateway to the UK and Africa hydrogen economy
Discounts – Hydrogen Africa members enjoy discounted access to their events. 
Don't miss out on this unqiue hydrogen opportunity and book your spot today.