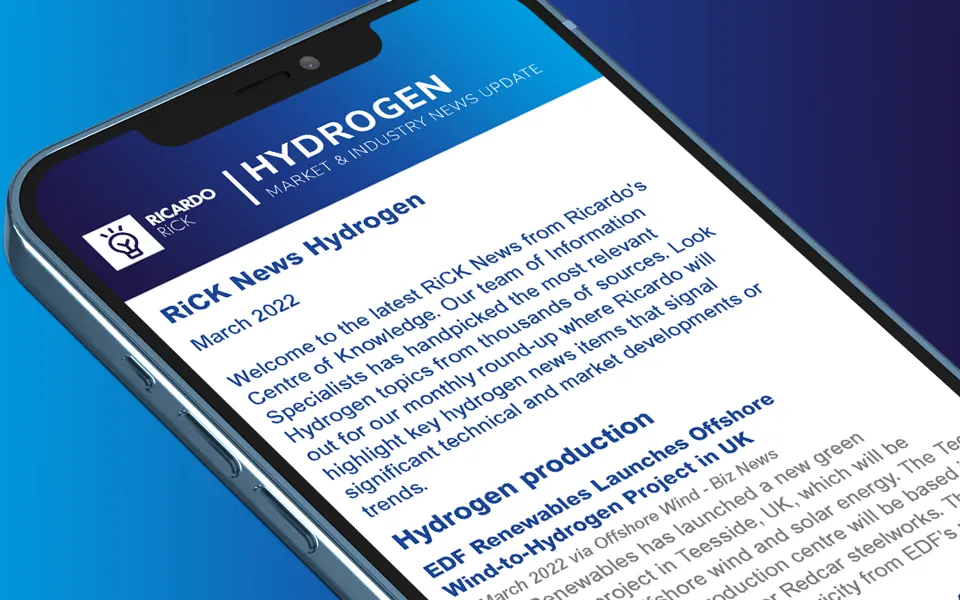 Content is curated by our Information Specialists who select the most relevant updates from a collection of tens of thousands of news, links to the online articles are included. Our subscription based knowledge products include technical updates, access to the complete RiCK Database along with various specific weekly RiCK News email updates.
Why Subscribe to RiCK News?
Don't miss the latest developments from across the industry, critical information to you and your organisation.
Regular updates
RiCK News weekly email updates which present the latest industry and market news on subjects including Hydrogen, Net Zero and Future Mobility.
Trusted sources
Ricardo experts curate all news content provided to RiCK News subscribers, which ensures we provide reliable insights to industry professionals.
Ricardo expertise
Our RiCK News service is relied on by both our clients and as an internal resource for our sales, marketing, engineering and policy teams. 
Curated news
We use an aggregator tool to search tens of thousands of trusted news sources. Content is curated by our Information Specialists with links to original sources provided.
Register for a 3 week FREE trial
Complete the form below and our team will be in touch with you shortly with details of your RiCK News trial.