Trusted source of industry news curated by our experts.
Our weekly email update subscription for executives, engineers, sales and marketing teams. RiCK News draws on 80,000 trusted news and industry sources.
Enquire about subscriptions
RiCK™ News Hydrogen is a weekly email update service bringing together news items relating to all the developments in hydrogen generation and applications
Articles are grouped by categories, including Hydrogen Production, Marine, Rail, Automotive and other applications as well as Hydrogen Policies and programmes.
Each week Ricardo highlight key hydrogen news items which signal significant technical and market developments or trends. A synopsis of news items will be discussed in the context of societal net zero ambitions.
RiCK™ News is a weekly email update service that provides the latest industry news on three subject areas:
Future Mobility including ADAS (Advanced Driver Assistance Systems) technologies, Autonomous Vehicles, eVTOL (electric vertical take-off and landing), Intelligent Transport Systems, Mobility-as-a-Service (MaaS), Shared Mobility
Batteries including solid state batteries, materials, battery supplier and industry developments, battery management, battery recycling
Fuels & Lubricants including hydrogen and ammonia, synthetic fuels, biofuels, renewable fuels, lubricant developments
RiCK™ News Net Zero is a weekly news update service sent via email that provides the latest industry updates relating to Net Zero and Decarbonisation.
With content specially selected by the RiCK team, RiCK™ topics include:
CO₂ emissions reduction.
Sustainability.
Carbon capture and storage.
Renewable energy.
Circular economy.
Hydrogen and low carbon fuels.
RiCK™ News Off Highway
RiCK™ News Off Highway is a weekly email update service that provides the latest updates and developments relating to non-road powertrains and vehicles for all applications, including agriculture and construction. Topics include:
Latest off-road vehicle news including agricultural powertrains, construction vehicles and more.
News on backhoes, excavators, tractors, loaders and other agricultural and construction vehicles.
Off-road vehicle technology developments such as driverless tractors.
RiCK™ News Electric Vehicle Charging
RiCK™ News Electric Vehicle Charging is a weekly email update service providing the latest market and industry developments in Electric Vehicle Charging. Content is specially selected by the Ricardo Knowledge team; topics include:
News and developments from competitors.
Fast charging.
Wireless charging.
Infrastructure, networks, and more.
Charging adoption rates, growth rates and data.
Charging investment updates.
Existing and new charging technology developments.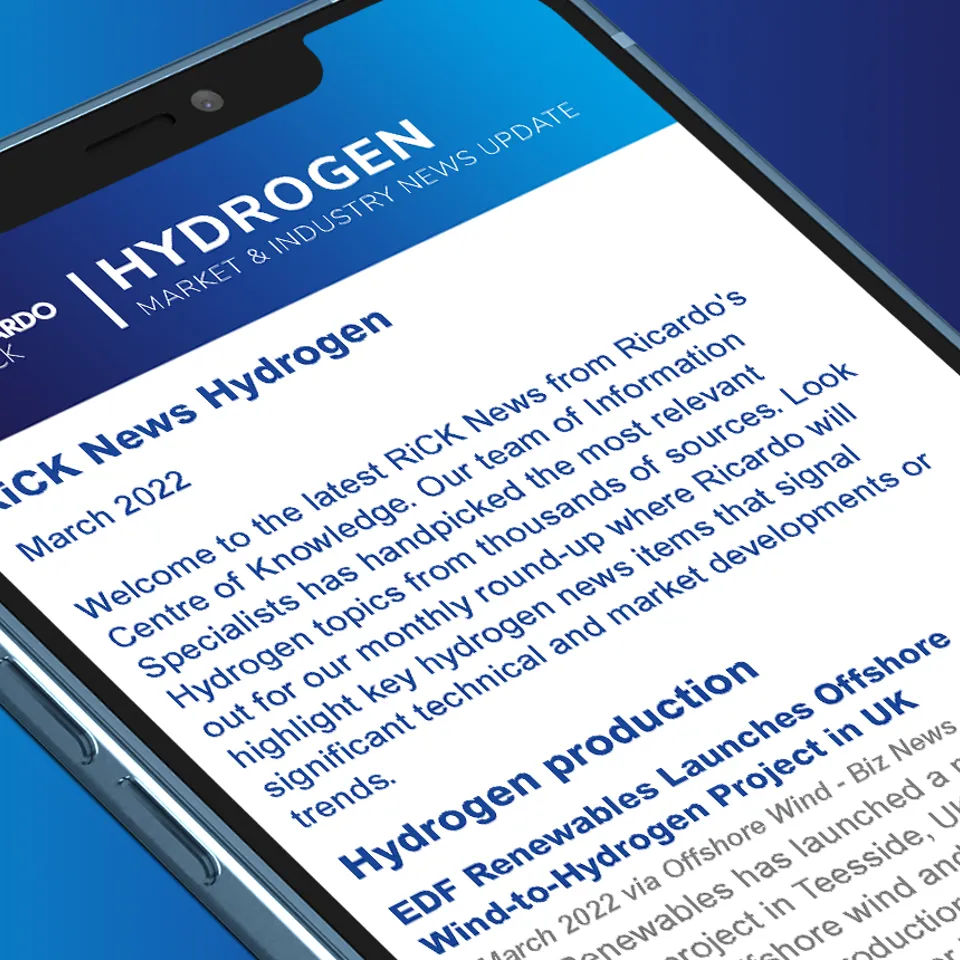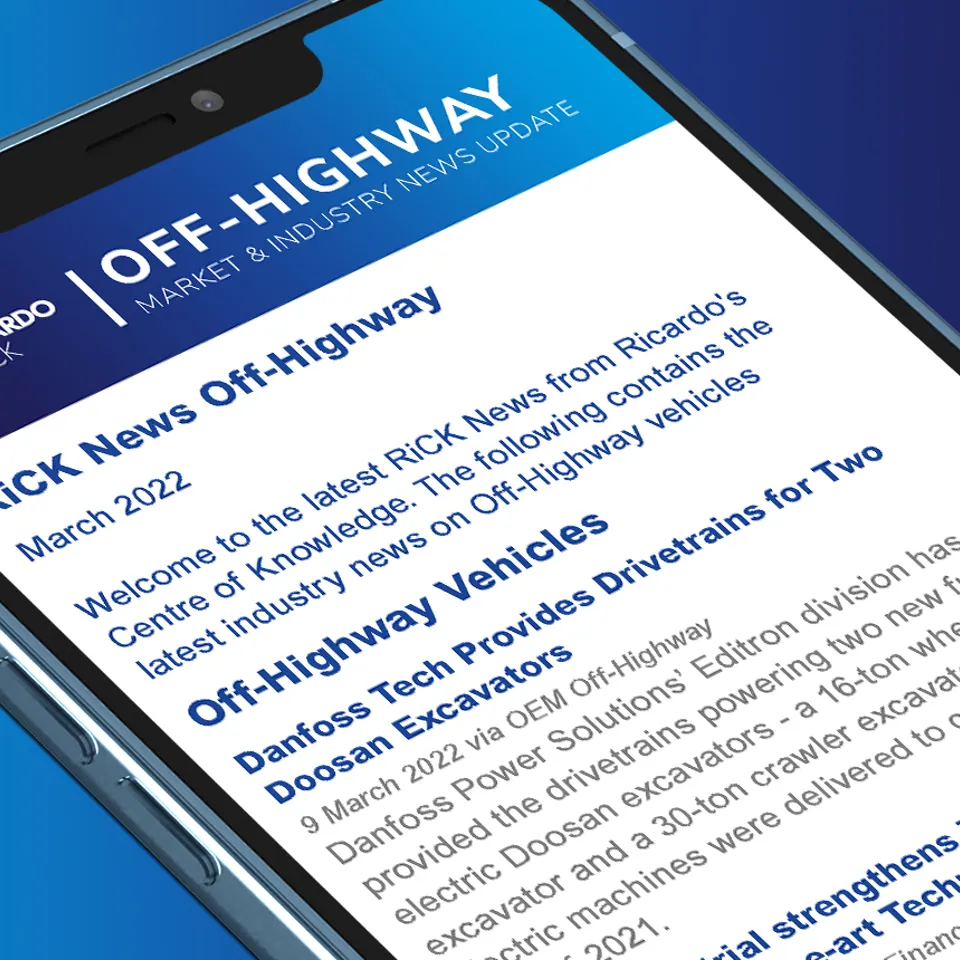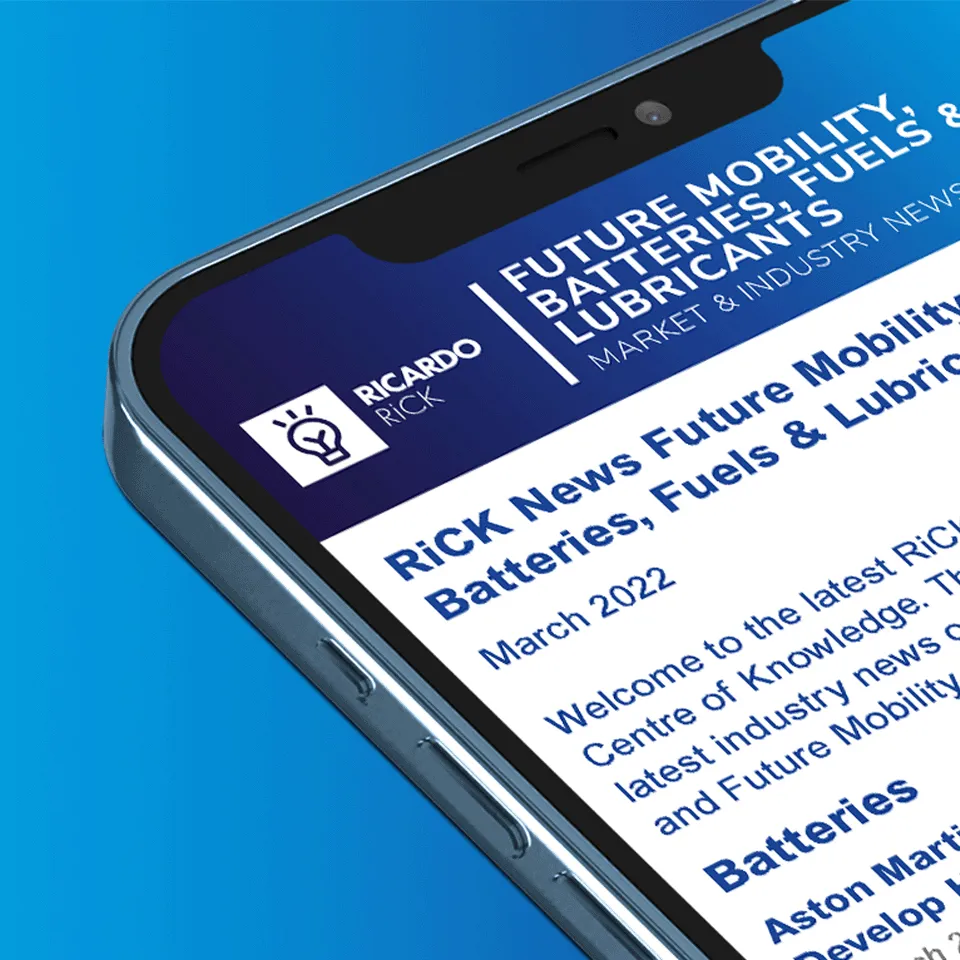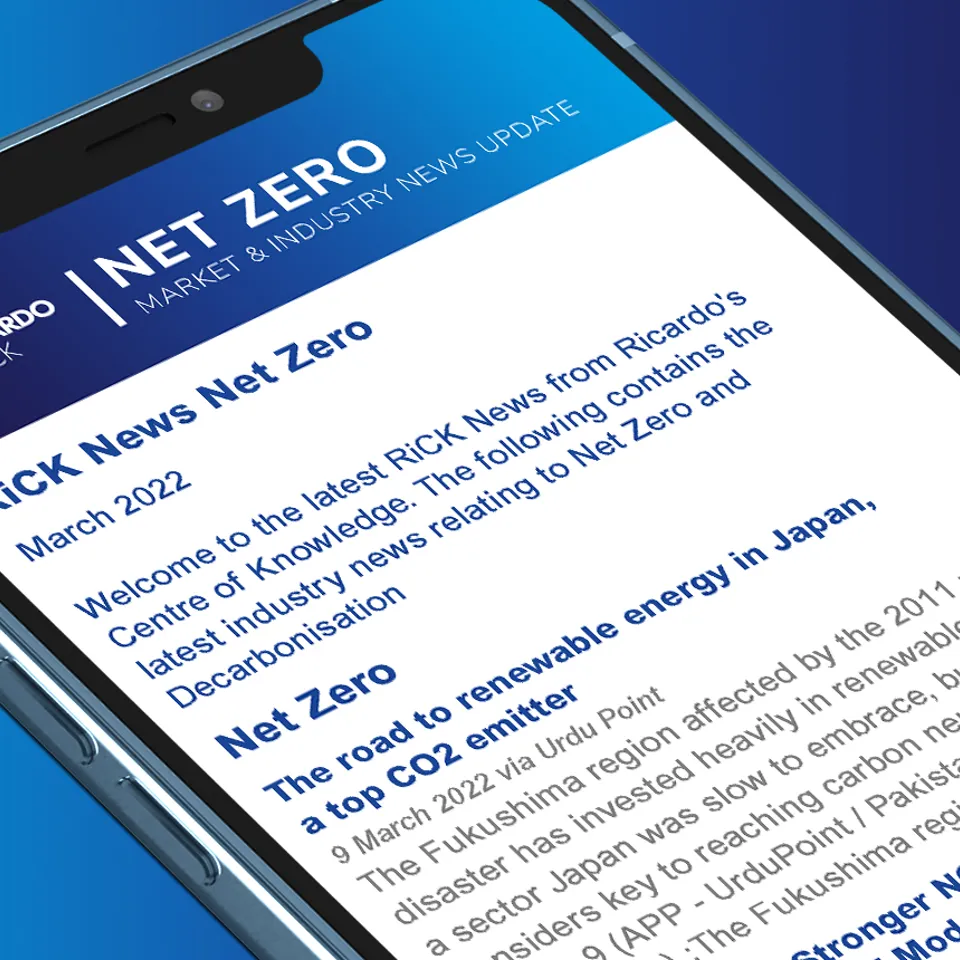 Why subscribe to RiCK news?
Don't miss the latest developments from across industries and disciplines that are critical to you and your organisation.
Regular updates
RiCK News weekly email updates which present the latest industry and market news on subjects including Hydrogen, Net Zero and Future Mobility.
Trusted sources
Ricardo experts curate all news content provided to RiCK News subscribers, which ensures we provide reliable insights to industry professionals.
Ricardo expertise
Our RiCK News service is relied on by both our clients and as an internal resource for our sales, marketing, engineering and policy teams. 
Curated news
We use an aggregator tool to search tens of thousands of trusted news sources. Content is curated by our Information Specialists with links to original sources provided.
Enquire about subscriptions
Click the button below to get in touch with our expert team.