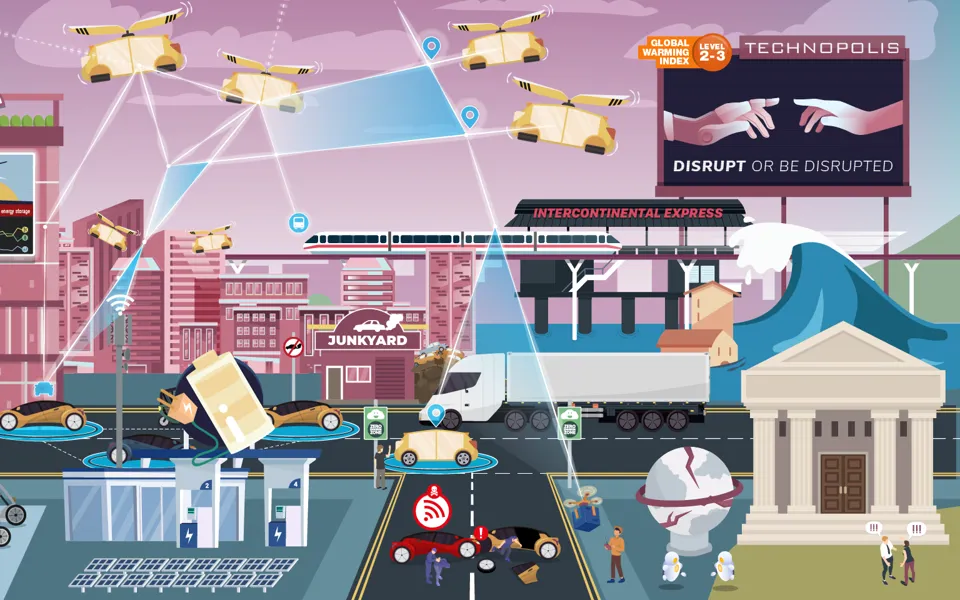 How many organisations factored a pandemic or war in Europe into their forward strategy?

"Scenario planning can't predict the future," says Angela Johnson, Vice-President of Ricardo Strategic Consulting, "but it can help business leaders identify potential risks and evaluate how to counteract or mitigate their impact."

Ricardo's unique approach to scenario planning combines unrivalled strategic insight with more than 100 years of trusted engineering capability.

"When Ricardo carried out extensive scenario planning for our own business in 2019, we did not specifically include Covid-19 as a threat," recalls Johnson.

"However, the scenarios we created contained several features of a pandemic as outcomes: a global crisis leading to a crippling economic downturn, restrictions on travel and a move to telecommuting, and a drive to digitise products and services.

"This meant we were ready to respond with as little impact on everyday operations as possible."
Thinking the unthinkable
Scenarios are alternative futures in which today's decisions will take effect. Scenario planning is a tool to help organisations make these decisions more effectively.
"Scenario planning allows for an acceptance and understanding of uncertainty," explains Marques McCammon, Global Managing Director for Automotive & Industrial at Ricardo. "It then enables businesses to build robust future strategies in spite of, around, and through these uncertainties.

"If we take what has transpired over the past three years, most people could not or would not have imagined the challenges we have been faced with, let alone the confluence of challenge that has manifest globally. This just makes it clear that the long-term future cannot be calculated simply as an extrapolation of past trends or cycles. This is where scenarios become valuable.

"Scenarios inspire provocative discussion. They challenge preconceptions and promote engagement. They help participants to think the unthinkable, not as peripheral, or tangential, but as central to their business's potential reality.

"Could this happen? Could it really? Well... we are now recovering from a pandemic, have military action in Ukraine, and the world's wealthiest auto company did not exist 20 years ago, so the answer is: yes, of course it could."

Ricardo's deep strategic expertise equips business leaders to navigate the complexities of the future while our world-class technical design, engineering and automotive experience supports planning for implementation.

To help achieve both these aims, Ricardo's experts have created four scenarios from the perspective of the world in 2035.
Introducing Technopolis
'Technopolis', is shaped by, is shaped by disruption and accelerated economic transformation bourne our continued technological proliferation. "It's all about electric, data and fast-paced technology evolution," says McCammon.

"Put simply, disrupt or be disrupted – this is a world in which insight is emancipated, and knowledge is no longer exclusive to the experienced and the learned, but every facet of the social experience is open to reimagination by those who can see a new angle in the technology that underpins it. This means rapid change in business models, products, and services. There are accelerated technological breakthroughs in digital tools, energy storage and autonomy. A breakthrough in solid state battery technology drives a stepped shift to electric propulsion. Low carbon and autonomous vehicles become a proliferating reality globally, both on the ground and in the air."

In fact, in the world of 'Technopolis', private vehicles powered by fossil-fuelled internal combustion engines (ICEs) are banned in densely populated areas.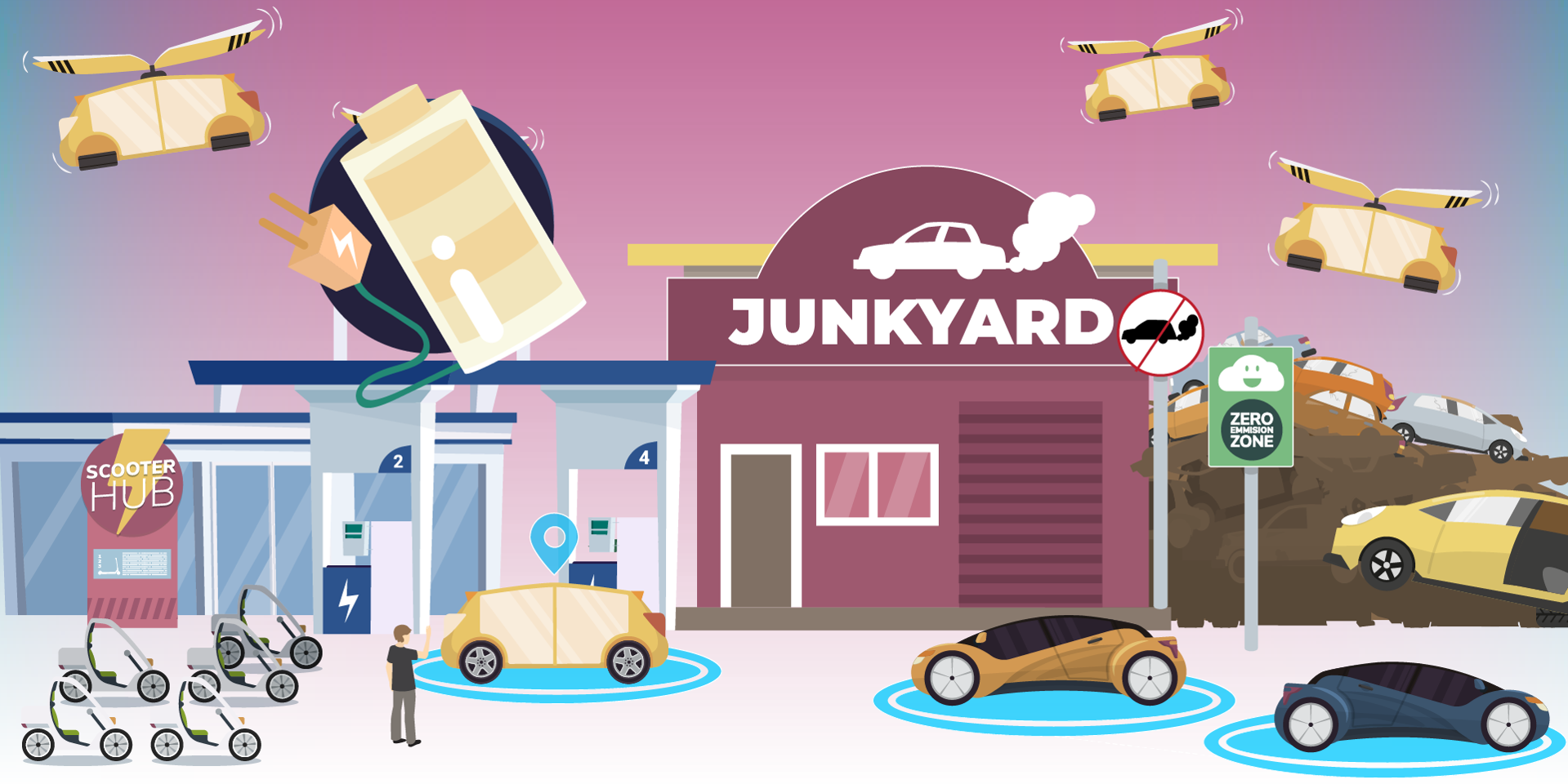 And lest we think that unlikely, the reality now is that more than 30 national and local governments have announced bans on the sale of some forms of transportation powered by ICEs. In Norway and North Korea that ban comes into effect for all new vehicles as soon as 2025. In Belgium, it applies to all company vehicles a year later.
"Some aspects of this scenario," adds McCammon, "are already playing out in our world today."

"There are other significant challenges posed by this scenario," says Johnson. "A severe autonomous vehicle terrorist attack has damaged confidence. Economic growth remains patchy overall with geopolitical splits and tension between nations, although the desire to protect the private sector and keep supply chains open has prevented major conflict.

"Serious climate concerns also remain, despite the emergence of megaprojects in reforestation, sea defences and terraforming.

"Although consumers are highly receptive to new technologies, state support for technology deployment is low and legislation lags behind the advances being made."
'Technopolis' is one of four plausible alternative futures developed by Ricardo. In each scenario our experts drill down into the engineering detail to give a detailed and informed view of the challenges that may lie ahead.

By placing your existing business and future strategy into a set of scenarios you can test their robustness and identify strengths, weaknesses, opportunities and threats.

Register to learn more from Ricardo's experts. With their support, scenario planning enables you to answer the tough questions:
Are we doing the right thing: how robust is our current technology strategy?
How can we prioritise what we do in a challenging financial environment?
What else should we be doing: what could we do in 2035 or 2040?
What will our customers want in the future?
If your strategy is robust against our scenarios, then it will very likely be robust against whatever the future actually brings.
Sign up to receive our insights
Click 'get in touch' to reveal the form and subscribe for more insights.