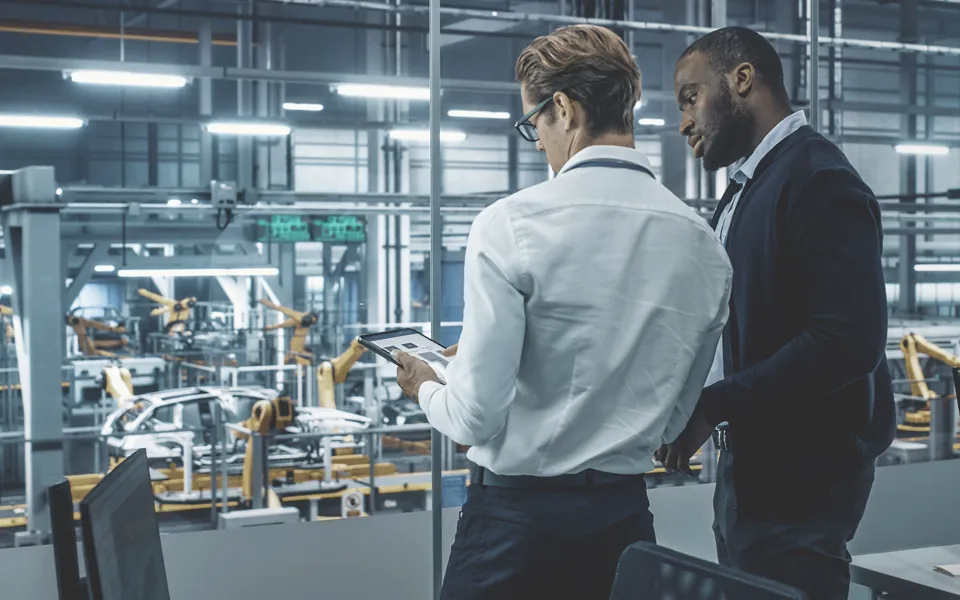 Scaling up production is an integral part of the manufacturing process for businesses seeking to grow. It should be a key consideration of your production strategy and requires careful planning and management.
Scaling production presents challenges that will require precise management of resources, finances, and time all whilst ensuring that quality isn't compromised. Building consideration for scalability into your manufacturing operation using a new product introduction (NPI) framework will help your business remain flexible to changes in production volume requirements so that it can grow as safely and effectively as possible.
Got more questions about NPI? Check out our knowledge hub which has frequently asked questions and expert advice on all aspects of getting you product to market. Or download our quick start guide for free.
Download our get started guide
Here's why planning scalability in your manufacturing operation is important to your business
As market demand increases for your product, your manufacturing operations will need to grow with it. You might need to increase volume to meet demand, or perhaps the market is ready for an update or variation on your product. Equally, market uncertainty or seasonality could mean that there is reduced demand for your product which could impact your bottom line.
Businesses need to have the flexibility to be able to take advantage of both upturns and downturns in the market to optimise profit generation and minimise risk. Building scalability into your manufacturing operations means that your production can be agile in response, and you can maintain optimum profit, regardless of volumes being produced.
Ricardo's NPI consultants are experts in developing production plans which help businesses to scale their operations effectively. Here they explain some key considerations when scaling your operations.
Start early

It's never too early to start considering your strategy for scaling your production and it pays to plan ahead.

Ideally, consideration for scaling production begins during the concept phase and is managed through NPI processes by a dedicated and focused team. It is much more complicated to build in scalability later in the production process and failing to consider it from the start at all can result in unexpected and excessive cash burn, delays to production, and quality assurance issues.

Typically, we find that organisations without a scalable new product introduction process underpinning their manufacturing operations will struggle to respond to fluctuations in demand. This is particularly true when production needs to ramp up rapidly.

Do I have enough space to upgrade my equipment? Do I have the staff and resourcing to support volumes? Can my supply chain move with me? These are all factors that should be considered when scaling. Managing these variables whilst production is ongoing is a challenge, but this is especially so when there are no processes or plans in place to help achieve this effectively.

Check out our complete guide to the new product introduction process



Keep grounded

Businesses looking to bring new ideas to the market are often eager to get their products out there as quickly and at as high a volume as possible, but rushing to market and over-estimating demand can lead to unexpected cash burn and resourcing issues later down the line.

We often find that businesses rushing to market, particularly those without an NPI framework, will either ramp up too quickly and burn cash excessively and potentially produce a sub-quality product, or will over-produce leaving them with excess stock which they are unable to sell.

Being able to respond to market demand effectively, especially during periods of negative cashflow, requires achieving a balance between meeting client delivery times, maintaining quality assurance, and ensuring that you can sell the stock that you've produced.

Timing and investment are everything at the early stages of production and having a robust NPI framework in place will help you keep your production goals realistic and achievable at every stage of your new product journey.

Your supply chain must scale with you

Just because your production is ready to scale it doesn't mean that your supply chain is ready to scale with you. Having a good relationship and open communication with your suppliers is particularly important to ensure that your can meet your production goals.

Appropriate plans need to be in place to ensure that your supply chain is robust as your production scales up or down. Volume and delivery time is important, but so is quality and assurance. It also pays to do some forward planning to have options on hand if you need to redistribute the supply chain.

Building these considerations into your NPI strategy will help your supply chain to be as responsive you are to market demand.

Find out more about building quality-assured supply chains for your manufacturing operations

Effective resource management

One of the biggest challenges when scaling up production is ensuring that you have the resource available to support it, particularly if production is already running. Doubling production, for example, could mean that you are going to need double the equipment, double the space, double the staff who are trained and so on. Without an appropriate plan in place to manage this requirement, you risk cannibalisation of resource from other lines, delays to delivery, and excessive cash burn.

NPI planning, from project management and process engineering to launch readiness, will start to be investigated during the conceptual phase of a new product. And this includes planning for ramping up production. Putting high level plans in place at this stage will help to manage resources more effectively down the line.
Not factored scalability into your production plan? There's still time
Whatever stage you're at in your manufacturing programme, it's never too late to consider how you can effectively scale your production.
The new product introduction team at Ricardo can offer practical advice and ramp up planning solutions to help you increase production or build scalability into your operations.
Learn more about our new product introduction services
Book a consultation with our NPI experts
Book a consultation by clicking 'get in touch' to reveal the contact form.