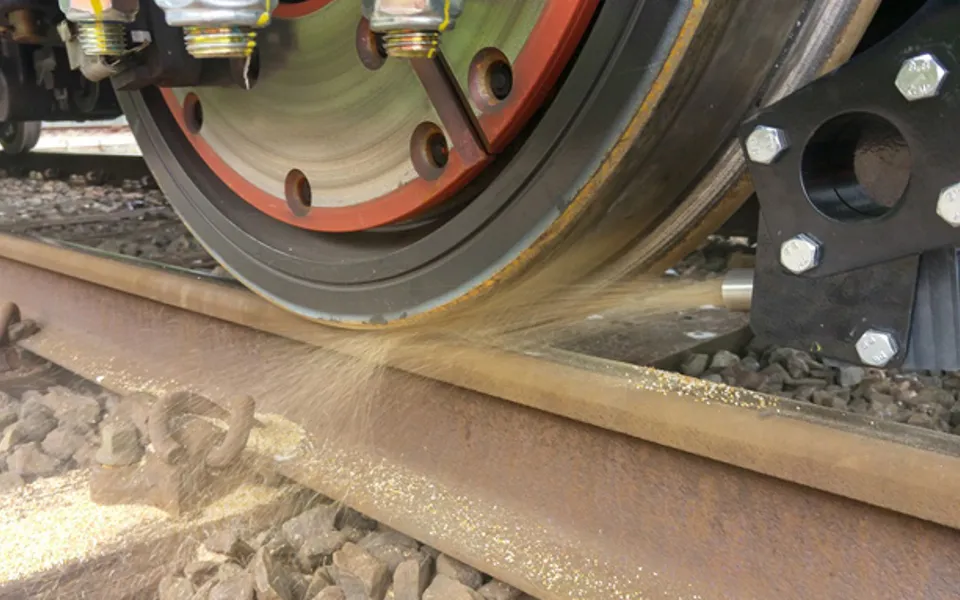 15 October 2019
Ricardo supports UK trials of wheel-rail adhesion technology
Ricardo Rail's Track Consultancy team is closely involved in a trial taking place on the UK rail network that could improve future service performance during the autumn leaf fall season.

Leaves that fall on rail lines in the autumn can become crushed under the wheels of passing trains, leaving a hard residue on the railhead. When this is combined with a little moisture such as morning dew, it can result in a very low level of adhesion between wheel and rail, adversely affecting train braking and acceleration performance and ultimately, risking damage through flatting of the wheel surface.

A response long used by the industry has been to deliver sand from the vehicles directly onto the rails to improve wheel/rail adhesion. This month's trial, however, looks to see if that approach can be improved upon. It will build on research initiated by the UK's Rail Safety and Standards Board (RSSB), and undertaken by Ricardo, looking at whether it was possible to optimize the distribution of sand to further enhance stability on wet and slippery tracks.

The initial research in 2017 examined various permutations, such as whether trains travelling at higher speeds require higher quantities of sand or if the number and distribution of sanders along the rake had a positive impact. This month's trials will put some of the research findings to the test in a real-world environment, using a local line in the West Midlands that will be closed each Sunday in October.

The programme is expected to further demonstrate that Double Variable Rate Sander (DVRS), which actively target sand delivery at axles which are experiencing slide, will significantly improve low-adhesion braking performance on Class 323 units. The testing will also be an opportunity for drivers to experience the technology in a safe environment, and to get their feedback on implications for their driving.

The UK network currently introduces an amended autumn timetable on certain routes that introduces longer gaps between services and requires that drivers reduce speed to allow for longer stopping distances and prevent trains overrunning station platforms. The new technology is expected to pave the way for vehicles equipped with DVRS to get much closer to performing as consistently in low adhesion conditions as they do at other times of the year.