Homologation and type approval certification
We provide an independent homologation and vehicle certification service for ICE, EV and HEV platforms to ensure vehicles meet with quality, safety and emissions standards.
Book a consultation with our homologation experts
Ricardo is a trusted test and development partner of some of the industry's biggest names. Our extensive test and development expertise and our world-class WLTP accredited facilities which are calibrated to comply with global regulations and inspected for compliance by multiple approval bodies.
Book a consultation
Our extensive test and development expertise and our world-class WLTP accredited facilities which are calibrated to comply with global regulations and inspected for compliance by multiple approval bodies, including:
Vehicle Certification Agency (VCA)
ATTEL
DEKRA
Idiada
TUV
LuxControl
UTAC
DNVGL
RDW
ATE EL
Vincotte
Type Approval Certification is essential for OEMs seeking to demonstrate that their products meet the specified performance necessary to sell to a global market. Ricardo works with a number of accreditation authorities and witnessing bodies, including the Vehicle Certification Authority (VCA), to deliver type approval certification services to meet a range of global standards and for vehicles from a variety of categories, including:
Light vehicles with up to four wheels (L1, L2, L3, L4, L5, L6, L7)
Passenger vehicles inc pass car, bus and taxi vehicles (M1, M2)
Commercial vehicles inc vans, pick-ups and commercial truck (N1, N2)
We are trusted by the automotive industry to independently validate vehicle emissions, fuel consumption and electric range.
Ricardo provides a comprehensive Conformity of Production (CoP) test service to certify that vehicles are produced to the standards of an approved type. This is a legal requirement for manufacturers and covers all ICE, HEV and EV vehicles.

Our full service CoP testing package includes comprehensive testing, as well as expert engineering support and analysis to help our customers to understand their results.

We understand the time critical nature and the flexibility required to work around manufacturing and delivery schedules to enable effective Cost of Production testing which is flexible to the requirements of our customers. Our streamlined testing and delivery process ensures a quick turnaround time at a competitive price. Additionally, our facility has virtual testing capability. This enables us to be able to perform CoP testing without the need for engineers to travel to visit the Ricardo site.
In Service Conformity testing enables manufacturers to verify that their in-service vehicles remain compliant to type-approval standards in the real world.
Ricardo provides an independent, impartial and secure end-to-end ISC testing service to our customers. We aim to provide a quick turnaround to ensure that our clients receive their results and that the vehicles are back on the road as soon as possible.
We can source vehicles from hire fleets or dealer and distributor networks. We then prepare the vehicles for testing with robust processes in place to ensure that the vehicles are cared for whilst in our facilities and returned in as received condition. Testing is completed in compliance with global standards and, in addition to emissions testing, we can offer an analysis of oil and fuel samples to future understand the in service condition of the vehicle. When testing is complete, we provide manufacturers with test data to prove compliance to relevant authorities and offer analysis to ensure that our clients get the most out of their results.
Ricardo is able to offer a wide range of vehicle testing capability remotely to our clients, including:
Virtual certification for both the complete vehicle and e-machines
Calibration
General test operations
Our Virtual Vehicle Certification is conducted over a secure, live 3-way feed to our automation and data management systems at our testing facilities to allow both the witnessing body and our clients to view testing being carried out from a remote location. This enables the witnessing body to be able to validate quality checks, such as tyre pressure, in real-time via video feed, without the need to be present on-site.
4 wheel drive dynamometer

2 wheel drive dynamometer

Max speed

250 km/h

200 km/h

Max power

170 kW

150 kW

Vehicle wheelbase length

1800-4400 mm

4200 mm

Vehicle height

3000 mm

2100 mm

Vehicle track width

800-2300 mm

913-2184 mm

Max vehicle weight

4500 kg total
2500 kg maximum axle weight

3400 kg

Temperature control

-30 °C to +55 °C

-20 °C to +40 °C

Humidity control

5.5-12.2 g H20/kg dry air

5.5-12.2 g H20/kg dry air

Vehicle cooling fan

Adjustable cooling fan 1400x550-900 mm
165 km/h

Adjustable cooling fan 530x1000 mm
Up to 130 km/h

Automation

Horiba Ricardo STARS VETS

 

Emissions measurement

MEXA ONE

MEXA 7000

CVS tunnels

3

2

Soak capacity

Ambient soak chamber ~16 vehicles
Climatically controlled transit/soak area
2x dedicated climatic chambers

~5-6 vehicles ambient soak
2x climatic soak chambers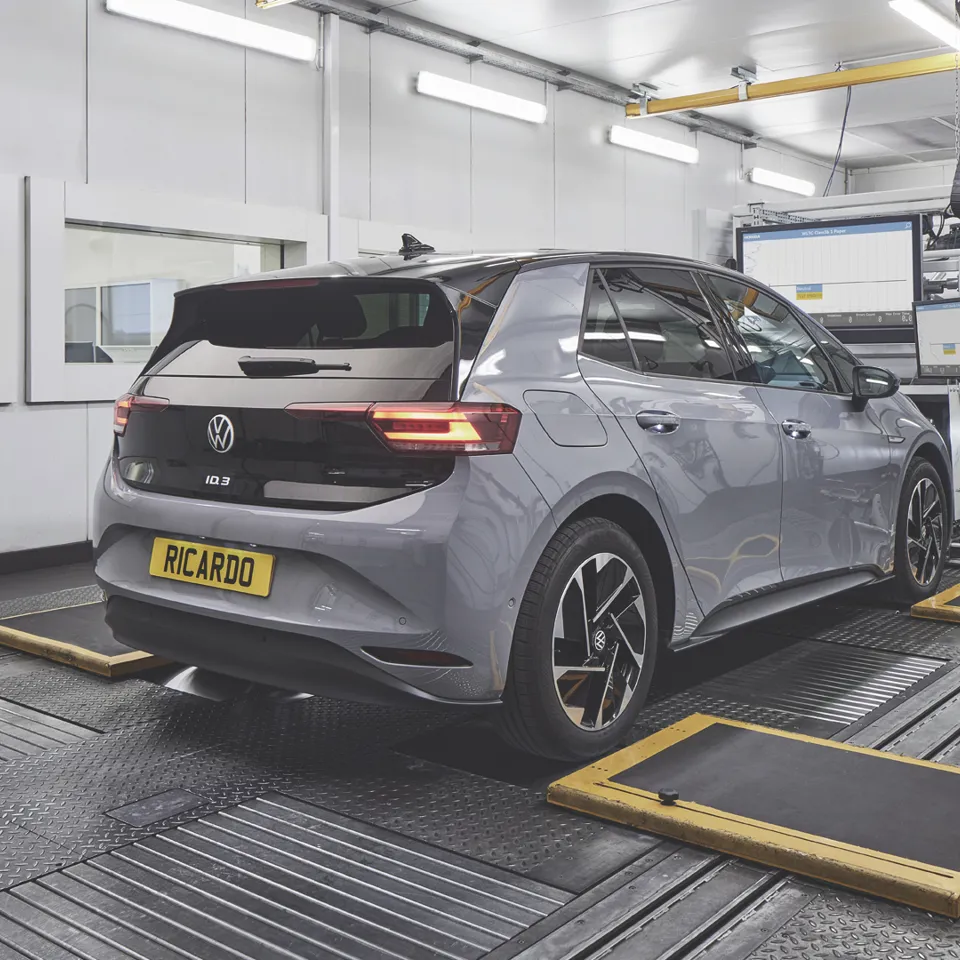 Homologation and type approval certification
Markets
This service is offered within the following sectors.
Homologation and type approval certification Resources
Presentation: The role of AI in the future of mobility
Watch video
Book a consultation with our vehicle homologation experts
Click below to reveal the enquiry form and get in touch with our expert team about your homologation requirements.