Internal combustion engine testing and development
Full-service ICE testing and development for a range of industries and sectors, from passenger vehicle to marine transportation.
Book a consultation with our ICE testing experts
We have broad cross-sector capability in ICE testing supported by our highly-experienced technical experts. All our test solutions are created to be bespoke to each of our customer's programme needs and delivered to their time scales with a deeper understanding of the engineering objectives behind them.
Book a consultation
We provide a comprehensive engine testing capability including:
Test development facilities for products ranging from 5cc model aero engines to multi megawatt power generation units
Regenerative AC motoring facilities for highly transient response and vehicle simulation
Engine durability, demonstrating and improving reliability and reducing warranty risk – 24/7 availability typically provides 130 to 140 hours testing per week dependent on the robustness of the engine build level and service requirements
Base engine testing - understanding the mechanical performance to improve efficiency and develop and evaluate new solutions
Performance and emissions testing - enhancing performance and improving fuel economy while achieving the desired emissions compliance
Extensive and detailed instrumentation capability with climatic cells and chiller units for thermal shocking, tilting cells for oil circuit development and programmable systems for automated testing
Specialist precision micro instrumentation for in-depth studies in inaccessible locations
Automated test systems using advanced optimization techniques such as design of experiments, automated mapping and vehicle calibration on test bed for improved data quality and reduced development times
Advanced techniques for benchmarking of production engines with closed ECUs
Failure mode analysis
Validating and homologating new products
Developing the NVH signature and brand image
Benchmarking studies of competitor products
Ricardo is historically an ICE engines company and testing of internal combustion engines is a core capability. We use customisable test rigs for power unit and driveline system testing covering small to large propulsion systems at our state-of-the-art testing and development facilities.
Our ICE testing services are offered across all market sectors. We have supported an impressive range of OEM and Tier 1 clients. We work with customers with a wide variety of vehicle and energy platforms.
We support in the development of passenger vehicle and personal transportation, to large engine applications for marine and off-highway, to high-performance and motorsport applications.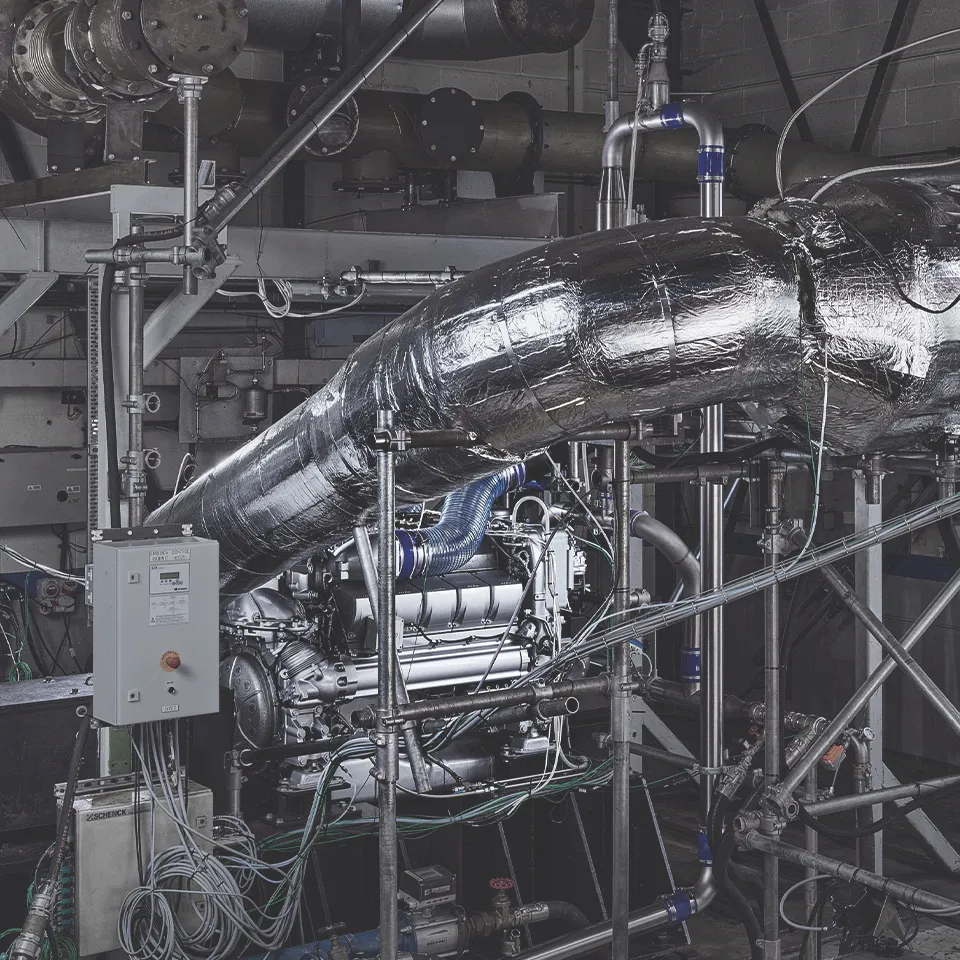 ICE testing to support almost any platform
Expert test capability and experienced team
With our roots firmly embedded in ICE, we have the capability and experience in ICE testing which means our customers do not need to invest and develop their own capability in turn providing quicker test setup, with higher quality and faster delivery.
Test capability for small to large engines
We have the capability to test the complete product range of engines providing a one-stop shop, which means our customers do not need to work with multiple suppliers.
Supporting the full product development cycle
We provide an end to end service and support all aspects of the development process, from initial R&D testing to homologation of product. This deep understanding of internal combustion technology across the full product life cycle enables us to deliver high quality, holistic solutions to our customers.
Advanced test capability
Our integrated capabilities enable us to test future powertrain systems. This enables us to test new fuels, hybrid systems and novel engines.
Remote access tools
We were one of the first to offer virtual certification for testing. We continue to offer this service alongside virtual testing and virtual witnessing agent. This means that our customers don't need to travel to the testing site and be present for all testing, saving time and cost and in turn reducing CO2 travel emissions.
Internal combustion engine testing and development
Markets
This service is offered within the following sectors.
Internal combustion engine testing and development Resources
Organisations with flexible strategies will capitalise on powertrain opportunities
Read blog
Is there a future for fuels on the road to 2035?
Read blog
Ricardo delivers first virtual remote certification testing for a marine engine
Read article
Book a consultation with our ICE testing experts
Click below to reveal the enquiry form and get in touch with our expert team about your requirements.