Providing bespoke air quality monitoring solutions for over six decades. Our work provides the bedrock for many national air quality monitoring networks, enabling us to be ideally placed to deliver tailored air quality monitoring solutions for clients in the public and private sector.
Effective air quality monitoring
Robust monitoring is essential for understanding compliance with regulatory limits and, just as importantly, for designing effective and targeted actions to improve air quality and reduce impacts on health and the environment. Our services include:
Ricardo and its technology partner, Opus RSE, use state of the art vehicle emission remote sensing equipment to accurately measure real-world driving emissions from thousands of vehicles, under actual driving conditions, in a short space of time. Our portable equipment is configured to measure emissions of nitric oxide, nitrogen dioxide, particulate matter, hydrocarbons, carbon monoxide and ammonia.
The data gathered provides local insight necessary to inform the cost-effective design of low-emission policy and helps to ensure that mitigation measures focus only on the most polluting vehicle types.
Ricardo has world-leading expertise in vehicle emissions measurement including an advanced Vehicle Emissions Research Centre and extensive expertise in the use of portable emissions measurement systems. Visit our vehicle emissions' blog
Design and installation of continuous monitoring surveys and networks to the same standards as those used in the national networks, for a broad range of pollutants.
MODUS, our in-house data management tools suite enables robust, reliable and effective management of air quality data, enabling automated data collection, validation, quality assurance and dissemination through websites and apps for mobile devices.
Ricardo's Particle Measurement Centre is a UKAS-accredited calibration laboratory [no. 0401]. We provide validation of vehicle emission ultrafine particle measurement systems in accordance with international regulations, including particle number counter calibration and diluter calibration. The PMC also delivers industry-leading particle measurement services to quantify particle numbers, mass and size.
Ricardo is the only UK consultancy with the capability to provide a fully integrated, in-house, UKAS-accredited odour analysis service with a complete range of process, environmental and energy management expertise.
We can help you if your processes are creating an odour or if you are adversely affected by such odours. We can provide you with robust, independent and expert odour assessment, measurement and management services to support you in demonstrating odour management compliance to your local community, your customers and your regulators. 
We have experience in a wide range of industrial sectors including waste, water and sewage, chemicals, pharmaceuticals and paper. We can deliver one-off technical projects or provide ongoing odour-management support. Our services include:
Preparation of bespoke odour management, mitigation and abatement strategies including the outline design of odour abatement.
Impact assessment and modelling to establish the controls required for new and existing facilities. This includes independent off-site odour surveying that complies with either the IAQM olfactory survey procedure or the Environment Agency's methodology. This can be particularly important in support of planning and permit applications for new or substantially changed processes.
Bespoke environmental monitoring programmes to chemically analyse trace odorous species. This can be particularly beneficial for processes that release known chemical compounds.
In-house odour sampling and UKAS-accredited analysis services (UKAS accredited testing laboratory [no. 4729]). This is carried out in accordance with British Standard BS EN13725:2003.
Odour sampling from stacks and diffuse sources such as tanks and lagoons. This includes carrying out testing for compliance with BAT-AEL for odour set in BAT conclusions.
Performance testing of impact abatement equipment.
Hedonic-tone analysis to appropriate European standards (this provides an indication of the likely offensiveness of odours). 
Third-party review of odour studies.
Expert support for regulatory or community liaison negotiations.
Unless handled carefully, air quality sensor data can be misleading. Data quality and measurement uncertainty for sensors operating in real-world conditions is often unknown. Independent QA/QC and correction of measurement data from 'low-cost' air quality sensors is essential to provide reliable and insightful results that are defensible under challenge.
Ricardo has been developing and delivering QA/QC programmes for innovative and operational air quality monitoring networks for more than 25 years. We offer our clients independent QA/QC and data correction services that cover everything from measurement data correction to sensor procurement and maintenance support. Find out more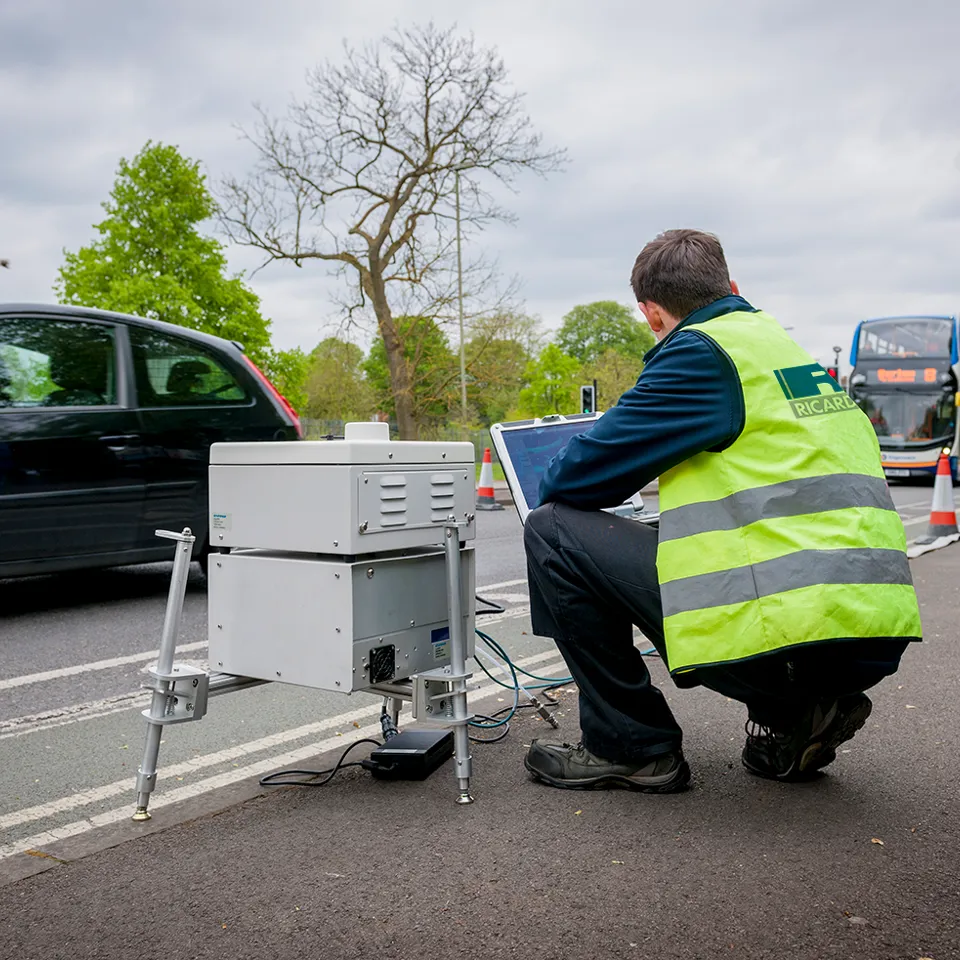 Air quality measurements Resources
Get in touch
Get in touch to see how we can support your organisation