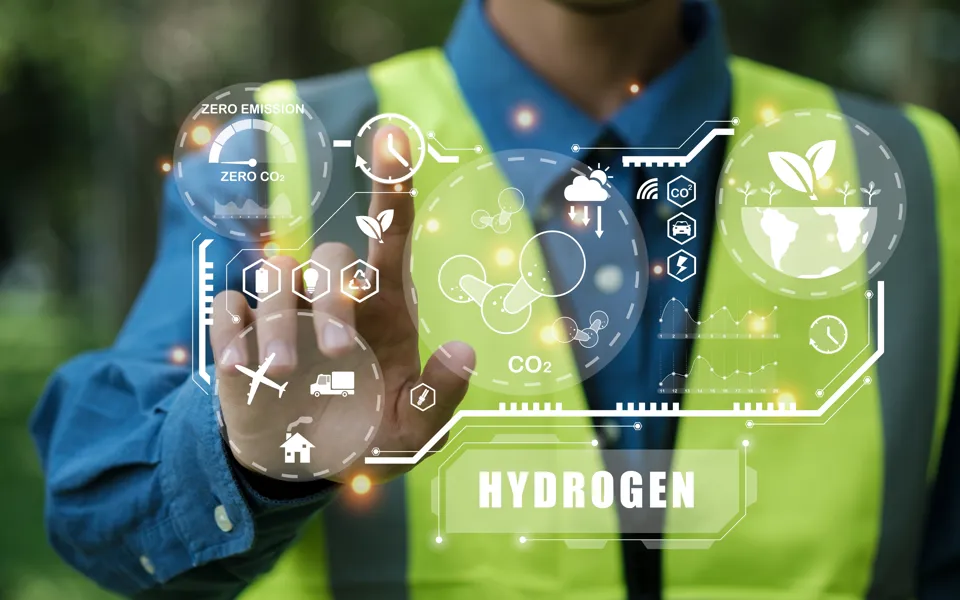 Dive into the world of hydrogen with Graeme MacLean, a chartered mechanical engineer and IMechE fellow. In Ricardo's latest Q&A, we explore the intricacies of the hydrogen value chain.
Q: Give us a bit of an overview of who you are and what you do? 
Graeme MacLean: I'm Graeme, a chartered mechanical engineer and fellow of the IMechE, with a deep engineering background. I've been with Ricardo for 25 years, primarily in the automotive industry, gaining a broad understanding of transport technologies, engines, and fuel cells. My recent focus has been on transport decarbonisation, which led me to contribute to projects ranging from the IMO to crafting hydrogen strategies for various regions and countries, including the greater Brighton hydrogen strategy. 
Q: Tell us more about this project! 
Graeme MacLean: Indeed, the greater Brighton hydrogen strategy was a personal project for me, as this is the area I grew up in. The project was to create a hydrogen strategy for the region which fitted the local economy and geography, and to identify the supporting structures needed, and what actions were required by the various players to make it happen. The important aspect here was prioritising the key local features, rather than trying to have everything on the potential hydrogen shopping list.
Q: What's been your favourite project and why? 
Graeme MacLean: My heart would say Brighton's hydrogen strategy, as its home region and Ricardo has its headquarters.
My head would be the two IMO projects, technology and commercial readiness of fuel propulsion systems as they've contributed to the shipping industry signing up to route to net zero 2050 target, which would have been unthinkable only a few years ago.  
Additionally, with the IMO projects, technically it was very challenging, this project plays a huge part in paving the way for the future of the maritime sector and there's a lot of politics involved! 
Q: In your opinion, what are the biggest opportunities and challenges for hydrogen right now? 
Graeme MacLean: I think I'll start on the challenges, so I can finish on the positive! 
Risk of poorly planned projects failing expensively, which could damage confidence in the whole industry (financially failing, not going "bang"!) 

In many countries, access to grid connections, planning and various consents risk delaying projects 

Major risk of the inadequate supply chain, from the production of electrolysers and the supporting renewables, skills across the entire supply chain 

Inadequate support for transition from legacy fuels or energy supply.
However, there are significant opportunities to decarbonise entire energy systems, for example when the wind isn't blowing, and the sun isn't shining, that's where hydrogen will come into play – there are significant contributions to hydrogen uptake. 
Q: Where do you see the key use cases for hydrogen 
Graeme MacLean: I'd start by saying the key uses for hydrogen would include heavy-duty transport like trucks and long-distance buses, as well as mine haul trucks that operate 24/7 and high-power equipment. Additionally, there are other transport applications like aviation and maritime which will increasingly use hydrogen and its derivatives. There's also a significant market for hydrogen in industrial and chemical processes such as ammonia production and clean steels. There's even potential for high-temperature heat applications.  
Currently, we're wrapping up a project for a major planned hydrogen production facility we're identifying the potential off-takers for their hydrogen.
Q: Where do you think it doesn't fit 
Graeme MacLean: Until we have a fully decarbonized energy grid, we must treat every electron as precious, so we should only be using hydrogen where there isn't a better alternative. The decision to use hydrogen for domestic and low-temperature heat will have to be taken carefully. Both policymakers and businesses need to be cautious in avoiding the push for hydrogen in situations where it's not the optimal choice, as this can lead to project failures and create a negative perception around hydrogen, ultimately affecting the hydrogen economy and delaying the decarbonization process. 
Q: Is there a one size fits all hydrogen strategy?  
Graeme MacLean: We've observed a rush among countries and regions to position themselves as the next hydrogen production hub. However, it's important to recognize that the economics and practicalities of hydrogen vary significantly from region to region. Certain regions possess abundant hydrogen resources and are becoming major hydrogen powerhouses, while others focus more on production and consumption. This contrast is evident when comparing our strategies in Brighton and Indonesia. 
Q: How quickly can countries roll out hydrogen technology? 
Graeme MacLean: The pace of rolling out hydrogen technology is significantly impacted by challenges related to establishing a robust supply chain. This challenge extends beyond just building electrolysers; it involves reinforcing renewable energy infrastructure, developing local and international skills, fostering a comprehensive understanding of hydrogen within communities, and evaluating the financial viability of various aspects. The recent enactment of policies like the inflation reduction act may reduce the resource available to other regions. This is particularly noticeable with the growing competition within the European Union, for instance. 
Q: Which businesses are going to make a profit from hydrogen?  
Graeme MacLean: Hopefully us! In all seriousness, there's a diverse range of businesses aiming to capitalize on the hydrogen economy, including legacy fossil fuel companies seeking relevance and profit in a decarbonised future.  
Simultaneously, new ventures are investing in electrolysers, renewables, and associated technologies. Notably, the establishment of hydrogen pipelines is a significant aspect of this transition. For certain heavy-duty vehicle suppliers, hydrogen isn't just a new business stream but a necessary element for their transition. Critical players in this transition include engineering suppliers and EPC (Engineering, Procurement, and Construction) companies responsible for delivering large-scale projects within the hydrogen supply chain and renewables. Educational institutions have a substantial opportunity to provide the skill base required for a successful shift from fossil fuels to hydrogen and renewable energy sources. 
Q: What government financial instruments can be used for investing in hydrogen? 
Graeme MacLean: Key requirements for businesses seeking to invest in hydrogen involve clear regulations and policies that instil confidence and ensure return on investment. Any lack of clarity in these areas could undermine investor confidence and hinder the rollout of hydrogen initiatives. Providing clarity regarding the maximum carbon intensity of hydrogen is crucial to establishing the necessary investment certainty. Notably, with the introduction of measures like the inflation reduction act, it has become evident that global competition for subsidies and tax breaks is underway. In response, the EU is taking steps to reduce the potential outflow of projects from the region to the US. 
Q: Is renewable hydrogen cost-competitive? 
Graeme MacLean: In many cases, hydrogen cannot currently compete with incumbent fossil fuels in terms of cost without some levelling of the level playing field. A significant number of fossil fuel projects receive subsidies from producing countries, often without accounting for the environmental impacts of climate change. The competitiveness of hydrogen could improve if these subsidies were reduced. Regions that can produce hydrogen at a low cost, such as North Africa, the North Sea, and Chile, are better positioned for cost-competitive hydrogen production. However, for other regions, policies like the hydrogen business model, such as the one implemented in the UK, may be necessary to enhance hydrogen's competitive edge. 
Q: Finally, who would benefit from coming along to the 'opportunities in the hydrogen supply chain' panel at the Hydrogen Expo in Bremen this year?