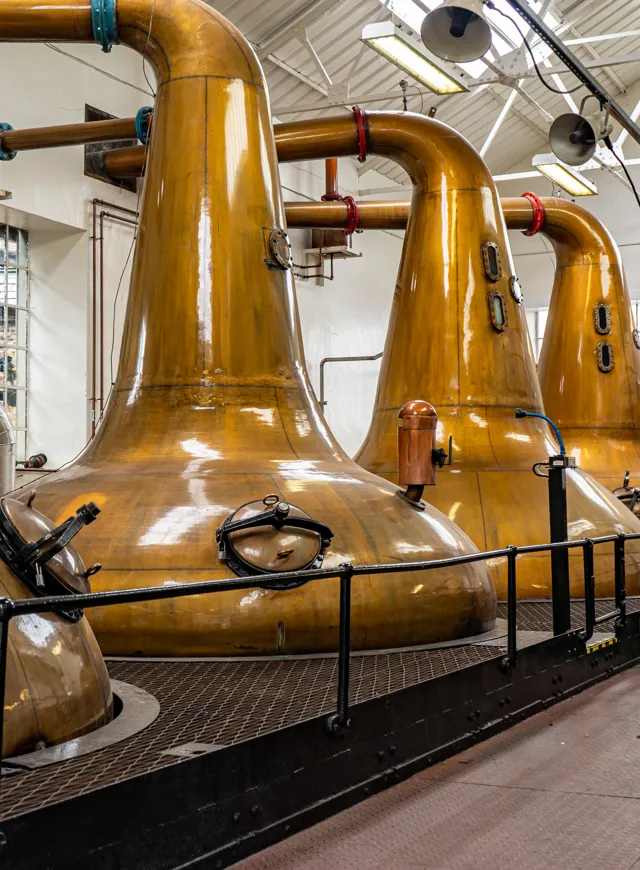 Fuelling Scotland's Ambitions: A Hydrogen Research Study for Scottish Distilleries
Don't miss it - Save the date: Tue, May 30, 2023 2:00 PM - 3:00 PM 
An opportunity to learn more about Hydrogen: Following high interest in this report and its findings, Scottish Enterprise and Ricardo are hosting a webinar to discuss the summary of the report, including key findings. This webinar is an opportunity to learn more about the many ways hydrogen projects can take shape in a distillery, and spark conversations with potential partners.
Fuelling Scotland's Ambitions: A Research Study Hydrogen for Scottish Distilleries
Distilleries in Scotland are working towards decarbonisation – hydrogen gas is one solution they can use to achieve decarbonisation, increasing the demand for hydrogen as an alternative to fossil fuels in Scotland.
A recent study by Ricardo aims to help distillery operators better understand the technical, economic, and regulatory implications of adopting hydrogen. The study also allows hydrogen producers to better understand the market opportunity, in terms of potential demand by distillery projects, identifying customers they can sell their hydrogen to in Scotland.
The Scottish Government has set out an ambition to produce 5GW of clean hydrogen in Scotland by 2030 and 25GW by 2040. Despite the progress to date, the use of hydrogen in Scottish distilleries is still at a nascent stage, and so this research study has been undertaken to explore this potential solution in depth. 

Enabling hydrogen production is only part of the challenge and further work is required to stimulate the demand as the market is established. Hydrogen is one potential solution for industrial decarbonisation, particularly in processes that require high temperatures and are difficult and costly to electrify. Distilleries form a significant portion of Scotland's industry and face many challenges to decarbonise.
The research study aimed to provide practical guidance on the technical, economic, and regulatory aspects for Scottish distilleries considering the adoption of hydrogen as a fuel to decarbonise. More explicitly, the study set out to achieve the following:
Provide an overview of options to decarbonise distilleries, so that the opportunity presented by hydrogen can be contextualised
Explain the technical implications of how hydrogen can be used to decarbonise a distillery
Explore the economic implications of adopting hydrogen, so that economic performance of hydrogen adoption can be compared with other sustainable energy sources
Produce a map of Scottish distilleries and hydrogen production projects, so that hydrogen producers and potential consumers can visualise current and future supply opportunities.
The objectives were achieved through an extensive literature review as well as engagement with several stakeholders. Interviews with the Scotch Whisky Association (SWA) and Scottish Distillers Association (SDA) were undertaken and Ricardo's experts consulted closely with six Scottish distilling organisations who are actively pursuing the hydrogen opportunity.
A wide range of decarbonisation options are available to distilleries, and each individual site must carry out a detailed feasibility study to identify the optimal pathway(s). For most distilleries, decarbonising heat is largely associated with the decarbonisation of steam generation and, while, it's technically feasible to use hydrogen in a broadly similar way to natural gas, its different physical characteristics must be accommodated.
Boilers can typically utilise blends of up to 20% by volume hydrogen without any modifications, but blends with greater concentrations of hydrogen will require swapping out an existing burner with a hydrogen-compatible burner or installing a new 100% hydrogen-ready boiler.
The major difference between distilleries relates to how hydrogen could be supplied and which of the available supply options are best. Six distinct hydrogen fuel supply options have been defined, and distilleries are guided through the process of identifying which of these is most suitable option for their circumstances, by considering distillery characteristics such as land availability, grid connection and water resource. From there, distilleries can undertake an informed assessment of the potential for hydrogen.
Hydrogen possesses certain attributes that render it susceptible to health and safety considerations. However, adhering to a well-developed H&S framework mitigates the risks to safe levels.
Overall, Ricardo estimates that, by the 2040s, hydrogen should become cost competitive with fuel oil and significantly close the cost gap with natural gas. The report recommends that distilleries carry out bespoke evaluations on a site-by-site basis for hydrogen adoption and encourages them to use the information and case studies presented.
A map of distilleries and hydrogen production projects reveals that there is an opportunity for new production projects to supply clusters of distilleries, such as those found in Speyside and on Islay. The report explains that these projects could be stimulated with more targeted planning at national and local level through the Scottish Government's Hydrogen Hubs approach.
David Rennie, Head of Low Carbon Energy at Scottish Enterprise, said: "The global transition to green energy, including hydrogen, makes this a lucrative and innovative sector that Scottish companies are well placed to benefit from."
You can read the full report here. 
Supporting the decarbonisation of the heat, power and transport for the public sector
Read case study