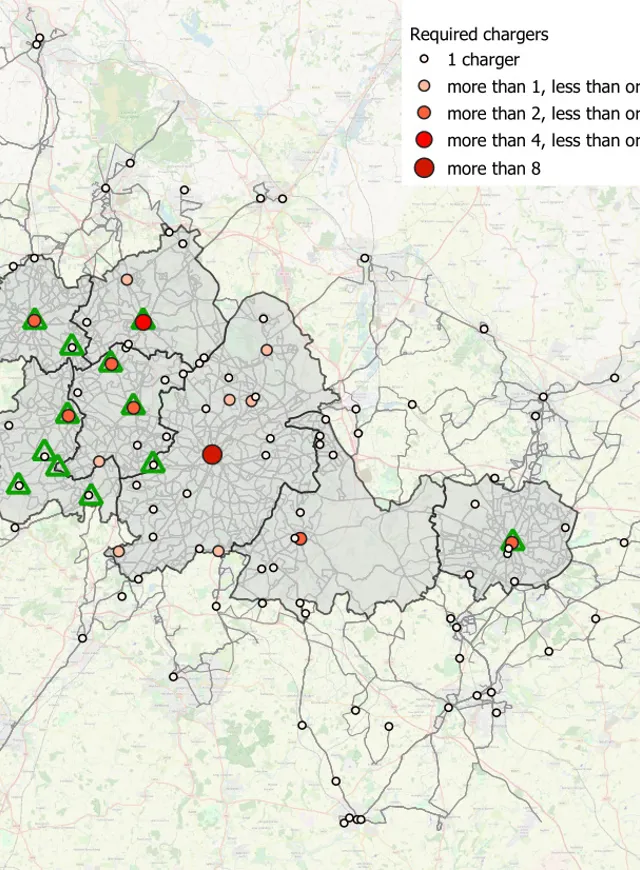 Assessing zero emission bus charging infrastructure needs
Challenge
Transport for West Midlands (TfWM) commissioned Ricardo to carry out research to investigate strategic opportunity charging infrastructure deployment for electric buses in the West Midlands. TfWM wanted to understand the optimal locations to best serve an electric bus fleet in the West Midlands and TfWM's potential role in the rollout of infrastructure.
Approach
Ricardo carried out extensive locational and financial modelling using our Bus ChaRM tool based on the current TfWM bus network with a 100% electric bus fleet in 2035. 
The work also included an extensive engagement with industry and supplier stakeholders, and utilised Ricardo's in house engineering and technology expertise.
Results
Ricardo produced a map idenitifying the optimum charger locations and provided a clear picture of the potential costs and benefits of opportunity charging infrastructure on TCO basis, and how it compares with depot-only charging solutions. 
The results showed TfWM the optimum combination of electric buses and charging infrastructure, that can achieve operational requirements at the lowest TCO.