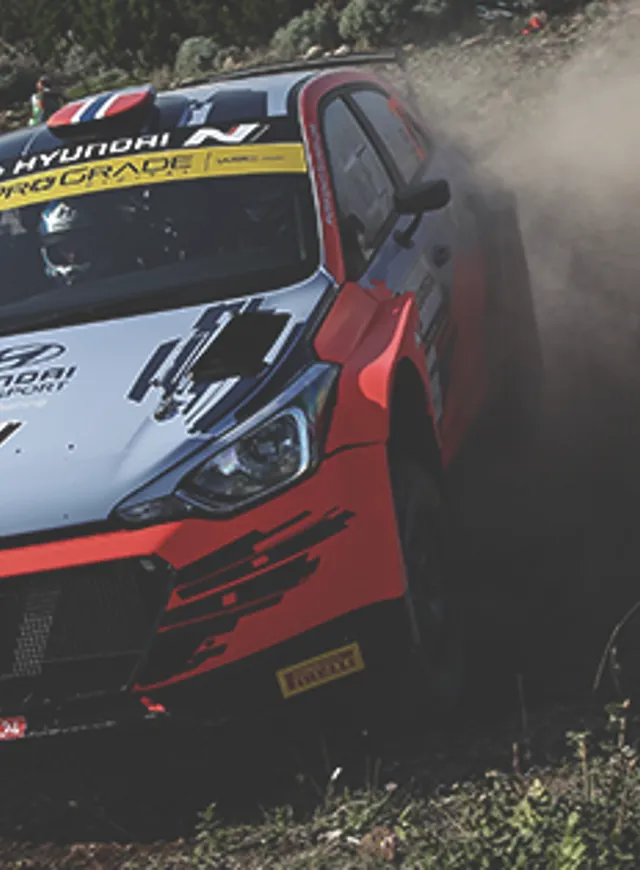 Development of hybrid 4wd transmission
Ricardo will draw upon its extensive experience in traditional, hybrid and fully electric motorsport together with its longstanding pedigree in World Rally Championship, to support Hyundai Motorsport GmbH (HMSG) as it fights for the World Rally Championship title.
Challenge
Hyundai Motorsport required an all-new hybrid four wheel drive transmission for use in the next generation World Rally Championship rally cars.
Ricardo was selected as Hyundai Motorsport's technical partner in the development of the all new hybrid four wheel drive (4WD) transmission for its next generation World Rally Championship (WRC) used in competition from the 2022 season – while also renewing the existing agreement under which Ricardo supplies drivelines for the i20 N Rally2 car.
The new collaboration builds upon a successful five-year partnership with Ricardo on the Hyundai i20 R5, which featured a 5-speed sequential gearbox and differential units designed and manufactured by Ricardo.
Required key characteristics of the new transmission included successful integration of hybrid power into the driveline system, whilst maintaining and wherever possible seeking to improve, efficiency, performance, and driveability.
Approach
Building on a long-standing relationship, Ricardo worked as Hyundai Motorsport's technical partner to design, manufacture and assemble an all-new hybrid four wheel drive transmission system.
Ricardo's experts delivered the following support and benefits:
Design expertise in integrating hybrid technology into a new application, working with Hyundai Motorsport to ensure seamless delivery to a specific deadline
Manufacturing excellence – the new transmission is manufactured at Ricardo's Leamington Spa Technical Centre
Assembly & Quality Assurance Testing – full assembly of the transmission, including quality and testing at Ricardo's Leamington Spa Technical Centre
As part of the deal, Ricardo drew on its extensive experience in the field of top tier, traditional and electric powered motorsport. Fundamental to the success of the project was Ricardo's ability to remove the complexity from the driveline, control cost of production, and meet new regulations, which saw the removal of the centre differential and the banning of active differentials. Regulations also saw the removal of the semi-automatic (paddle shift) gear-shifting, which saw a return to a manually operated sequential shift gearbox.
Other changes included:
A reduction of the ratios from six-speed to a five-speed gearbox
Changes to the specification of casing wall thickness, and regulated amendments to minimum driveline weight, gear centre distance, gear widths among other key design parameters
Regulations specified by the governing body, the Federation International d' Automobile (FIA) meant that design, manufacture, and quality control were critical to prevent possible rule infringement – in addition to successfully integrating hybrid power into the driveline.
Ahead of the start of the 2022 Championship, all teams competing were supplied with a 'standard' e-kit from the FIA. The onus was then on the teams and their engineering and manufacturing partners to use design and engineering expertise to integrate new transmissions into the car, driving the rear axle.
The Ricardo team approached the task by incorporating a five-speed transmission mounted to a front (transverse) engine and a rear axle that features two main characteristics:
A handbrake disconnect, which removes drive to the rear axle when the driver pulls the handbrakes to lock the rear wheels whilst still driving the front axle, and
A hybrid drive arrangement, providing additional power on acceleration and from where regenerated power is returned to the e-kit battery under braking.
One of the most demanding aspects of the project was having to engineer a solution that not only met with the hybrid qualification, but that could also cope with extremes of temperatures and terrains and managing very high cases of stone strikes and jumps – all to a very tight timeframe.
With transmission technology being limited by regulation, performance optimisation came from detailed design, differential configuration, microgeometry of gears and lubrication management. The transmission is also cased in aluminium to reduce weight and aid performance.
Results
Hyundai Motorsport is benefitted from a highly efficient solution that delivers next generation hybrid technology to its vehicles competing in the World Rally Championship throughout the 2022 season. In addition to the new transmission, Ricardo has continued to supply drivelines for the i20 N Rally2 car.
Working side by side with the experts from Hyundai Motorsport GmbH at their motorsport HQ in Alzenau, Germany helped to ensure seamless integration of the all-new transmission, which we designed, manufactured and assembled in record time by Ricardo – with the car debuting at Monte Carlo in January 2022.
Development of a high power density multi stack fuel cell system for passenger ships
Read case study
Next gen opposed-piston gasoline compression ignition engine
Read case study
Book a consultation with our experts
Click below to reveal the enquiry form and get in touch with our expert team about your requirements.