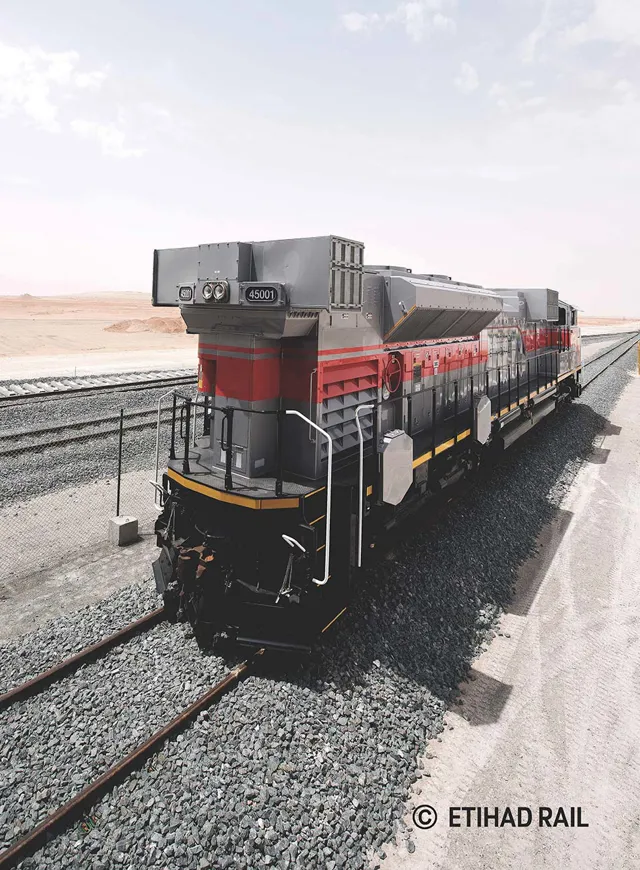 Etihad Rail Safety Assessment
Ricardo is the appointed Independent Safety Assessor (ISA) for the construction of the 1,200km passenger and freight network across the United Arab Emirates (UAE), extending from the Arabian Gulf to the Indian Ocean.
As the ISA, we are ensuring every aspect of the project meets the client's required standards for safety throughout its development, from early design to the commencement of freight services - considered 'Stage One' of the programme - and the addition of passenger services in Stage Two.
Our work includes conducting full assessments and audits of the engineering system safety plans, processes and documentation during the design, manufacture, installation, testing and trial operations, as well as the operator's performance once services commence.
Driving economic growth
The route is mainly double-tracked and will eventually open to both passenger and freight use, with passenger services expected to reach speeds of up to 200km/h, while twin-stack container freight services will travel speeds of up to 120km/h.
Phase One saw two tracks - spanning 264 kilometres - open for freight operation in 2016, primarily for the transportation of granulated sulphur from the Shah and Habshan gas fields to the industrial facilities in Ruwais.
Stage Two will see 600 kilometres of track extend from Ghuweifat, on the border with Saudi Arabia, to the city of Fujairah on the east coast, and the introduction of passenger services.
The new railway will form the backbone of a national railway for UAE - expanding track capacity by more than 70% - and underpin the wider region's economic development.
This is because, as well as providing a new coast-to-coast UAE network, it will eventually become part of a planned 2,000km network connecting all member states of the Gulf Co-operation Council.
Have a question about this project?
Click below to get in touch with our expert team