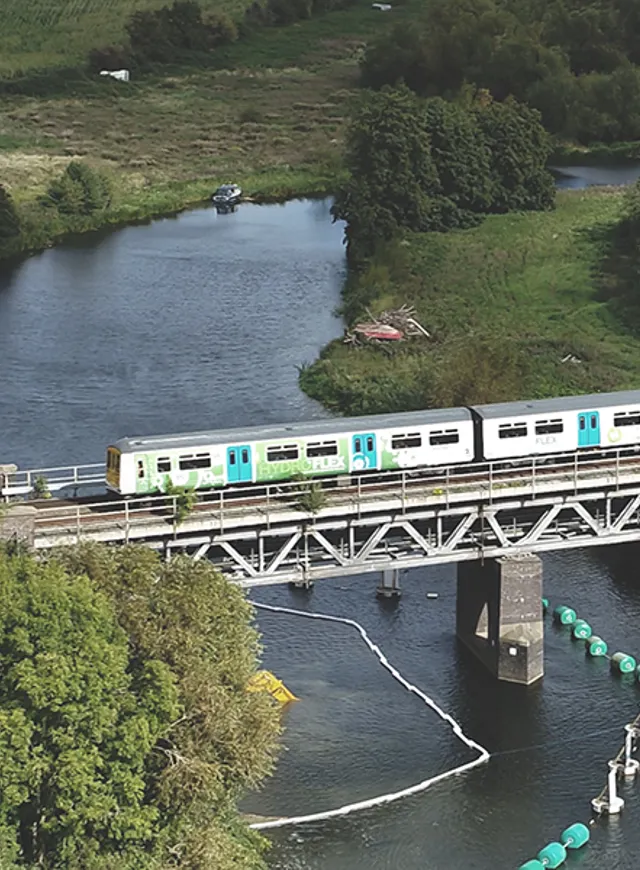 HydroFLEX - Hydrogen Train
Challenge
HydroFLEX was the first hydrogen-powered train to operate on the UK's network. The project was initiated by rolling stock owner Porterbrook and the Birmingham Centre for Railway Research and Education in response to the UK government's challenge to remove diesel-only trains from the national network by 2040.
Using a Class 319 electric multiple unit, the demonstrator was fitted with hydrogen fuel tanks, a fuel cell and a battery pack to provide a capability of operating with zero carbon emissions.
Approach
Before testing the vehicle's performance on Network Rail's mainline infrastructure, it needed to be approved by an EN17065 accredited certification body and an EN17020 accredited inspection body.
Ricardo fulfilled both requirements: our rolling stock experts prepared the vehicle's Safety Case; whilst Ricardo Certification, an independent accredited business, undertook an assessment in accordance with RIS-2700-RST, producing the Safety Assessment Report as the project's Assessment Body.
Results
Our experts ensured the HydroFLEX demonstrator secured permission to commence testing on the UK mainline. The first unit successfully started the first phase of testing in September 2020, achieving top speeds of 50mph.
The demonstrator aims to show how a hydrogen powered train could safely operate on electrified track sections, with energy drawn from overhead catenary or conductor rail, but transitioning to hydrogen power for sections or entire branch lines yet to be electrified.