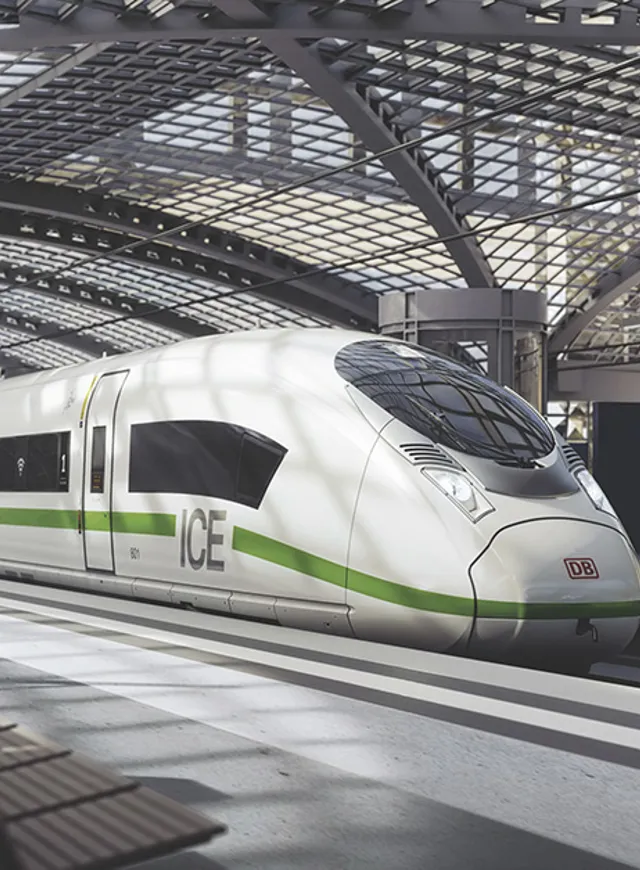 Siemens Mobility ICE Notified Body
In September 2020, Ricardo Certification* was appointed by Siemens Mobility to provide Notified Body services for the supply of 30 new high-speed intercity express (ICE) trains for Germany's national operator, Deutsche Bahn.
The first of the new trainsets, based on the Velaro MS design, entered into passenger service in late 2022 and are part of a €1 billion investment by Deutsche Bahn to expand its mainline fleet.
Future-proofing the Deutsche Bahn fleet
The new ICE trains will initially run on routes between the state of North Rhine-Westphalia and Munich via the high-speed Cologne-Rhine-Main line, increasing Deutsche Bahn's daily passenger capacity on these routes by 13,000 seats.
Deutsche Bahn is investing in a strong future-proof rail system and plans to expand its fleet by more than 20% over the coming years. Despite a temporary fall in demand as a result of the COVID-19 pandemic, intercity rail transport is still forecast to experience long-term growth in terms of passenger miles.
By 2026, 421 ICE trains will be operating on Germany's rail system. In addition to the 30 new ICE trains recently ordered, there is also an option for an additional 60 units.
The new ICE trains are being manufactured at Siemens locations in North Rhine-Westphalia, Bavaria and Austria.
Technically, the train is based on the proven platform of the Velaro type ICE 3, with each train offering 440 seats and capable of reaching top speeds of 320km/h.
---

The role of a Notified Body
As part of a drive to harmonise standards across Europe's rail networks, the EU published legislation - in particular the landmark Railway Interoperability Directive 2008/57/EC and Directive 2016/797 - aimed at standardising relevant interoperable elements of rolling stock and rail infrastructure between member states. The detailed requirements are set out in the Technical Specifications for Interoperability (TSI).
A Notified Body (NoBo) is an organisation with proven impartiality and competence credentials that has been appointed by EU member states and notified to the European Commission to perform verification activities against relevant Directives.
A NoBo must be appointed to carry out verification tasks during any major new, upgraded or renewals of railway systems, including rolling stock, before permission can be sought for the system to enter into actual service.
Ricardo Certification is accredited by RvA to perform conformity assessments of rolling stock and sub-systems against the relevant requirements of the Interoperability Directives. The team will verify the new ICE trains in terms of their compliance with the TSI regulations, including the quality management system of the production process.
*Ricardo Certification comprises a set of companies within the Ricardo group that perform independent assurance and testing services, including Notified Body, Designated Body and Independent Safety Assessments. For more information see Ricardo Certification.
Have a question about this project?
Click below to get in touch with our expert team