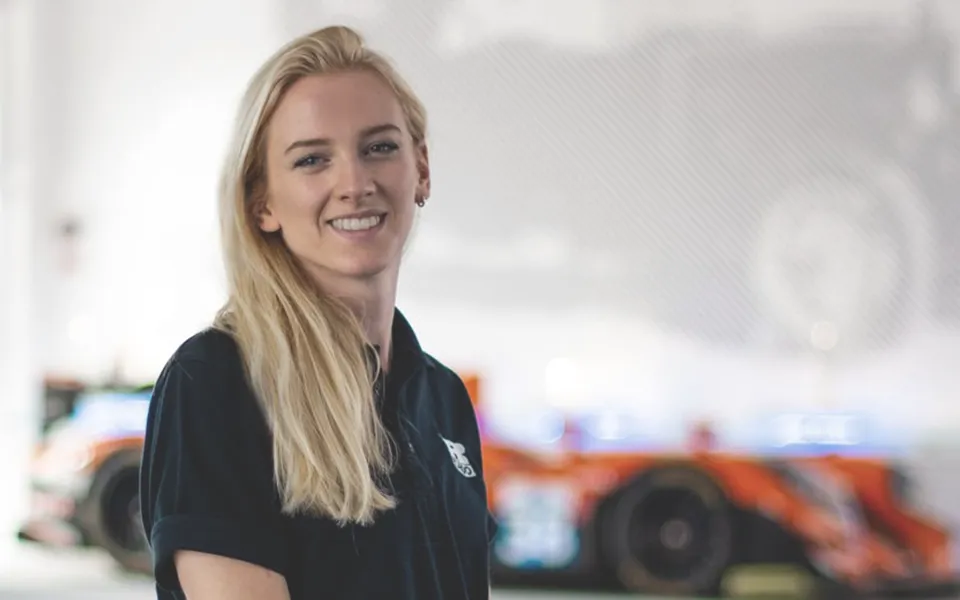 Laura Kershaw is an Automotive Engineering Apprentice at Ricardo's Shoreham Technical Centre. She was recently appointed to the Women's Engineering Society Apprentice Board to, among other things, act at a role model for young women considering a career in engineering and applied sciences, providing a voice to female apprentices within engineering.  
Q: Tell us a bit about yourself, your background, and career?  
I was very creative and self-motivated growing up and particularly excelled in art and physics at school. I believe my dyslexia and dyscalculia gave me a huge benefit, as they provide me with an entirely different way of thinking. I left school with A*s, As and 'Outstanding Achievement' awards.   I decided to go against the crowd and skip the university route. Instead, I started working as a filmmaker at a small business and also spent many days taking the train up to London, attending conferences and handing out my CV. This was how I scored my first job in the film industry working alongside Benedict Cumberbatch and Tom Holland when I was just 18 years old. I later went on to work for Marvel, Disney, Netflix and Amazon. Within a year, I had travelled around the UK and to Barcelona for a few filming jobs and discovered the Special Effects department. This department do welding, vehicle modifications, composites, design and pyrotechnics. I instantly knew I had to explore that avenue. So of course, I figured out a way in and got my next job working on Mission Impossible 8 with the SFX team!   Working in the film industry allowed me to mix creativity and problem solving and I have recently moved into my first ever workshop space where I can continue to restore/modify motorbikes and cars in my spare time. I also have an art business on the side where I take commissions, as well as a wedding photography business.  
Q: Why engineering and why Ricardo? What inspired you to apply for an apprenticeship with Ricardo?  
Although it led me to discover my career path in engineering, working in the film business had its downside. It was no longer serving me in a positive way. I wanted to develop my knowledge further around Automotive Engineering, in the real world. Since I am a practical person, university was not the route for me, so I decided to apply for an apprenticeship.   Ricardo stood out to me, as their apprenticeship program is so diverse. You get to spend six months in eight different departments, learning multiple skillsets. Since I started, I have built engines, tested them, learnt to machine tools, improved my welding techniques, and I haven't even finished my first year yet! Not only that, but the work life balance here is a huge bonus. There is an on-site gym, a boat club, the working hours are healthy, and we also get flexitime.  
Q: What's the best thing about your job, and equally what do you find the most challenging aspect of your role?  
The best thing about my job is that I never stop learning. I watch myself become more and more knowledgeable every day and find this incredibly rewarding. I especially enjoy working on my practical skills, such as TIG welding and machining. I've rotated around two out of eight departments, so I'm yet to experience the majority of what I could be doing here.   The most challenging thing is managing my dyslexia whilst at work. There is a lot of information to process and remember. I have my coping strategies and do my utmost to manage this. I try to be open with my supervisors and explain the ways in which I learn best. I also take A LOT of notes!  
Q: How did you get involved in The Women's Engineering Society? how did it happen?  
I found out about the scheme through my mentor Natalia. I applied through the WES website and got an email back one month later, to inform me that I was 1 out of 10 people that had been selected for a role on their apprentice board!  
Q: What does it mean for you to be appointed to the WES Apprentice Board?  
I will be working on projects to help enable voices of female apprentices in engineering to be heard and inspire other young women to consider a career in this field. This will involve organising events, social media campaigns and more.   I feel it is important I play my part and do all that I can to help improve the industry for future generations. Women make up just 16.5% of engineers. I am passionate about making this industry a safe and inclusive working environment for all, improve retention rates, eradicate harmful stereotypes and hopefully break the cycle of under representation.  
Q: What part do businesses, such as Ricardo, play in supporting the next generation of engineers, ensuring diversity, not simply gender diversity, but diversity in terms of socio-economic and cultural diversity?  
Promoting minority groups in engineering weakens the barriers and stereotypes that these engineers face. The more people see it, the more they believe it. I hope Ricardo take on board every opportunity to get involved with representing these groups. Whether it's allowing for events to take place, sending these engineers into schools/career fairs or promoting the work they do.   
Q: Where do you see yourself in 5 years' time? Or where would you like to be – do you have a pathway to get there?
In 3 years' time I will have finished my apprenticeship. At which point, I can decide if I want to go on to do my degree level apprenticeship (a further 4 years). I am really enjoying college, so I'd imagine I will be studying towards my degree level here at Ricardo. I hope that I am able to make good use of my hands-on skills and that my job gives me a lot of variety. I also hope that I will have continued to make the most of career development opportunities and that these open up many doors and exciting experiences.   
Q: What do you think are the biggest barriers, or perceived barriers, for young women who would like to follow a career in engineering?  
Throughout my 6-year career, until working at Ricardo, I hadn't had a single female colleague… and even now, there is only one other female in the workshop side of the business. For me, this created an environment where I felt like an oddity. You do get comments like, 'Wow, the unicorn really does exist' or 'you don't look like an engineer' or 'are you from the marketing department?'. Some of which may be intended as harmless comments, but often make women feel more excluded. These kinds of comments can:   Reinforce harmful gender stereotypes, such as the belief that women are less capable or suited for engineering. Create a biased perception of women's abilities, limiting opportunities for career advancement and equal treatment. Discourage females from pursuing careers in engineering. Lower self-confidence among women engineers and leads us to question our skills and capabilities, which could hinder professional growth.   My advice would be to challenge the people with these thoughts and comments. Ask them 'why?', until they realise their error. It's a great way of confronting someone without making yourself appear sensitive to them. Build up your confidence and resilience to keep going. The more you build on your knowledge within your field, the easier this becomes. At the end of the day, you have work to do, for an industry that will greatly benefit from your skills and ideas. So, it would be a waste to let these comments knock your self-belief.   
Q: How important are strong role models within an organisation and personally? Who are your role models and why?  
Role models are vital to start introducing women and young girls into engineering. Had I seen three female presenters on Top Gear as a girl, I probably would have been more interested in cars and motorbikes from a younger age. I probably would've picked up some mechanical and electrical hobbies and started developing my skills much earlier. Girls not having these women to look up to, puts them at a massive disadvantage, as they just consider these careers as a viable option. Dominic Chinea from the Repair shop. He is the prime example of merging creativity with engineering. And gentleman called Brad who owns a business not far from me. He's a fantastic welder and builds custom exhausts. Unfortunately, I have never met a female technician. I would love to say I have some female engineering role models and it makes me sad to think this is the case. Which is why I feel it is my responsibility to make sure this changes for future generations.  
Q: You mentioned about engaging with those who are not yet engaged – how do we do this?  
I believe that workers in male dominated industries, such as ours, would benefit from a course on maintaining an inclusive working environment, making them aware of the challenges that minority groups may face and how to support them. The more this is common knowledge, the more people will be conscious of their words and actions. One of the projects, I'm working on with WES, is a presentation that we can hopefully bring to various companies to challenge this.  
Q: What inspires you and makes you want to inspire others?  
Learning inspires me. The more I learn, the more I realise how much there is to learn. I find this field fascinating and there are endless skills to develop that can take years to master. It's very rewarding and I feel there is so much scope to merge engineering with creativity. It fuels my hobbies too!   I would definitely have benefited from having more female colleagues throughout my career and ideally, I would have had female automotive role models to watch on TV and social media. The fact that I did not, inspires me towards making this possible for younger generations. I am more than happy to post pictures of myself working on my bikes and cars and promote what I do. If a young girl sees what I am doing and it sparks an interest, or at the very least, gives her the confidence to believe that she can do this too, then I have helped the cause.