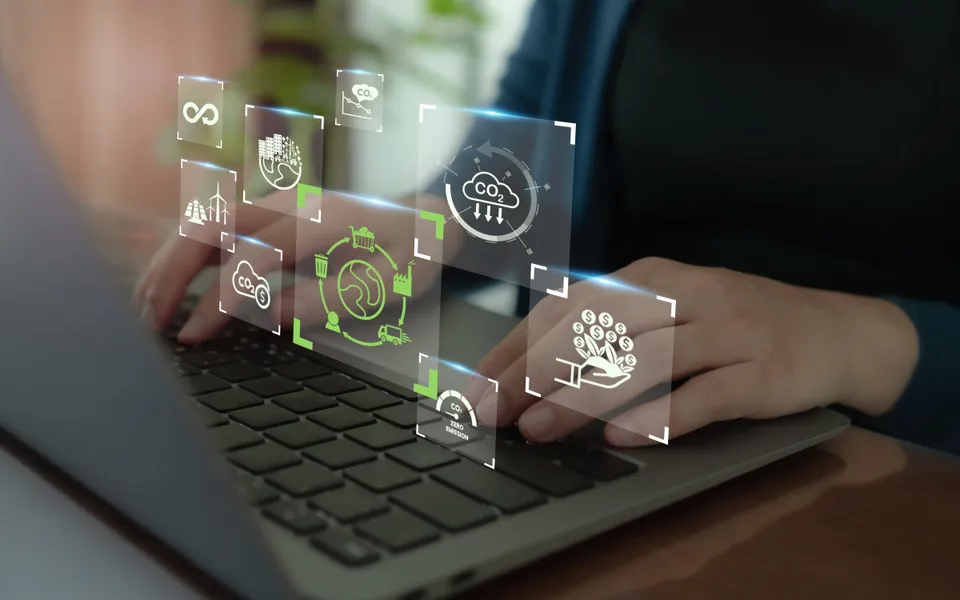 California has passed new climate disclosure bills which will impact companies doing business in the state and their global supply chains. In this blog we explain the impacts these bills will have, their global context and the steps you should take to prepare.
The Climate Corporate Data Accountability Act (CCDAA) is a landmark bill for carbon accounting requiring public and private companies with annual revenues greater than $1 billion doing business in California (even if they are not headquartered there) to report their contribution to climate change including their full greenhouse gas (GHG) emissions (Scopes 1, 2 and 3). 
The Climate-Related Financial Risk Act (CRFRA), passed as a companion bill to the CCDAA, requires companies with revenue of greater than US$500 million to disclose their climate-related financial risks along with measures they are taking to reduce and adapt to the risks. It is the first mandatory climate-related risk disclosure law to go into effect in the US.
These bills have been passed in the global context of an increasing requirement from legislators (as well as demands from investors and the public) for an increasing number of organizations to publicly report emissions data, with higher accuracy in line with the GHG Protocol, on an annual basis.
In the US many large organizations are already measuring and reporting emissions from their own operations and electricity use (Scope 1 and 2 emissions) but with new laws coming into force, those doing business in California and/or Europe will also have to account for the emissions produced along their value chain (Scope 3 emissions) under the CCDAA and the EU's Corporate Sustainability Reporting Directive (CSRD). The UK is currently consulting on the inclusion of Scope 3 emissions reporting.
Some US organizations have been voluntarily reporting their Scope 3 emissions through CDP and SBTi but with CCDAA and CSRD requirements, the rigor of reporting and the number of organizations obliged to disclose their Scope 3 emissions along with their Scope 1 and 2 emissions will greatly increase. 
Scope 3 emissions
Your Scope 3 emissions are not under your direct control and are therefore much more challenging to both report and reduce. However, Scope 3 emissions must not be ignored on your decarbonisation journey as for most organizations they will comprise the largest percentage of emissions – more than 85% for many manufacturing and automotive companies.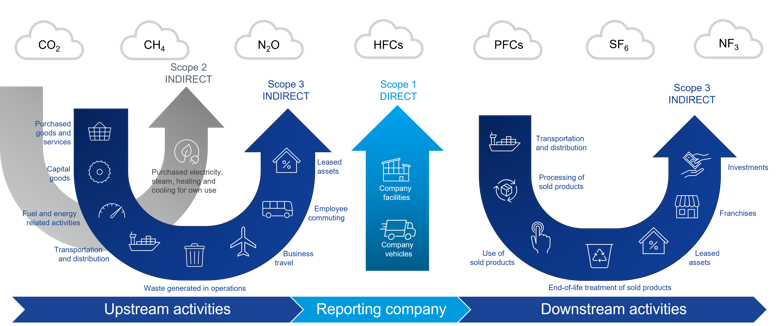 Global importance
The Californian economy is responsible for more than 14% of the United States GDP, making its bills an important step towards a cleaner economy for the US. California's economic impact around the globe is also significant. If California were a country, it would rank in the top five economies of the world. Some of the world's largest companies in technology, entertainment, and energy operate in California. 
The requirement for Scope 3 reporting means that organizations required to disclose their emissions will be seeking climate data from all their suppliers, no matter where they are based or the size of their operation, to meet their reporting obligations. Many of these supply chains extend around the world, vastly extending the impact of the bills. 

What are the reporting requirements?
Climate Corporate Data Accountability Act 
The CCDAA requires private and public companies doing business in California and with $1 billion in annual revenues to: 
CARB will be responsible for assessing the data and producing a report to the US Secretary of State that will be publicly available on an online portal. 
The law would affect all partnerships, corporations, and limited liability companies with a high enough revenue to report. Notably, companies don't have to have their headquarters in California for the law to apply. They would only need to have business transactions in the state. CARB is authorized to seek administrative penalties of up to $500,000 for noncompliance, however, businesses would not be subject to administrative penalty for misstatements about scope 3 emissions made with reasonable basis.
Timeline
2026 - Disclosure obligations would begin for Scope 1 and 2 emissions, with third party verification providing a limited assurance level. 
2027 - Disclosure obligations begin for Scope 3 emissions, with measurement and reporting to be performed according to the Greenhouse Gas Protocol standards. 
2030 – More stringent assurance level for third party verification.

Climate-Related Financial Risk Act (CRFRA) 
Companies with an annual revenue of more than $500 million doing business in California will be required to produce a climate-related financial risk report every other year starting in 2026. This report should be made available to the public on the organization's website.
The report should disclose:
The wider regulatory landscape
SEC climate disclosures, US
In March 2022, the US Securities and Exchange Commission announced a plan called "The Enhancement and Standardization of Climate-Related Disclosures for Investors" to introduce mandatory climate disclosures for certain reporting organizations as a new legal ESG (environmental social governance) standard. These SEC rules will make corporate sustainability reporting more common, consistent, and standardized like financial accounting and reporting.
Based on SEC guidance, these rules will include the following climate disclosure information:
A summary of a company's climate-related risks likely to have a material impact on its business, operations, or financial condition.
Disclosure of corporate greenhouse gas emissions (GHG) that reflects the organization's latest carbon accounting.
Disclosure of other yet-to-be-determined climate-related financial metrics in a registrant's audited financial statements
It is expected the SEC's "Enhancement and Standardization of Climate-Related Disclosures for Investors" will apply to all publicly-listed SEC reporting companies. (Whereas the CCDAA applies to both public and private companies) The initial focus will be on what the SEC defines as large accelerated filers, which are publicly traded companies with a market cap above $700 million.
The SEC's proposed rule would require publicly listed companies of all sizes to report their Scope 1 (direct emissions from operations) and Scope 2 (indirect emissions from purchased energy) GHG emissions and climate-related risks annually.  
Unlike California's bill, Scope 3 emissions reporting would only be required under the SEC's rule if it is material to the company or if the company has established Scope 3 emissions targets. 
Climate related risks would include those that materially impact organizations through direct weather – and nature-related impacts, and through indirect transition risks such as policy changes, reputational damage, litigation, market shifts, and technological innovations. 
The SEC would require these risks to be reported for short, medium, and long-term periods. Companies would also need to describe their business strategy for addressing the material risks and opportunities related to climate change. 
Finally, they would need to disclose their method of assessing and managing climate risk within their organization. 
The SEC will be finalizing its legal requirements for climate disclosure this year. The SEC's climate disclosure standards are informed and influenced by the Task Force on Climate-Related Financial Disclosures (TCFD). The International Financial Reporting Standards Foundation (IFRS) is taking over monitoring progress on companies' TCFD reporting so it is likely the US SEC will be influenced by the IFRS S2 reporting requirements as of 2024.

Next steps
Navigating these reporting requirements can be a tricky business – you need to prepare. Your organization may be large and doing business in these markets and so be directly affected or may form part of the supply chain of these businesses and be required to provide data for their Scope 3 reporting under one of more of the global regulations.

Ricardo's experts can support you to understand your climate reporting requirements in the markets where you operate as well as if and how your organization will be affected. 
Our carbon management experts are skilled in working with complex organizations to calculate and reduce their Scope 3 emissions including how to engage suppliers and handle data gaps. 
Our ESG team support organizations to align their reporting to the TCFD and other voluntary and regulatory frameworks and standards. They help organizations identify climate risks and opportunities through methodologies such as materiality assessments and future climate-related scenario analysis and resiliency planning.
Ricardo's expertise enables organizations to accelerate their sustainability journeys with scientific, evidence-based strategies, modelled and costed action plans and implementation support alongside our expert reporting capabilities.

Further information
Glossary
Corporate Sustainability Reporting Directive (CSRD), EU
The CSRD will require businesses to report on a broad range of ESG matters, against a set of 12 mandated European Sustainability Reporting Standards (ESRS) that have been drafted by the European Financial Reporting Advisory Group (EFRAG). The CSRD will come into effect in phases starting from 2024.
Task Force on Climate-Related Financial Disclosures (TCFD), Global
The TCFD was developed by the Financial Stability Board (FSB) as a means to assess climate change through a financial risk lens. Its first set of recommendations were published in 2017. 
Unlike many others, TCFD's framework considers how climate risks impact companies' assets and revenues to improve credit ratings, insurance, and business investment decisions. TCFD reporting sheds light on the long-term, unpredictable, and costly impacts of climate change.  
TCFD recommendations have gained broad support from the G7 Finance Ministers and Central Banks to foster visibility and accountability for climate change related governance, strategy, risk management and metrics and targets. 
Green House Gas Protocol, Global
GHG Protocol resulted from a collaborative effort by the World Resources Institute and the World Business Council for Sustainable Development. It's the most widely adopted standard for reporting the greenhouse gases listed in the Kyoto protocol. It is the GHG Protocol that defines Scope 1, 2 and 3 emissions.
Science Based Targets initiative (SBTi)
The Science Based Targets initiative (SBTi) drives ambitious climate action in the private sector by enabling organizations to set science-based emissions reduction targets. The SBTi is a partnership between CDP, the United Nations Global Compact, World Resources Institute (WRI) and the World Wide Fund for Nature (WWF).
CDP
The CDP is an international non-profit organization based in the United Kingdom, Japan, India, China, Germany, Brazil and the United States of America that helps companies, cities, states, regions and public authorities disclose their environmental impact.