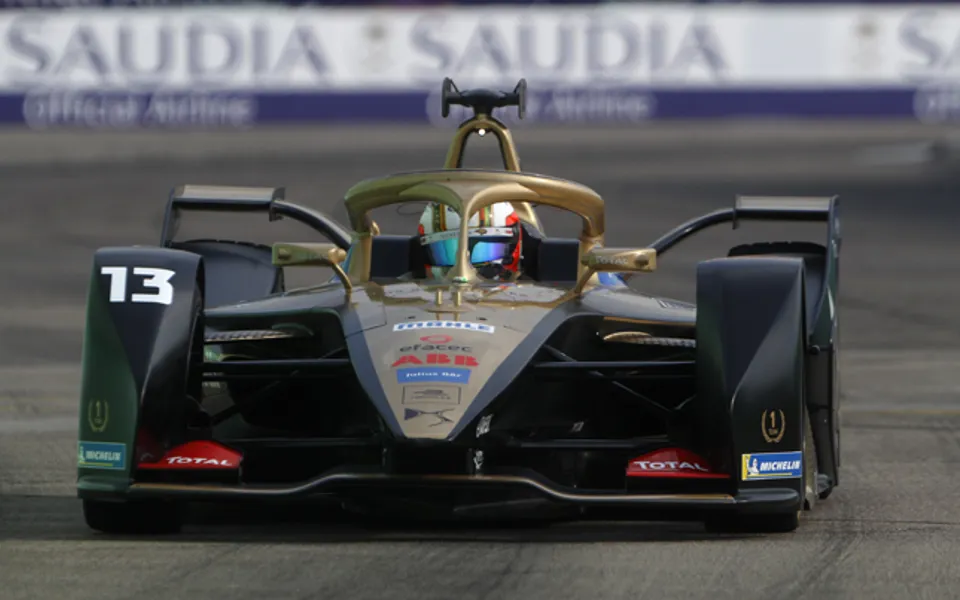 While Formula E and its sibling electric race series, Extreme E and RX2e, are burnishing battery-powered vehicles credentials, motorsport from Formula 1 down is actively pursuing how traditional internal combustion engine (ICE) race and rally cars can be made more environmentally acceptable.
"There's basically nothing wrong with ICE, it's the fuel we use that's the challenge," says Phil Hopwood, Ricardo's Head of Engine and Emissions Control Products. "The whole transport sector needs to be decarbonised while balancing a range of different attributes and requirements. For high-performance road cars, liquid phase drop-in fuels which can displace fossil fuels without changing the vehicle hardware are best suited. That way we can keep the visceral engine note which appeals to enthusiasts while also tackling exhaust emissions."
From 2026, Formula 1 will use Advanced Sustainable (AS) fuels 'that must achieve a greenhouse gas (GHG) emissions savings, relative to fossil-derived gasoline, of at least that defined for the transport sector in the EU Renewable Energy Directive RED1'.
Additionally, 'The GHG savings calculation takes into account any net carbon emissions from land-use change, the energy used in harvesting and transporting the biomass and the production and processing of the advanced sustainable component.'
Moreover, the sport's governing body, the Federation Internationale de l'Automobile (FIA), is insisting that the fuels must be commercially available or from plants producing 5m3 annually.
New engine suppliers
According to Michael Steiner, Member of the Executive Board – Research and Development at Porsche AG, e-fuels reduce fossil CO2 emissions by 90 per cent with the first fuel being used in the marque's Mobil 1 Supercup race series from this year onwards.
"Motorsport is the best proving ground for new technology," observes Steve Blevins, Head of Engineering for Ricardo Performance Products. "There isn't so much of a budget restraint as on production car programmes and the boundaries can be pushed further."
"Not only that, but getting AS fuels in front of the public might make them question the wholesale rush to
electrification," Hopwood adds.
F1 may employ cutting-edge technology designed to shave milliseconds off lap times but when it comes to AS fuels it is a little way behind the curve.
Shell has teamed up with America's NTT Indycar series and its engine suppliers – Honda and Chevrolet – to develop and supply a blend of second-generation ethanol derived from sugarcane waste and other biofuels to create a fuel that is 100 per cent comprised of feedstocks categorised as 'renewable' under the applicable regulatory frameworks; the fuel enables a reduction of at least 60 per cent in greenhouse gas emissions compared to fossil-based gasoline.
The second-generation ethanol will be sourced from Raízen, a Brazilian joint-venture created in 2011 by Shell and Cosan. Raízen is one of the largest sugarcane ethanol producers in the world and owner of the first commercial second-generation ethanol plant.
"Motorsport is the best proving ground for new technology. There isn't so much of a budget restraint as on production car programmes and the boundaries can be pushed further."
No compromise on performance
Both the FIA's World Touring Car Cup (WTCR) and World Rally Championship use advanced biofuel, a fossil-free hydrocarbon-based fuel, with a blend of synthetic and biofuel components supplied by P1 Racing Fuels.
The new biofuel formulation seeks to reduce the carbon footprint significantly while not compromising engine performance. It will result in WTCR drivers being powered by a bespoke fuel featuring 15 per cent renewable components for the first time. These non-fossil fuel-based components have been derived from bioethanol produced from cellulose and ligneous biomass, as well as bio-synthetic (fully renewable) fuel. This allows P1 Racing Fuels to offer an environmentally conscious and cost-effective alternative to conventional race fuel as it works towards an ambitious target of producing 100 per cent fossil-free racing fuel for its partners.
Eliminating greenhouse gases doesn't start with burning the fuel within the car's engine but how the fuel is produced in the first instance, argues John Hughes, Ricardo's Chief Engineer for hydrogen engines, with three main sustainable fuels pathways available: bio fuels using biomass feedstock from waste; bio fuels derived from a synthetic process such as steam reforming; and e-fuels using green hydrogen and captured carbon. Some argue that pathways which produce carbonaceous fuels don't achieve a reduction in CO2 but simply reuse what is already in the atmosphere in a virtuous circle but, at least, they aren't adding to the total of GHGs.
The potential of hydrogen
One power source that motorsport, like original equipment manufacturers (OEMs), has considered but never really got to grips with is hydrogen. However, that was given a boost earlier this year when Toyota entered a hydrogen-powered Corolla H2 Concept in the 2022 Eneos Super Taikyu series STQ class, a non-competitive category for special racing cars focusing solely on developing solutions for sustainable mobility.
Eschewing fuel cells, Toyota opted for a modified ICE. In the six months from May's opening round to the final meeting in November, engine performance was improved to levels comparable with petrol engines, with power increased by 24 per cent, torque by 33 per cent and successful control of abnormal combustion. Key issues to be addressed this year included improvement in the car's driving range and a reduction in refuelling time.
"Hydrogen is a great fuel in terms of energy density when measured on a mass basis," explains Hughes, "but storage is more of a challenge, using either pressurised tanks at up to 700 bar or cryogenic tanks to store in liquid phase at temperatures close to absolute zero, both of which present issues for competition cars. There's also the need for special seals, to prevent seepage, and a care point on the use of metals within the fuel system to reduce the risk of embrittlement. Still, a combination of fuel cells and an ICE might make a compelling argument for endurance racing which could trickle down to high-performance road cars."
While motorsport technology can, and does, transfer to production cars, especially in the higher echelons, whether the path it is beating on AS fuels will convince legislators that battery electric vehicles are only an answer rather than the answer remains to be seen.
1 Article 29, Section 10(c) of Directive (EU) 2018/2001 for biofuels, and Article 25, Section 2 for RFNBO
Learn more about Ricardo's motorsport capability
Get in touch to learn more about Ricardo's capability in alternative fuels and electrification in motorsport