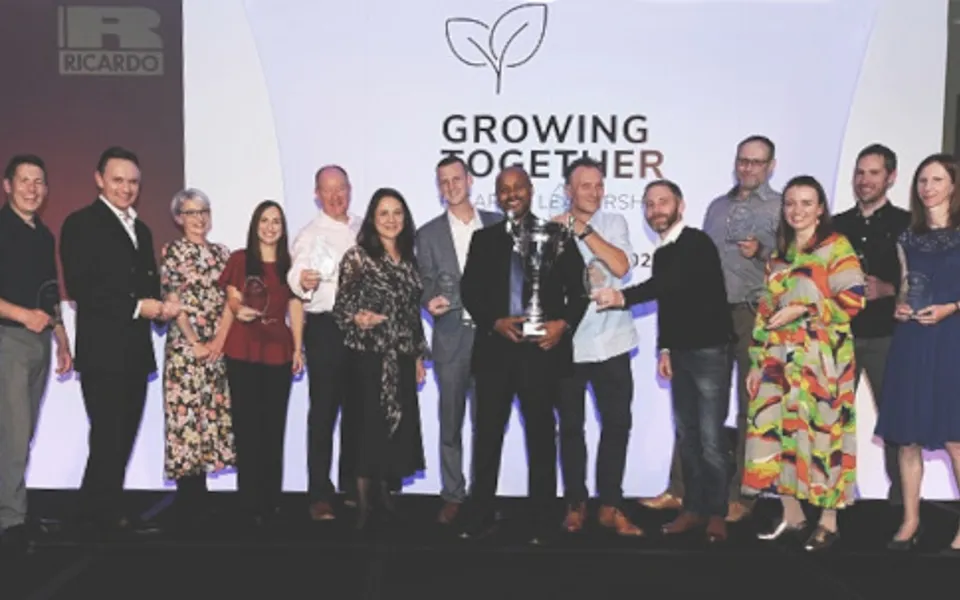 The outstanding achievements and contributions of individuals and teams across Ricardo were recognised in the first ever Ricardo Leading Lights Awards ceremony held in Brighton, UK on Wednesday 19 October 2022.
The awards were established to reward and highlight Ricardo people who, in their daily work, have consistently gone over and above for customers, partners, colleagues or the global communities we have the privilege to serve.
Eighty individuals and 12 teams were shortlisted for the 15 award categories which combined 'Best of the Best' winners of CEO Monthly Awards supporting strategic growth objectives, and living the Ricardo values of: Create Together, Be Innovative, Aim High and Be Mindful.
Addressing the assembled Leading Lights Awards finalists, winners and Ricardo's senior leadership team, Graham Ritchie, CEO of Ricardo plc said: "I am delighted to have all our Ricardo Leading Lights Awards winners and finalists together to celebrate their amazing achievements throughout 2022. I am so proud of everything that they have achieved. Our winners set the tone for who we are and our culture here at Ricardo, and they will help to shape the future of our business. I would like to thank each and every one of our winners and finalists for all their extraordinary efforts this year and to celebrate their successes."
List of winners
1. Innovation award (incorporating the Philip Hore Engineering & Science Excellence Award)
Winner: Eleanor Hirst (Rail)

Shortlisted finalists: James Lewis, Olivia Carpenter-Lomax and team (Energy and Environment); Mike Tomlin and team (Automotive and Industrial)

2. Sustainability excellence award
Winner: Julian Mason (Performance Products)

Shortlisted finalists: DEI Council (Claire Ruggiero current lead) (Group); Jemma Howland (Energy and Environment)

3. Young engineer/Scientist of the year (Marcus Beresford young engineer/Scientist of the year)
Winner: Dr Adam Tomlinson (Energy and Environment)

Shortlisted finalists: Eleanor Hirst (Rail); Hunter Mason (Defense)

4. Digital excellence award
Winners: Phil Williams, Rob Liddle, Jan Zolna, Rob Naylor, James Mullineux (Automotive and Industrial)

Shortlisted finalists: Scott Hamilton, Amy Barber, James Lewis, Javier Soto, Kenneth Sze, Nathanael Wisken, Andrew Kent (Energy and Environment); Brad Callahan, Andy Lefley, Eric Mason, Jessica Cheng, Jim Purcell (Defense)

5. Inspirational leadership award
Winner: Trevor Glue (Energy and Environment)

Shortlisted finalists: Mark Dodsworth (Rail); Hannah Lawrie (Energy and Environment)

6. Living our values award
Winner: Tobi Burek (Automotive and Industrial)

Shortlisted finalists: Craig Thomson (Energy and Environment); Louise Thomas (Performance Products)

7. Thought leadership paper of the year award
Winners: Simon Hunt, Daniel Hall, Callum Livingstone, Dave Thompson, Neil Beswick, Fabrizo Moncelsi and Kenan Mustafa (Performance Products)

8. Technical leadership paper of the year award
Winners: Rebecca A. Rose; David C. Carslaw, Jack Davison (Energy and Environment)

Shortlisted finalists: Rebecca A. Rose; Jasmin V. Wareham; David C. Carslaw, Jack Davison (Energy and Environment); Agam Saroop, Richard Osborne, John Stokes, Lukáš Valenta, Richard Penning (Automotive and Industrial)

9. Inspiring woman in STEM
Winner: Dr Dragica Kostic Perovic (Automotive and Industrial)

Shortlisted finalists: Ioanna Kyriazi (Energy and Environment); Dr Yansong Chen (Automotive and Industrial)

10. Best of the Best CEO award - Engaged team
Winner: Ian Morris (Performance Products)

Shortlisted finalists: Brad Callahan (Defense); Charles Stewart (Rail)

11. Best of the Best CEO award - Exceptional customer experience
Winner: Ioanna Kyriazi (Energy and Environment)

Shortlisted finalists: Rob Simmons (Performance Products); Claire Ruggiero and team (Rail)

12. Best of the Best CEO award - Sales growth
Winners: Brandon Macklin, Stuart Horswill (Defense)

Shortlisted finalists: Dominique Soleri, Phil Crowther (Automotive and Industrial); Stuart Gough (Rail)

13. Best of the Best CEO award - High value delivery
Winner: Steve Cann (Performance Products)

Shortlisted finalists: Pete Griffiths (Performance Products); Anon Tian (Rail)

14. Best of the Best CEO award - Investing for growth
Winners: Andrew Hilbert, Rhiannon Jones (Group)

Shortlisted finalists: Sushanth Shetty, Wes Scharmen, Dave Read (Automotive and Industrial); Martin Georgiev, Yasmine Rahmi (Energy and Environment)

15. Leading Lights CEO cup
Winner: Automotive and Industrial

Shortlisted finalists: Energy and Environment; Performance Products