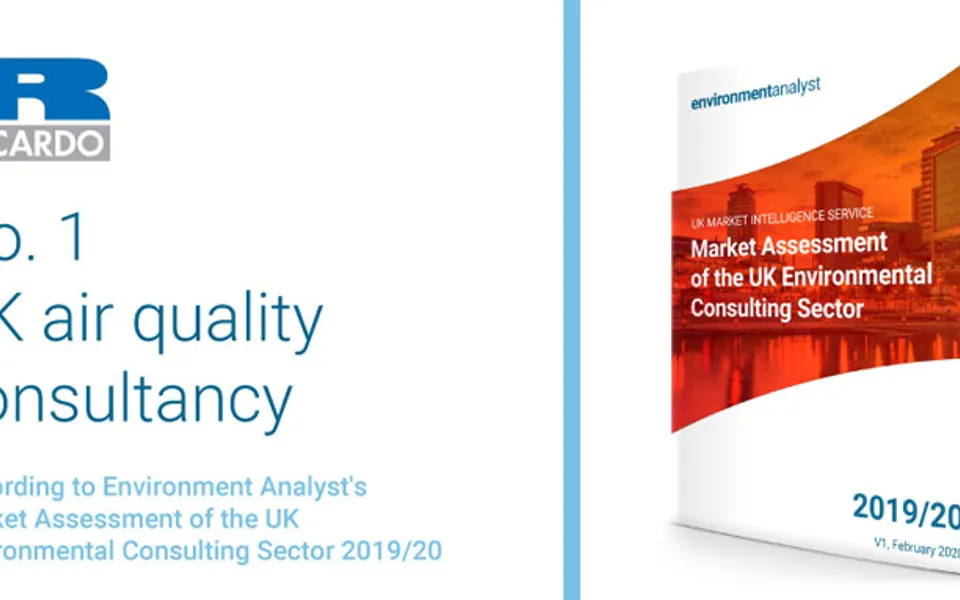 In its annual ranking of the UK environmental consulting sector for 2020, publisher and market intelligence provider Environmental Analyst rated Ricardo first for air quality work out of the 30 leading firms assessed, and scored the company highly in other specialisms too.
The fully updated and expanded edition of Environment Analyst's annual UK Market Assessment of the Environmental Consulting Sector report is based on financial statistics (for the FY 2018/19) and detailed company profiles of the leading peer group of 30 environmental consulting practices based in the UK, as well as Environment Analyst's wider annual company survey results. Overall, the report demonstrates that the UK market for environmental consultancy services experienced its third-highest annual growth in a decade at 6.7% in 2018, lifting revenues to a record £1.77bn.
In addition to taking the top ranking for air quality work amongst its 30 leading peers in the UK environmental consulting sector, Ricardo Energy & Environment was ranked second for sustainability strategy and environmental, social and corporate governance (ESG), fourth respectively for waste management/circular economy, government and agencies work, environmental risk and due diligence, and fifth for climate change and energy sector consulting. Overall, Ricardo was placed 13th across the UK sector out, ahead of many much larger consulting firms.
"The recognition that the report provides to Ricardo is an acknowledgement of the amazing, talented and highly skilled people we have," commented Ricardo Energy & Environment MD Tim Curtis. "We are proud of the deep insights that Ricardo's people are able to provide our clients concerning some of the key environmental challenges that the world faces today. It is great to see Ricardo featured so strongly in the top 5 of specialisms, and the top ranking for our work in air quality consulting reflects the major contribution that our teams are bringing to help towns and cities improve the quality of the air that their citizens breathe, with consequent health and quality-of-life benefits."